"Are you going to eat at that place with the life-changing zucchini pasta?" a friend joked after I spoke of plans to visit the Amalfi Coast. Of course, she was referencing the Campania episode of Searching for Tucci where the actor visits a Positano restaurant to see how spaghetti alla Nerano is made.
While I laughed and conceded that I wasn't going there, I had planned a stay in Salerno—as tourists often do—as a base for exploring the Amalfi Coast and Pompeii due to its proximity to both. However, I soon discovered that I preferred the relative calm of this small city to the cramped bus rides and touristy villages further west, as well as the accessibility to excellent food and enjoyment of it in a mellow atmosphere. Whereas in Naples I might choke down my pizza with a gust of diesel, in Salerno I could taste each flavor and hear my own thoughts rather than the incessant rattle and hum of motorcycle engines zooming by my table.
There are no large-scale tourist groups here—you won't see a little plastic flag bobbing above heads while a garbled voice booms out through a speaker on the street—just the daily stream of life going by as locals grab a morning coffee on Corso Vittorio Emanuele before taking off for work.
This authentic charm, alongside its history, traditions, and local food, make Salerno worth getting to know in greater detail. I spoke with native-born Maria De Vita, president of Ecstra, a group of Salerno-based hospitality leaders created in 2021 who are dedicated to promoting the town's character and authenticity in the tourism sphere.
"The soul of the Salernitani is similar to that of people throughout the South, who have always worked hard to find jobs and social status, but for whom little is needed to be happy. They are simple and welcoming people," De Vita shared.
Salerno has a long history, dating back to the 6th century BC, when the Etruscans ruled a large part of Italy. Later, during Roman rule, the town was given the name Salernum. It underwent invasions, changed hands, and after becoming its own principality in the 9th century, it blossomed during the medieval period. It eventually succumbed to Spanish forces and returned to Neapolitan rule in 1799.
As for local food and traditions, like many in Italy, they are deeply tied to the religious calendar. The most important honors Salerno's patron saint, San Matteo, on September 21st each year. This celebration calls for the preparation of la milza imbottita, or stuffed veal spleen. The large organ (for those unfamiliar, picture what looks like a giant tongue or an eel) is prepared by stuffing parsley, mint, garlic, salt, and pepper into the membrane sac still covering the spleen. Then, it's slow-cooked for several hours over a low flame in a bath of olive oil and vinegar, which helps to reduce the intensity of the meaty flavor. Once cooked and cooled, the milza is eaten sliced and spread on bread.
On the sweeter side, la scazzetta di Pantaleone is Salerno's signature dessert. Two layers of sponge cake sandwiched with whipped cream and wild strawberries are covered with a strawberry glaze. Local baker Mario Pantaleone created this cake in 1920, taking inspiration from the crimson robes of cardinals. While not tied to a particular holiday, la scazzetta is traditionally a springtime treat and can be found at Dolceria Pantaleone in Via dei Mercanti.
Think that pizza is reserved only for Naples? The Salernitani may beg to differ. While excellent Neapolitan-style pizza can be found here, local pizzaiolo Carmine Donadio created his own pie, which became a ubiquitous local favorite and is now the town's specialty. Lovingly named pizza Carminuccio, it focuses on the strong flavors of the local terroir, emphasizing Campanian tomatoes and cheese, diced pancetta cubes, and basil.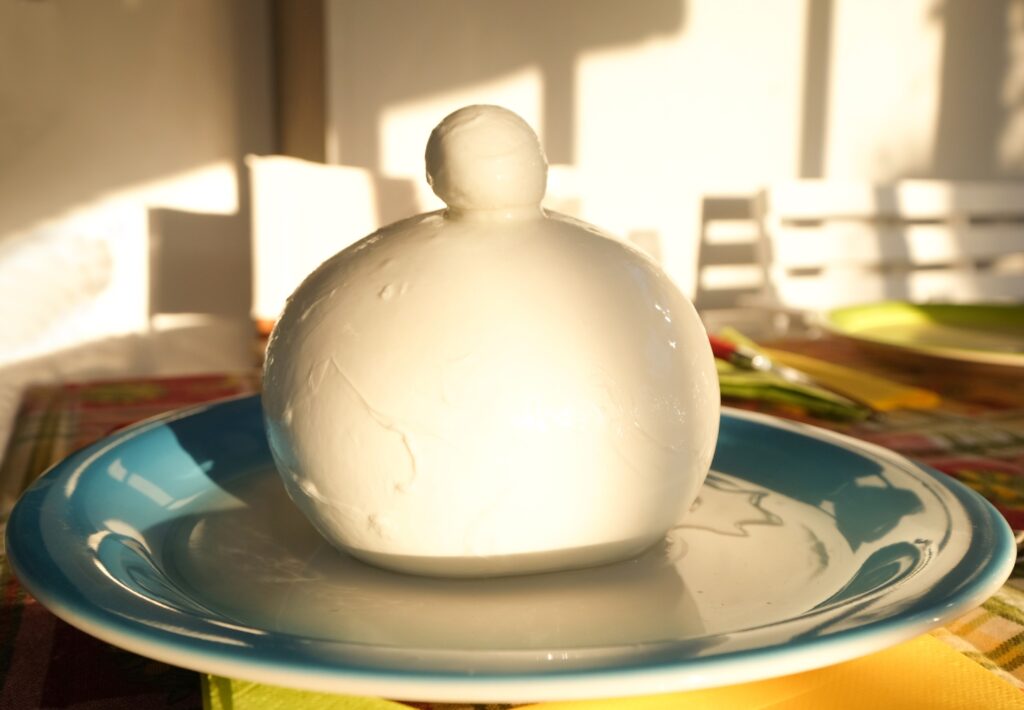 And as we know, the Campania region is famed for its DOP buffalo milk mozzarella. But a cheesemaker in a local town in the Salerno province is responsible for the more visually arresting take on the dairy product known as la Zizzona di Battipaglia: a dramatically large, breast-shaped ball of mozzarella featuring a nipple on top. (There is also a "bomba" version with smaller "children"—aka mini mozzarelle di bufala balls—that slide out when the "mamma" is sliced open).
Beyond food, festivals often lure outsiders to town. The rare plant and flower exposition, or Mostra della Minerva, takes place in mid-April, linking modern-day flora to the historic Giardino della Minerva. This hillside botanical garden dates back to the medieval period when Salerno was revered for its medical school—the most important in Europe at the time—and the garden's herbs could be cultivated and studied for their potential therapeutic and healing properties. Today, one can take a tour of the gardens.
Springtime also brings with it a chance to watch the medieval reenactments during the Fiera del Crocifisso, or Festival of the Crucifix. This event tells the story of local legend Pietro Barliario, a Salerno-born doctor and alchemist who specialized in the magic arts during the late 11th century. One day, two of his nephews found Barliario's necromancy books, started playing with magic in his lab, and soon after were found dead. Barliario felt so guilty that he prayed before the crucifix in the Church of San Benedetto, and after three days of prayer, Jesus opened his eyes as if to pardon him. In turn, he devoted the rest of his life to the brotherhood. Although Barliario's existence is still the subject of debate, every May locals come to the city center to celebrate the miracle of the cross.

And if one plans a December holiday stopover in Salerno, they will be treated to the Luci d'Artista, a series of light installations that sparkle throughout the town and change according to a new theme every year.
One can book a stay in Salerno principally for the convenience of ferrying up the Amalfi coast. But after soaking up the relaxing energy, sea views and mountainous vistas from the town's lungomare, visitors will be entranced and want to devote more time to this authentic and character-rich part of Campania. "It's often chosen for its central location," De Vita says. "But those who come and experience Salerno and its people can't help but return, because there is always something new to discover."