What they say about Rome is true: a lifetime wouldn't suffice to learn all there is to learn about her, nor to see all there is to see. Of course there are other cities in the world, and in Italy of course, where art, culture and history left deep marks of their passage and presence, but no place — and I am sure you'll agree with me — compares to Rome for the importance, the history-changing and culture-forming nature and what we can see strolling in her streets.
And so it happens that a place so special, quirky and beautiful it'd be a main attraction in any other city, gets almost lost in the overwhelming "plenty" of our capital's artistic and cultural patrimony: I am talking about the quartiere Coppedè.
A triumph of Liberty (that's how we call Art Nouveau in Italy) and Art Déco, with hints of baroque, gothic, classical and medieval, this perfectly self contained corner of fantastic creativity is located in the quartiere Trieste of the zona Nomentana, between Piazza Buenos Aires and Via Tagliamento, not far from Rome's canonical "city centre." While its name has the word "quartiere," or borough, in it, Coppedè is really an architectural complex which comprises 26 apartment houses and 17 independent townhouses, all developing around Piazza Mincio.
Created by eclectic and highly creative architect Gino Coppedè between 1913 and 1926, quartiere Coppedè holds within all that necessity to surprise, that balance of forms and that mix of shapes, words, colors and secret meanings that was so typical of art at the beginning of the 20th century. Because, even before its beauty, even before its elegance, Coppedè strikes for its magic: time melts and space takes a different meaning, as if you found yourself, all of a sudden, strolling hand in  hand with Harry  Potter and his friends. Yes, if J.K. Rowling  set her best-selling novels in Italy, Coppedè would have most definitely had an important role in them.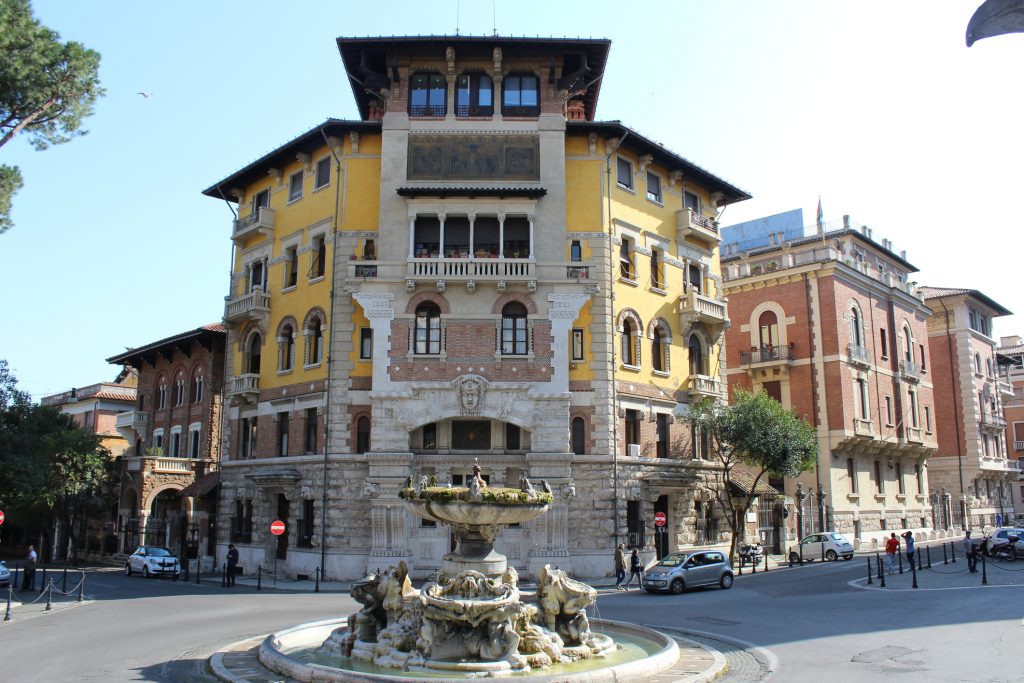 Even entering the area seems filled with magical, surreal meanings: from Via Dora, access takes place by walking under a monumental arch surmounted by a mascherone, that joins together two buildings known as Palazzi degli Ambasciatori: an interesting name, when you think that Coppedè is home to three embassies, those of South Africa, Morocco and Bolivia. Speaking of mascheroni, you'll see plenty of them at Coppedè: they're one of its most notable features. What probably strikes visitors the most about the entrance arch, however, is the large wrought iron chandelier hanging from it: such an unexpected view, there, outdoors. And so, all of a sudden, while the hustle and bustle of Corso Regina Margherita is left behind, one feels just like entering someone's palace, the residence of a wizard or of some incredibly talented, slightly mad artist.
The world of the quartiere Coppedè is different, is far from the city, is in Rome but is not Rome. It's Coppedè, it's a corner of magic. This is the feeling one gets when encountering its townhouses and homes, with their timeless and surreal façades, but also the quirky Fontana delle Rane (the fountain of the frogs) in Piazza Mincio, embellished by 12 sculpted frogs and known because the Beatles, in their heyday, took a bath in it fully clothed, after a concert they had at the Piper, Club. Some say that Gino Coppedè was inspired by Bernini's own Fontana delle Tartarughe, located in the Roman ghetto, a thought that somehow fits perfectly with the nature of the quartiere, with its being in Rome, yet different from Rome at the same time.
From an architectural point of view, other landmarks strike the visitor: the Palazzo del Ragno, located at 4 Piazza Mincio, was built in an Assyrian-Babylonian style and owes its name to the large spider embellishing its façade. Architect Coppedè built it in 1920 and wanted it to symbolize industriousness and work, as embodied by the spider, but also by the black and gold painting of a horse surmounted by an anvil held high by two gryphons and the Latin word labor, work, etched on it.
Possibly even more striking is the  Villino delle Fate,  the Fairy Townhouse, which in truth is three distinct homes connected to one another. Their asymmetric structure is enriched by the variety of materials used for their construction, including, stone, glass, terra-cotta, marble and travertine. Each of the three homes is an homage to a city: Florence, Venice and Rome. Each of them is represented by symbols, imagery and famous historical and literary figures that made them famous painted or sculpted on and around each  house.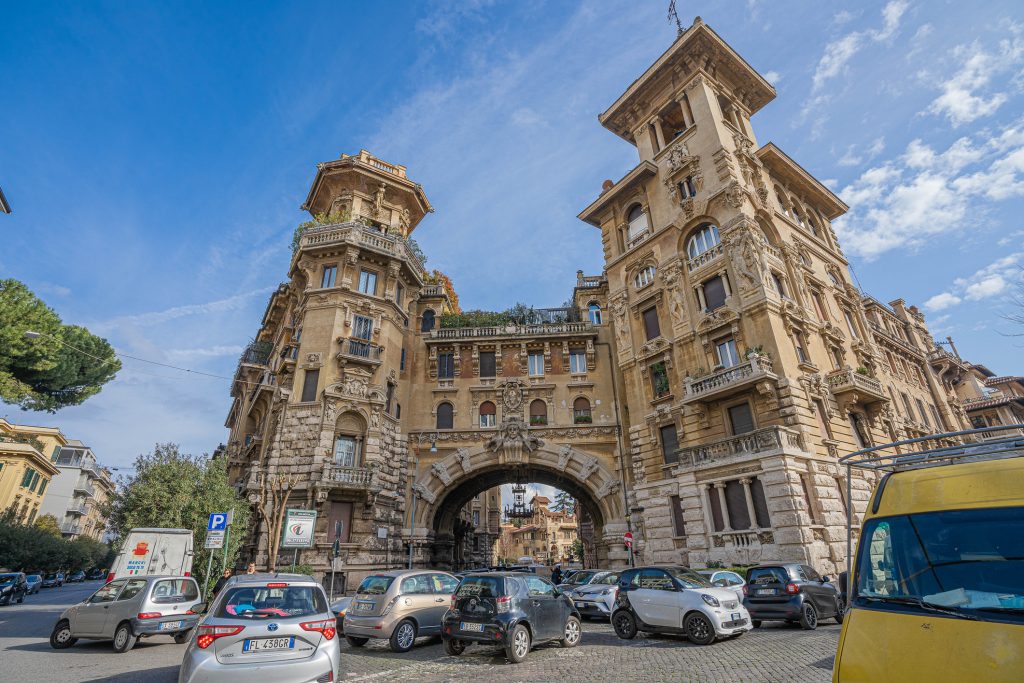 Coppedè is more than architecture, though, and I guess you understood that. Coppedè is truly magic, and this time, I am not talking about Harry Potter, but about sheer esotericism. You see, legends say that its creator, Gino Coppedè, was a free mason and that, for this reason, he filled the area with esoteric references. For instance, the already mentioned wrought iron chandelier under the entrance arch is by many seen not only as a beautiful prop, but also as a symbol of "enlightenment" and connection with the light of knowledge. Now, if you consider that free masons are also known as the children of light, it all makes sense. There is more. If you look at the arch carefully, you'll notice how richly decorated it is: a cup, symbol of the Graal, but also towers, apotropaic figures and other symbols associated with the idea of protection from Evil. In fact, the magical and mysterious side of Coppedè is pretty popular, so popular that more than a guided tour focuses on it.
Last but not least, Coppedè is special also for cinephiles. Dario Argento, Italy's most famous thriller and horror director, set here Inferno and The Bird with the Crystal Plumage. Francesco Barilli chose it for Il Profumo della Signora in Nero and Nanni Loy favored it for his Audace Colpo dei Soliti Ignoti, which starred Vittorio Gassman.
Coppedè, mysterious, beautiful and magic, is a corner of Rome where everything is possible, even meeting wizards around the streets. Yes, it's the most potteresque spot in our capital, without a doubt.