It's the beginning of October and our markets are full of autumnal produce, from pumpkins to pears, and it's easy to forget that summer vegetables like peppers and tomatoes are still very much in season. So why not make use of them while we still can?
I like many recipes involving peppers: stuffed peppers filled with eggplant and breadcrumbs, which are a lovely antipasto, but also peppers stuffed with meat and tuna, which can be both excellent secondi or main courses. This week we're featuring a primo piatto, or first course, to round out our collection: peperoni ripieni di pasta, or pasta-stuffed peppers.
In this recipe, peppers are stuffed with pasta – I am using the long thick pasta called bucatini—dressed with a puttanesca-ish tomato sauce and optionally enriched with bits of mozzarella, scamorza, caciocavallo or any meltable cheese you prefer. The peppers infuse the pasta with their sweet yet piquant aroma, transforming an otherwise typical Neapolitan pasta into something quite unique.
Of course, you could use canned tomatoes and greenhouse peppers and make this dish any time of year, but it's at its best when made with seasonal ingredients, so do give this a try … while you still can!
Ingredients (Serves 6)
For the filling:
500g (1 lb) bucatini or other pasta (see Notes)
500g (1 lb) fresh plum tomatoes, roughly chopped, or 1 large can of canned tomatoes, or a jar of passata di pomodoro
2 cloves of garlic, peeled and slightly crushed
100g (3-1/2 oz) capers, rinsed
100g (3-1/2 oz) olives
100g (3-1/2 oz) anchovy fillets, cut up
A pinch of dried oregano
A few sprigs of fresh parsley, finely minced
Salt and pepper
For baking:
Optional:
500g (1 lb) eggplant, cubed and sautéed "a funghetto"
A ball of mozzarella, scamorza, caciocavallo or other meltable cheese, cut into cubes
Grated parmigiano-reggiano or pecorino romano, for topping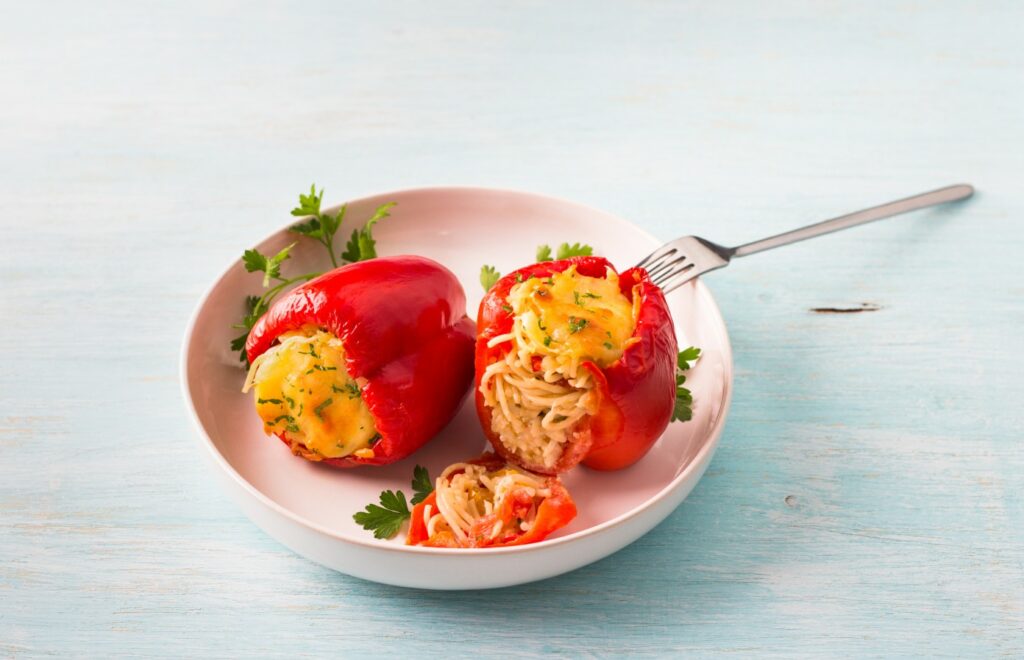 Directions
Trim off the tops of the peppers and remove the core, seeds and ribs from their insides. Parboil the peppers in abundant water for about 5-6 minutes, long enough to soften them a bit. They should remain firm enough, however, to stay standing.
In a large sauté pan, sauté the garlic briefly in olive oil, then add the tomatoes. Simmer until the tomatoes have melted and reduced to a sauce consistency, about 15 minutes or so. Then add the olives and capers and let them simmer another 5 minutes. Turn off the heat and fold in the oregano, parsley and anchovy fillets.
Meanwhile, boil the pasta in well-salted water until ever so slightly underdone, say a minute less than indicated on the package.
In a large mixing bowl, add the cooked pasta, the tomato sauce and mix well.
Using tongs or a carving fork, twirl the pasta and fill the peppers with it, interspersing the pasta strands with bits of the mozzarella and/or eggplant, if using. Top with any excess sauce and, if using, the grated cheese.
Transfer the peppers to a well-greased baking dish. Bake in a moderate oven at 180C/350F for about 30 minutes, until heated through and lightly browned on top.
Let cool for at least 5 minutes or so before serving.
Notes
I generally don't skin or pre-cook my peppers before filling them. But for peperoni ripieni di pasta, a quick parboil to soften them a bit makes sense, as that means less time in the oven, which in turn makes it less likely you'll overcook the pasta. (By the way, some recipes suggest parboiling will make the peppers peelable as well, but that wasn't the case for me). Some recipes call for pre-roasting the peppers in a moderate oven for 15-30 minutes, yet others for frying them.
Usually, I prefer stuffing my peppers open-faced, and that's mostly true, but I felt like a change. And in fact, I think when you're stuffing peppers with pasta, you're better off stuffing them standing up. This way, the pepper provides more protection against the oven's intense heat and helps prevent the pasta from overcooking. Do take care, though, to find peppers that will stand up on their own. Often, at least one of their "legs" tends to be longer than another, leaving the pepper liable to keel over, spilling out your lovely pasta filling. No harm done, of course, even if it does. The dish will still taste delicious. But not exactly what you might want to serve your guests at a dinner party.
Frank is a lawyer with a true passion for cooking and sharing food with the people he loves. He inherited his love for Italian cuisine and culinary tradition from his grandmother, nonna Angelina, to whom he dedicated his culinary blog, Memorie di Angelina: www.memoriediangelina.com