"È stata la mano di Dio" (The Hand of God), written, directed, and produced by Paolo Sorrentino is now available on Netflix.
Paolo Sorrentino, already well known for his films "La Grande Bellezza" (The Great Beauty), "Il Divo," and "The Young Pope," has made a remarkable new film that merges autobiographical and invented elements to create a dramatic dream-like memoir. In this intensely personal story, seen through the eyes of his seventeen-year-old protagonist Fabietto Schisa, Sorrentino takes us back to Naples in the 1980s. For the director, it was an age of innocence, leading up to the devasting moment when he lost his parents in a tragic accident, leaving him and his older brother orphans, lost, alone and directionless.
But the film is not focused on tragedy. Instead, it is a loving tribute to Sorrentino's eccentric and gregarious family and his witty and affectionate parents. They were a haven for a young boy with few friends or love interests and without goals. The film is also about Fabietto coming to terms with the hand he has been dealt and finding the courage to go on.
The film's title "The Hand of God" references a goal made by the Argentine footballer Diego Maradona and Fabietto's idol, who scored it using his hand during the 1986 FIFA World Cup. Because the referees did not have a clear view and there was no video technology to analyze the play, the goal stood, giving Argentina the lead. They went on to win the match claiming the World Cup. The goal's name derives from Maradona's comment when asked if it had been an illegal maneuver. He replied: it [the goal] was made a little with the head of Maradona and a little with the hand of God.
Fabietto's infatuation with his idol Maradona takes him away from home the day his parents die of carbon monoxide poisoning. Instead of staying with them, he used the ticket his father had given him for his birthday and attended a soccer match in which Maradona was playing.
Was Fabietto saved by the hand of God, too? Was it destiny? One also wonders what Fabietto's (Sorrentino's) life would have been like had he not suffered tragedy at 17. Perhaps his life would have taken a completely different turn if his parents had lived. No one will ever know, not even Sorrentino. But the accident propelled a young boy forward, forcing him to find the resilience and courage to move beyond life's unpredictable vicissitudes and find his creative voice leading him to filmmaking.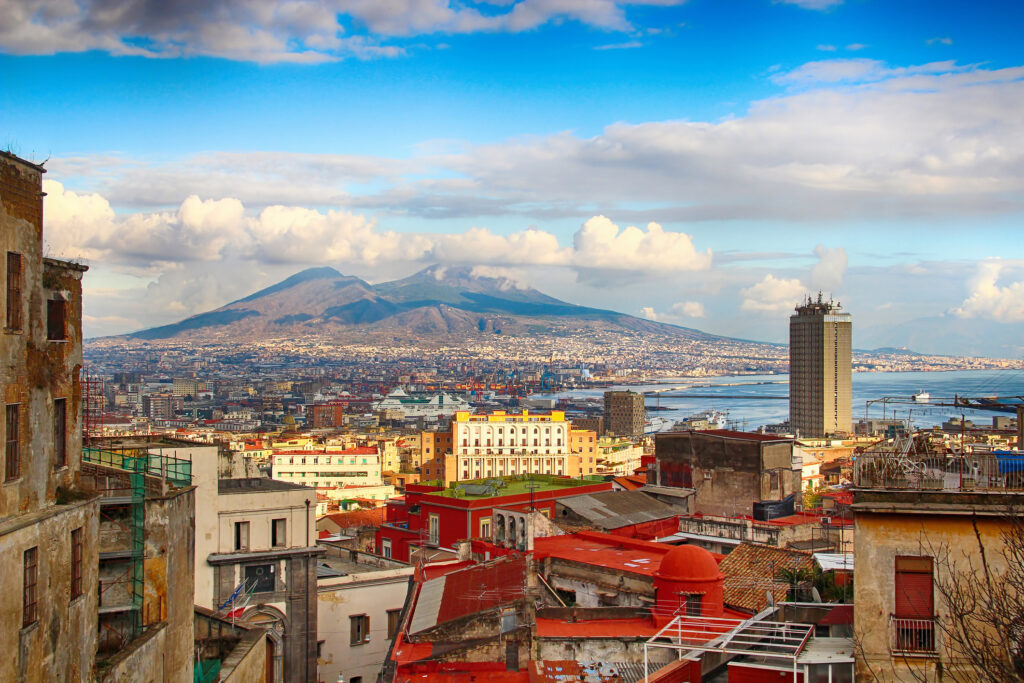 Sorrentino's film is visually stunning. Napoli and the Neapolitan Bay shots are breathtakingly beautiful; the colors are lush and vivid in the happier times but still full of sensual blues and violet when the film takes a darker turn. Because the story is told through a young teen's nostalgic memories, the scenes are idyllic and fanciful. In a slightly "Fellini-esque" manner, they are staged in such a way as to overemphasize Fabietto's teenage infatuations with his soccer idol, the beautiful women for whom he develops crushes, and the mystic Neapolitan legends and Saints.
The director comments: "This [The Hand of God] is my most important and painful film. I am happy that all this pain has turned into joy."
Sorrentino's movie won the Grand Jury Prize at the 78th Venice International Film Festival and was Italy's official 2022 Oscar Selection. The film is now available on Netflix.
If you'd like to read this review in Italian, visit the StudentessaMatta.com website.

Trailer: The Hand of God