The city of Los Angeles celebrates the hundredth anniversary of the birth of the Italian director Pierpaolo Pasolini (March 5, 1922) with an integral retrospective entitled Carnal knowledge: the films of Pierpaolo Pasolini.
Born from the collaboration between Cinecittà and the Academy Museum of Motion Picture, the retrospective will take place until March 12 inside the building designed by Renzo Piano and inaugurated last year.
The program provides for the use of 35mm copies restored by Cinecittà and lays the foundations for an agreement that provides for the stable programming of reviews, exhibitions and activities dedicated to Italian cinema for the next five years. This retrospective will span Pasolini's three main periods: his reinvention of Italian neorealism as a powerfully lyrical vehicle for devastating portraits of modern life (Accattone, Mamma Roma); his gory portraits of the depravity of European society (Teorema, Porcile); his shocking Trilogy of Life, a celebration of the primary pleasures of sex set in antiquity, and its antithesis, the devastating and grim WWII horror show, Salò.
The opening night was held in the presence of Oscar winner Dante Ferretti, set and costume designer, who inaugurated the retrospective remembering Pasolini, of whom he was a long-time collaborator: "I owe my career to him, I began as an assistant set designer on three film, starting from The Gospel according to St. Matthew, before signing my first scenography for Medea, with Maria Callas. It was a relationship of trust that lasted until his last film, Salò or the 120 days of Sodom. I learned of his death while I was walking with Elio Petri, it was a very hard blow." Ferretti, who specifically flew to Los Angeles to celebrate his artist friend, added: "Twenty years ago, Cinecittà and the Academy created a beautiful exhibition of my drawings. Tonight, we are celebrating another great moment of friendship between two institutions so attentive to safeguarding the heritage of world cinema."
Dante, this evening you said to the audience in the movie theatre that you owe everything to Pierpaolo Pasolini. How did your collaboration start?
I owe everything to Pasolini because I started my second film, The Gospel according to St Matthew, at 18 as an assistant set designer. I remember that he highly esteemed me even though I was only an assistant. My boss, Luigi Scaccianoce didn't come often on the set as he was working on two films at the same time, so Pasolini turned to me a lot. Throughout the years of our collaboration and friendship we have always addressed formally. He was very kind and very sweet. Whenever he asked me for the things he needed, I did everything to do them as he wanted, sometimes I even invented, suggested and advised things from a scenography point of view, which is what gives the story the atmosphere. He was always satisfied.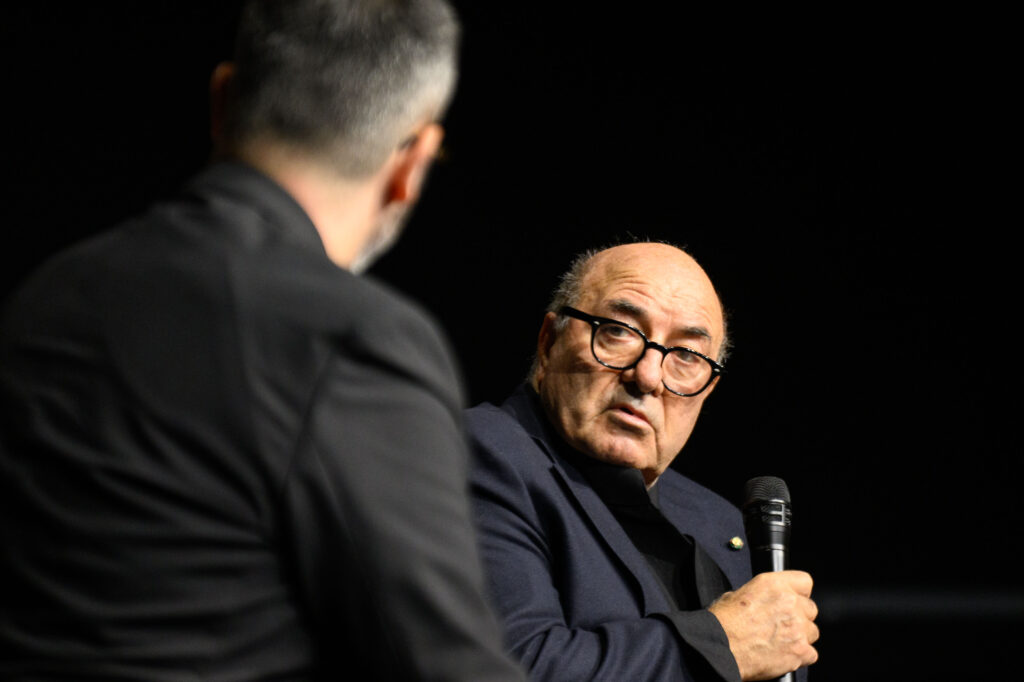 How important was scenography for Pasolini in his films?
Pasolini gave a lot of importance to scenography because the visual part is the storytelling of the story. While things often seem to be shot simply, they are designed to be so, so that the narrative is perceived in a specific way. Inspecting the set and the location was therefore very important for him because it was linked to the plot, and the plot very often adapted to the places that were interesting and suitable for what he wanted to tell. I made 9 films with him, different films but all period films. The only more current film is Salò or the 120 Days of Sodom, current to the period in which it was shot, the fascist era, otherwise the others were historical films. I went through a lot of history with him.
What memory do you have of your meeting?
I remember that the first meeting was for The Gospel according to St Matthew, when we checked out locations with Luigi Scaccianoce. I followed them to try to understand what we should be looking for. What happened was that Pasolini went alone to see the places first and when he had identified what he was interested in, he called the set designer and explained what he wanted to convey in the film. This was very important for him: not only discovering those places but also the feeling that was suggested by them. Places that were often totally different from how they were originally written in the script.
Which films you shot with Pasolini remained particularly in your heart?
Oedipus Rex was the one that gave me the most satisfaction because Scaccianoce rarely came to the set and I took it all on. I remember that Pasolini sent me to Rome to De Laurentiis, where two interior sets that were used for the film had been built and he said to me: "Go and see what Scaccianoce did because I don't think it goes well with what we did." I went and since it actually wasn't going well, I changed everything; Pasolini commented "Now it's fine, that's how I wanted it."
Any other anecdotes of your collaboration?
When we made The Gospel we shot part of the film near Viterbo, in a place where there was the Chia Tower, the remains of an old castle, and where there was the river where Jesus Christ was baptized in the film. He liked this castle very much and one day he said to me: "What do you say if I take it and fix it to make it my home?" There was only a wall, a tower, and a large door. So I took care of designing a house, at the foot of the tower, a stone and glass house camouflaged among the rocks and greenery. Using glass, the environment became completely transparent and the historical value of the ruin that had remained untouched was not lost. He then later lived in that place where, from the outside, he could be seen inside and he saw everything that was outside. He slept as if he were outdoors.
You also witnessed a football match, the challenge with director Bernardo Bertolucci. What memory do you have of that episode?
I remember that while we were shooting Salò or the 120 Days of Sodom near Bologna, Bertolucci was shooting another film near Parma. Since Pasolini was very fond of football and liked to play, one Sunday a match was organized between the team of our crew and that of Bernardo Bertolucci. The two of them were longtime friends but there was a moment when they didn't get along very well, they had argued. I remember that we played, actually everyone except me who didn't play football, and we lost. That game, however, brought them back together because immediately afterward we all went to dinner together and I remember that on that occasion Pasolini made his peace with Bertolucci.