Lake Como might well be one of the most spectacular areas of natural and manmade beauty in all of Italy, if not in all the world. Popular villages and towns such as Bellagio, Lecco, Menaggio, and Laglio attract the rich and the famous, as well as throngs of beauty-seeking tourists. Como's pristine waters reflecting Alpine peaks, lush forests and rocky shores, collections of elegant villas and castles: all combine to create a visual masterpiece…and some uncomfortably crowded scenarios amongst these lakeside hotspots.
There's good news, though, for those who seek a slower pace and the lesser-known gems hidden amongst the well-known. Tiny Olgiasca is one such place, a petite village that nobly holds "very small place" status on Places in the World rankings. Spectacular beauty is abundant…but crowds are not!
Sitting on a small, finger-like peninsula on the upper reaches of Como, Olgiasca's location is fitting in comparison to the "running man" legs of Lake Como's expanse. The tiny village of 241 residents is located about 57 miles north of Milan – not too far from the big city, but also light years away. Not a lot goes on here, which is precisely the appeal. In fact, a check on Wikipedia offers just four sentences about the village. Perhaps the saying "a picture is worth a thousand words" might well apply.
A recent week spent in Olgiasca quickly revealed her charms and the beauty that quietly awaits anyone willing to slow down and discover. I decided to take a chance and get to know the village, as well as make it the launch for exploring nearby locales. The word "disappointment" only occurred once after a day trip south to revisit lovely Varenna. Still lovely, yes, but overrun with tourists in comparison to a visit four or five years ago. What joy to return to the peaceful village on the peninsula.
Olgiasca's centro storico – old town – is a charming jumble of ancient stone homes laced together with pebbled pathways and gardens. Life is vibrant here, although few residents may be encountered. Laundry hung to dry from balconies, tricycles parked by the doorway, gardens yielding the last of the summer's bounty all speak of vitality in a town that's been around since at least the 12th century. A few newer homes rim the old town, either high on the hill for magnificent views or alongside the lake for that waterfront property experience. Abundant rainfall creates a lush, even tropical-like, landscape where everything seems to flourish, including Alpine wildflowers that mingle in open fields. There is but one parish church, and like the village, its ancient walls host vibrating life within.
A few commercial entities exist on the lower level of Olgiasca, but perhaps the thing that draws the curious the most is the achingly beautiful Abbazia di Piona. Located at the climax of a cobbled street, which gives way to a bumpy earthen road, the abbey occupies land whose religious origins began in the 7th century. It's a beautiful stroll from central Olgiasca; views of the lake, shaded forests, and a mysterious dwelling or two make good company. You might encounter another person, maybe a few, but the serenity is delightful. Entering the grounds, one is welcomed yet cautioned: this is an active monastery, please respect the silence and holiness of this place. Well-manicured landscaping, the ancient abbey, a picturesque grotto, and lakefront vistas that are made of dreams round out a pleasant hour or two here. Stop by the shop featuring goods made by the resident Cistercian monks. There are herbal cures for just about any ailment, a few alcoholic tonics that can be sampled, soaps, and other trinkets all available for purchase with proceeds helping to support the secluded brotherhood. Outsiders are also welcomed to attend the nightly vespers, and while it seems few do, it's worth the effort.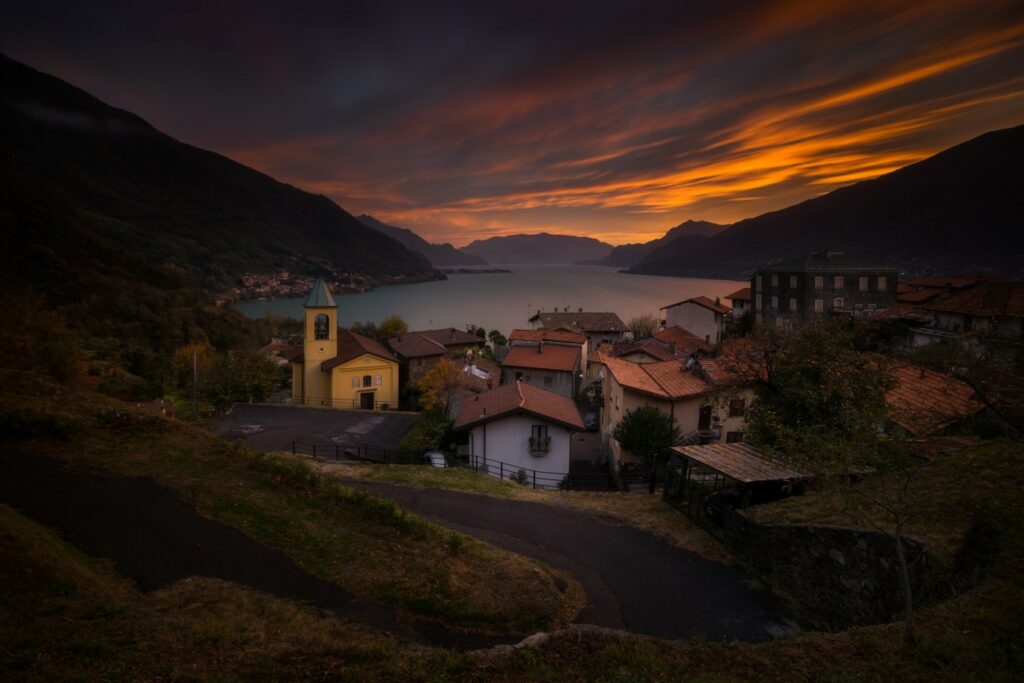 One could easily wile away indefinite amounts of time living in the moment in Olgiasca, but there are several nearby places deserving of a visit. To the south about one mile lies tiny Dorio. Almost as small as Olgiasca but with the benefit of location on the main thoroughfare, this shorefront village supports a train station and ferry port. An inviting waterfront perfect for strolling or finding a park bench for a reflective pause with a nice glass of wine is hard to pass up. As with Olgiasca, not much goes on here – but therein lies the beauty!
If you're feeling the need for a bit more "to do," continue south 7 miles to Dervio, Olgiasca and Dorio's larger neighbor, population 3,000. A picturesque work-a-day town, Dervio is home to a unique historic attraction, a village within a village known as Corenno Plineo. The medieval hamlet's stoic castle overlooks the lake, a fitting template for a fairy tale and guardian to the surrounding dwellings. One can't help but want to explore this "Village of One Thousand Steps." Official documentation affirms the presence of a castle here in 1271, along with the small but elaborate church dedicated to St. Thomas of Canterbury, all built atop a prior Roman settlement. The surrounding village seems frozen in time as it spills out from the castle walls, an almost vertical collection of ancient tiny homes, secretive porticos, and narrow paths carved from the rock. The scalotte, the 493 stone steps that do seem like one thousand, entice one down the waterfront where stunning views await from the ancient stone pier. If the timing is right, you might chance upon an open-air concert serenading the waning sun.
For the more adventurous, the final segment of an old Roman pathway – Sentiero del Viandante – begins in Dervio with culmination in Colico, just a few miles north of Olgiasca. This antiquated mule path passes high above the lake as it winds through forests and pinnacles, traversing impossibly stacked rock walls held together by mortar and time, through abandoned stone villages, and past a few tiny communities clinging to life on the mountainside.
Of course, you could opt out early and hike down into Olgiasca to satiate your hunger in a "crotto" restaurant just outside the village. Built adjacent, or even within, a naturally air-cooled cave, the "crotti" eateries of this region are known for their hearty local cuisine. Surprisingly, it's not all lake fish dishes. Meat, cheese, and butter figure prominently, along with pasta and polenta specialties…you won't walk away hungry here.
Lake Como indisputably has much to offer, despite crowded conditions in the more touristed places. But if tranquility matters, don't forget about the "very small places"…beginning with charming Olgiasca.