In 1963, the Molise region was finally able to separate from Abruzzo. That action caused it to be the latest emancipated region of the peninsula. An ancient land, populated by brave Samnite warriors who once even defeated the Romans, the region today is made up of two provinces, Isernia and Campobasso.
Visiting the new born province of Campobasso in the 70s and early 80s was like discovering the "real Italy," unencumbered by cell phones, and an over-population of televisions and computers. Many visitors, who came to the multitude of sandy beaches found along the pristine shores of the western Adriatic, consisted primarily of young German and Eastern Europeans who flocked in great throngs to the region during Easter break. American tourists had not yet discovered these beaches, so similar to our glorious ones in Florida and California.
Today, that is all changed.  The rows of blue lounges along the Molisan shoreline brings to mind cadres of soldiers eager to soak up  abundant sunshine. And all this, at prices much lower than those prevalent along the rock-filled western shores of Italy and France, where one must wear swim sandals to take a quick dip in the blue waters, something quite unnecessary on the beaches in and around Termoli.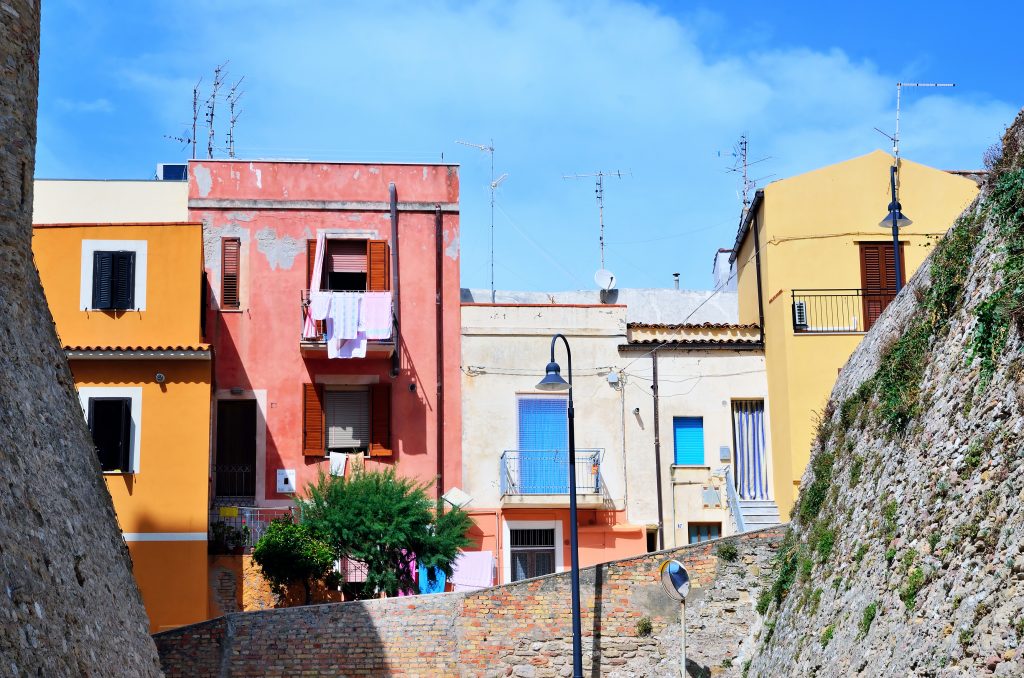 And again, if one is still relatively young and can endure it —perhaps during an early spring vacation, just like those Easter breaks we mentioned — beaches will not be overpopulated as they are around Nice, because many residents here only permit themselves to take advantage of their wonderful beaches after June 24th, the Feast of St. John, which is also a custom in many other European countries.
And so, there will be more than enough places to dine without huge crowds (a blessing in these Covid days) and enjoy the many, delicious regional dishes Molise has to offer.
One can also stroll down the streets of Campobasso — the provincial capital — Termoli, or one of the other shore-line towns, taking in a delicious aroma of freshly baked bread and pizza, an invitation to taste more local cuisine's specialties.
And so, after a taste — of course! —   of some delicious local wine and another stroll along the town's streets,  you may even come across, all of a sudden, a little market or a street fair, filled with stalls selling old books,  new and restored photos and anything else that comes to mind: just another way to capture the generous, hospitable spirit of this corner of Italy.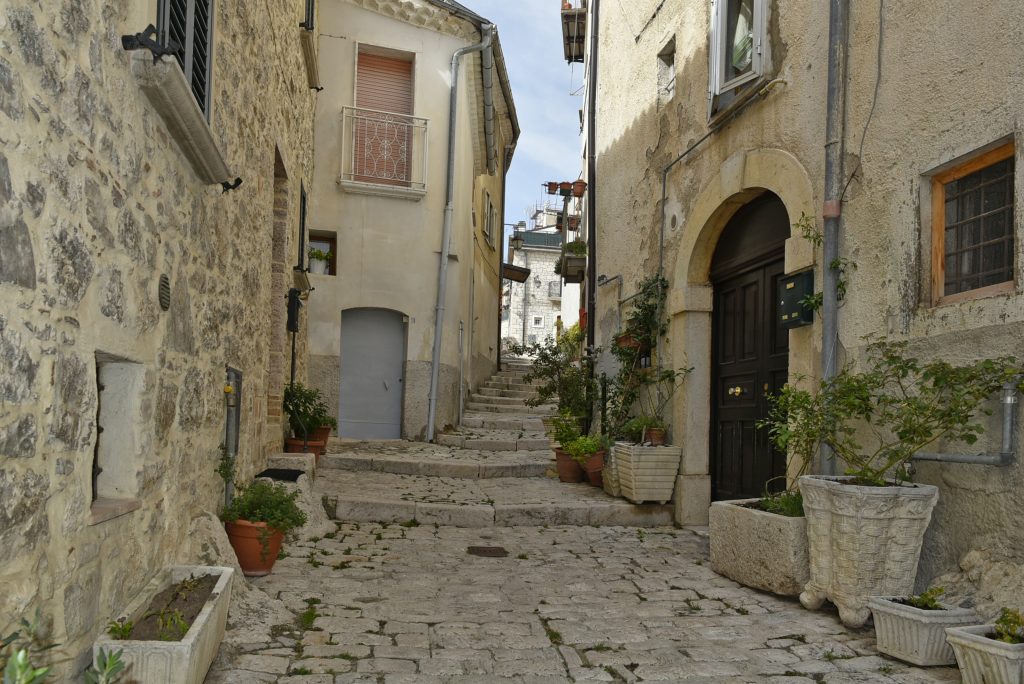 There are also several important cultural/religious events to witness. On 6th of June, the feast of Corpus Christi, Campobasso festoons itself with the grand parade of the Tredici Misteri, with floating images of thirteen saints.
On the 26th of July, in the town of Ielsi, province of Campobasso, the Festa del Grano (The Feast of Wheat) takes place. It was introduced in 1805, when the town was spared the tragedy of a horrible earthquake thanks to, tradition says, the intercession of St. Anna. On this day, the whole town fills the streets to watch Traglie, ox-driven carts covered with sheaves of wheat, used to decorate every corner of town, along with agricultural tools and machinery.
It should also be mentioned that, more recently, during WW II, the Nazis were miraculously stopped from executing dozens upon dozens of the townspeople in front of the cathedral by a sudden, furious tempest brought upon them by, tradition says again, St. Anna.
At the very beginning of this Wheat Holiday's events,  there is a great deal of  shouting and music,  that resounds through the whole town.  However, in time all this brio will subside, only to be awakened again by the performance of sacred music in Ielsi's majestic cathedral.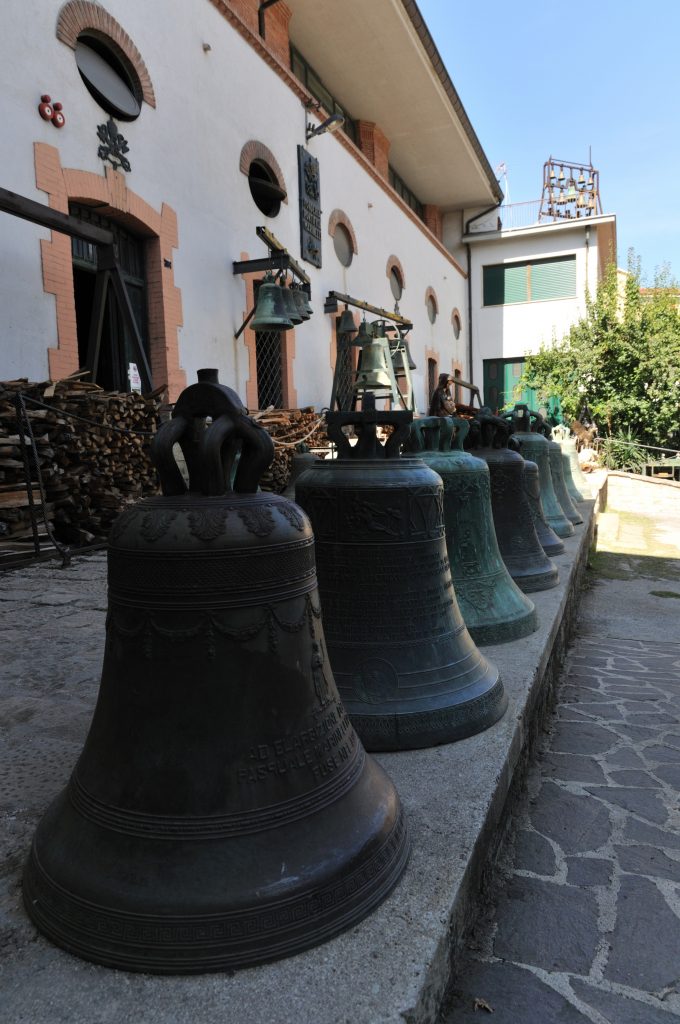 Today, in all of these spectacles, one will hear many languages being spoken: standard Italian, Molisan — the local dialect, a close cousin to neighboring Neapolitan — and maybe even some French and English.
But, perhaps, most interesting is to hear another language, Slavomolisano, also known as Molise Slavic or Molise Croatian, a language brought to Italy by Croatian emigrés who began arriving in the province in the early 16th century. In time, they populated the three villages of San Felice, Montemitro and Acquaviva Collecroce: located in some of the highest mountains of Molise, a visit to these villages highlights the generous hospitality that is so characteristic of the entire region.
And while a tour of these three towns can be instructive when it comes to the customs of Alto Molise, no trip to this region would be complete without a visit to Agnone, a small village some 19 miles north of Campobasso. The town's history is important, for it is here that the Marinelli Foundry, founded over a thousand years ago, is. The foundry has supplied bells for a great many Catholic cathedrals around Italy and the world for centuries and it continues to be highly productive. In 1995, Pope John Paul II commissioned to them bells for Saint Peter's.
Even the library there is worth a visit, for it houses important historical documents: one signed and sealed by Robert Guiscard, the Norman lord, who in medieval times dominated the entire south of the peninsula, and even Sicily.
But there is also another important document that was promulgated by Queen Giovanna of Naples, once supporter of Cardinal Robert of Geneva, who would later be known as Pope Clement VII. He was one of the three pretenders to the Papal throne during a schism in the Church that only ended in 1440, when Cardinal Colonna ascended the throne of St. Peter. But more to the point here, in this document Queen Giovanna, who easily dispensed many large parcels of land among her nobility to ensure their loyalty, declared the region of Molise around Campobasso a royal county.
All in all, Molise is a region of many treasures, some of which may still be unknown, hidden away in a library (like the two documents described above) or in small ancient chapels along the coast, or on top of a mountain. Once upon a time, their priests would sound the alarm to all surrounding towns when ships appeared at the horizon. The rhythm of the clanging bells signaled whether it was Saracen pirates or well-intentioned merchants approaching. In any case, all the molisani had to run down to the beaches, either with their swords to challenge the boatmen, or with their baskets to enter into profitable barter of goods.
Today, many riches can be garnered from spending a week or more in Molise, a region that offers any and all newcomers a wealth of cultural insights and plentiful occasions for divertimento.