We Italians are known for having pretty strong feelings and opinions about things: for most of us, being diplomatic doesn't come easily, even though Italy is considered one of the founding nations of the art of diplomacy. Perhaps it boils down to the fact we know when we need to tone it down – i.e., in official circumstances – but we let go and keep the fire burning when we talk about more personal stuff.
Everyone knows we love our family and good food, but what about, let's say, foreign food? Or what's people's view on Europe and our role within it? Here's a half-serious, half-funny take on what we Italians think about some of the country's "hottest" topics.
Italians and … the heat
Personally, I've never been a fan of the summer, because anything over 70F is just too hot for me, but I've always appreciated the fact my country – as most of the world, really – loves and enjoys the sun. Perhaps it's because "summer" means vacationing and having time off work and school, but we quite love the hot season. Or do we…?
Truth is that, while we are known for enjoying long stints by the sea and on our beautiful mountains, and for being able to develop some of the best tans in the world, we haven't been so keen on the heat in the past few years. Take these last few weeks: temperatures have been constantly reaching the low to mid-90s in most of the country, with peaks over 100F in the South and in some internal areas of the Pianura Padana and Tuscany. During the night, temperatures don't go lower than 70F, which is considered "tropical." And we are not a tropical country. Truth is that even being on holiday – the main reason why Italians love the sun and the summer – becomes difficult when you sweat profusely to walk to your deck chair on the beach.
And even more importantly, all this scorching, painful, fiery heat has an awful consequence: we have no appetite. It's so hot that Italy doesn't want to eat: I think we all agree this is no longer sustainable.
Speaking of food, perhaps you are wondering what's the country's relationship with…
… foreign food
Well, this isn't easy. When I first went abroad on a holiday with friends, I remember the group was split in two: part of us wanted to try local delicacies and sack the supermarket, filling the cart with all that we couldn't find in Italy; the others were desperately looking for Italian brands, specifically Italian pasta and sauces. This wouldn't be an issue now, but it's been almost thirty years since then and I can guarantee you it wasn't easy to come across Barilla spaghetti in Ireland back then.
My little trip down memory lane defines perfectly the way Italians feel towards foreign food: some of us want to try it and appreciate it, others stay away from it like the plague because "nothing beats mamma's food." We've certainly come a long way in the past two decades, though: there are more foreign products in our local stores, and restaurants tend to offer a variety of vegetarian or non-Italian options. Italians travel more, too, so they learned to enjoy other countries' cuisines and often want to recreate them back home.
This is all good and it's the right way to go. While, without a single doubt, Italy has one of the most varied, rich and delicious cuisines in the world, it would be limiting not to try others, right?
Italians and … Europe
The history of our country is that of our continent. The history of our continent is that of our country. It's as simple as that. Europe is relatively small and, if it's true that each country has its own identity here, no one should forget we have a common past and common ideals. Yes, we did tend to fight each other quite a lot on this side of the Atlantic, but we finally came of age in the 20th century, and the creation of the EEC first and the EU later is the most important sign of it. And while some Italians may think that Italy would be better on its own, they tend to forget how much they enjoy traveling around the whole continent without having to whip out their passport once, or how amazingly cool it is to go from one side to the other of a continent using the same currency. It's all normal for Americans, but we Europeans are still getting used to it.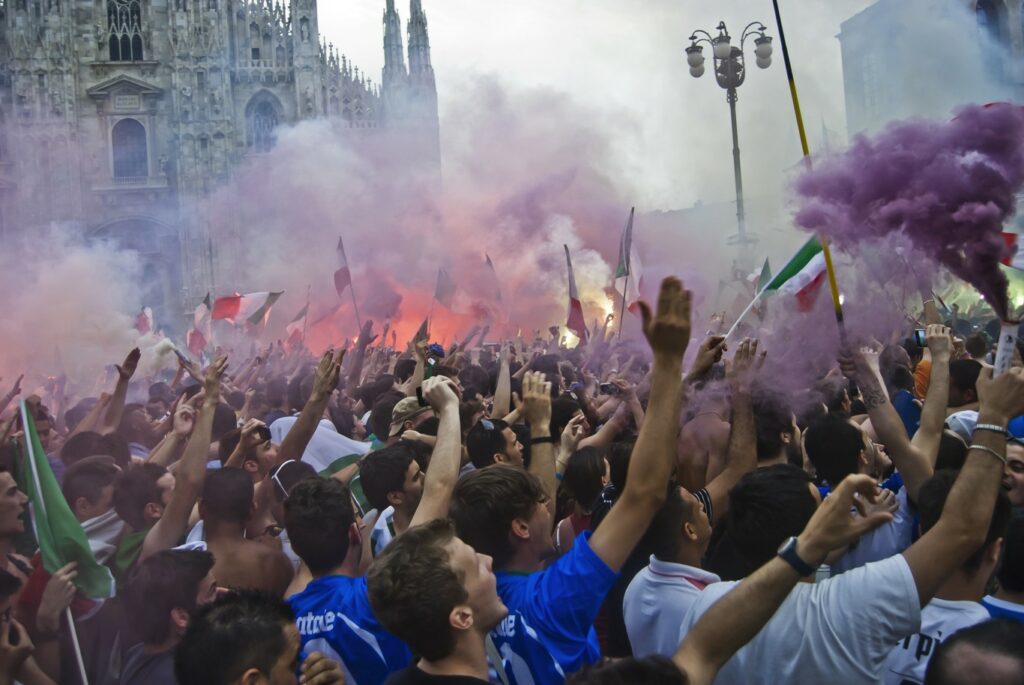 Italy was one of the founding members of what was to become the European Union, straight after the Second World War, and its position has remained profoundly European since; only now we have political factions that play dangerously with the idea of leaving it all, following a trend, that of nationalistic populism, which has been swiping Europe with force. But most of the Italians in the street, especially those aged 45 and under – the younger generations, we'd say – feel truly European: do you know how many of us got their degrees in a different European country? How many of us have close friends from another part of the EU? How many of us love jumping on the train and getting to Paris with the same ease and simplicity we need to reach a village 20 miles away?
Yes. Whatever they say, we love Europe.
Last but not least… sports
I think our relationship with sports is the same as the one Americans have: we love watching them but we barely practice them, preferring sitting down at the table for a good meal and wine. Actually, now that I think about it, the "cena con partita," dinner with the game, is a staple in many homes. Mind, there is a pretty strong sports culture in Italy: each village has a soccer, volleyball and, often, basketball team, especially for children and teens. Fathers and mothers support their children's sports activities, but they don't always go to their matches: no soccer moms here, really. We are more of a watching, rather than practicing, nation.
Watching sports is a serious activity in Italy, practicing them… not so much!