Perhaps no movement, at least in the 21st century, has globally galvanized the masses more than #MeToo.  The anti-sexual harassment campaign, fanned by the digital age, has created a gyre around the topic of gender equality and simultaneously sparked the Time's Up and No More movements.  The undertakings have forced, at times, uncomfortable conversations about gender equality in family households and companies throughout the world.  In this case, the gender crusade has collectively called out the vile actions, remarks and inequity against women.
The other part of this world phenomenon is how the United States, where the movement began, has empowered women from many nations, especially three Italian females who are single-handedly struggling to change the narrative about the oppression of women in their own country.
Recently, the ninth annual Women in the World summit, held at Lincoln Center in New York City, dedicated a thirty-minute segment titled Is Italy at War with its Women? The story addressed the backlash in Italy toward two accusers of Hollywood film producer Harvey Weinstein, model Ambra Battilana Gutierrez, and actress Asia Argento.  The other invited guest, Laura Boldrini, the former President of the Chamber of Deputies in the Italian Parliament, has also inadvertently become the face of strength as well as ridicule in Italy for her outspoken feminist views.
Ronan Farrow, the panel's moderator, whose exposé about Harvey Weinstein's alleged sexual improprieties in the film industry, published in The New Yorker, earned him a Pulitzer Prize, resulted in an avalanche of other female accusers.  In his opening remarks, Farrow introduced the women as "three revolutionaries" and said, "I do not use the term lightly," leading to a deafening applause.
He went on to say, "I will forever be grateful to Asia and Ambra for they were one of the first to speak out and talk with me" about the passive culture of tolerating sexual harassment.  One of the many questions to ponder to Ronan's word "revolutionaries" is how have these three women, from a nation not known for female activism in comparison to countries like France, England, the Scandinavian countries and the United States, reached a level of international acclaim under a male dominated society?
The cultural perspective pertaining to gender equality in Italy is historically very different than in France and England.  For instance, French born Olympe de Gouges wrote The Rights of Woman and the Female Citizen in 1791 and England's Mary Wollstonecraft the treatise A Vindication of the Rights of Women in 1792: both are still quoted in gender equality courses, and paved the way for both nations to elect female Prime Ministers centuries later. In 1848, America's Seneca Falls Convention and the 1920's women suffragist movement had more of an impact, albeit the struggle for gender equality continues. The events, however, created a conduit of hope.
Even though in 1678 Elena Cornaro Piscopia, who was part of Italy's intelligentsia, is credited with being the first woman to receive a Ph. D. in Europe, Italians appear ambivalent about the direction of #MeToo.  Many women are leading protests in their respective countries but Ambra, Asia, and Laura have been depicted by their own country's press as "victims" but also "opportunists."
On several occasions some Italians have publicly shamed the three women through social media and the press.  This has generated a division in Italy not only between men and women but among women and women.  Earlier in the year, an op ed was published in the New York Times from an Italian female journalist not known for her politically correct positions, who declared  most of Asia's critics through social media are "primarily from women."
Why are Italians so divided about the subject of gender equality?  Some attribute it to the feminist movement that lags behind other advanced nations.  In researching the genesis of Italy's feminist movement, some sources indicate that Christine de Pizan, an Italian/French humanist who published the book The City of Ladies in 1404, was one of the first to challenge misogynic culture.
Italy was not, however, a nation-state until 1861, delaying an organic force of unity that is essential for a massive change to occur within a nation.  These regional differences prevented De Pizan and other Italian feminists like Laura Cereta from building a sustainable foundation for women's rights as in England, France and the US.
In other Italian regions, women worked in agriculture and the need for women rights was not culturally imbedded into their mindset.  These women, in the late 19th to early 20th century, were illiterate to semi-illiterate and concentrated on being strong leaders of their families while   living under a fascist dictatorship.
Another question, nonetheless, arises. Why has it taken Italy so long, among other democratically-elected Parliamentary Republics, to address further the conversation of women rights in the 21st century? The answer may be with the noticeable contrast between few Italian women in positions of power than men.
Women of the World CEO and journalist Tina Brown was the panel's producer and has been following the recent events in Italy.  Ms. Brown and Ronan have given voice to the three "revolutionaries" and have helped build momentum around a subject that was in the past suppressed by powerful men in Italy.
Tina is convinced that the nation's former Prime Minister and media tycoon Silvio Berlusconi has contributed to this shaming culture through his sexist control of the media. "In a sense," said Ms. Brown, "Berlusconi has validated the worst case of chauvinism by how he treated and talked about women."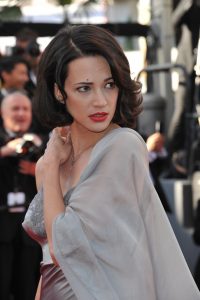 The Italian billionaire and former Prime Minister allegedly had infamous parties called bunga-bunga, where debauchery reigned.  At eighteen, Ambra Battilana was reportedly invited to a party and witnessed lewd scenes.  On stage Ambra later described how she was met with scorn in the Italian media when she revealed her disturbing experience.
In fairness to the Italian press, her story was, likewise, met in the US media with contempt, as reports of Weinstein's alleged misconduct with the model surfaced.  It has been, even so, a rude awakening for some outsiders to learn about the divisive conversations that Italians are having about the three women.
"I was surprised to hear from Laura that Italy lacks a #MeToo movement," said Ms. Brown.  Moreover, New York University Professor and author Chiara Marchelli adds "I don't know if Italy could have a #MeToo momentum as America, and not because we don't have harassers. The whole cultural frame and heritage are different." This leads to a final question, Is Italy ready for a #MeToo movement?