Oratino is a quaint little village in the province of Campobasso, Molise. With its 1,450 inhabitants, of which only about 200 live within the old borough, Oratino well embodies the image many of us have of the "traditional Italian hamlet" we learned to love.
The earliest attestation of its existence dates from 1251: it was the inventory of all the objects and art pieces belonging to Molisan churches, including that of Santa Maria castri Lorateni. Indeed, the name of the village has changed through the centuries: it was Loretinum in the 12th century, then Ratino in the 15th, from which we got Loratino first and then, finally, Oratino. The original village was destroyed by an earthquake in the 15th century, and was subsequently rebuilt higher up on the slopes of a hill: that's the Oratino we know today which, from its almost 800 meters of altitude (over 2,600 feet), beautifully overlooks the valley below.
Perhaps it was the delightful views you could – and still can! – enjoy from there to make it, curiously for such a small place, a very lively artistic center, especially from the 18th century onward. Giuseppe Maria Galanti, a known representative of Southern Italian Enlightenment wrote, in 1781, that in Oratino "many tasteful arts are practiced," explaining that, in those years, the village was particularly known for its painters and gilders.
The people at the Borghi più Belli d'Italia association, of which Oratino is a proud and deserving member, say that Oratino offers a good opportunity to its visitors to discover a little-known, almost "forgotten" part of Molise, a region less popular than others surrounding it – Puglia, Campania, Abruzzo and Lazio – but equally beautiful and well deserving a visit. From Oratino, for instance, you can also reach Agnone, known for its connection with the ancient craft of bell-making. But don't think of Oratino as a simple starting point to discover other places, because this is a pretty place to be: perched as it is on top of a hill, the village is a delightful crisscrossing of medieval alleys and streets, lined with beautiful stone homes built mostly between the 17th and 19th century when the village was ruled by the Dukes of Giordano, known for their passion for the arts. It is also thanks to their support for all crafts and arts, that the village developed so, despite being so small. One of its most notable buildings is the Palazzo Ducale, the dukes palace, built in the 14th century: it is a private property today, but we can still enjoy the beauty of its façade and stone portals while walking Oratino's streets.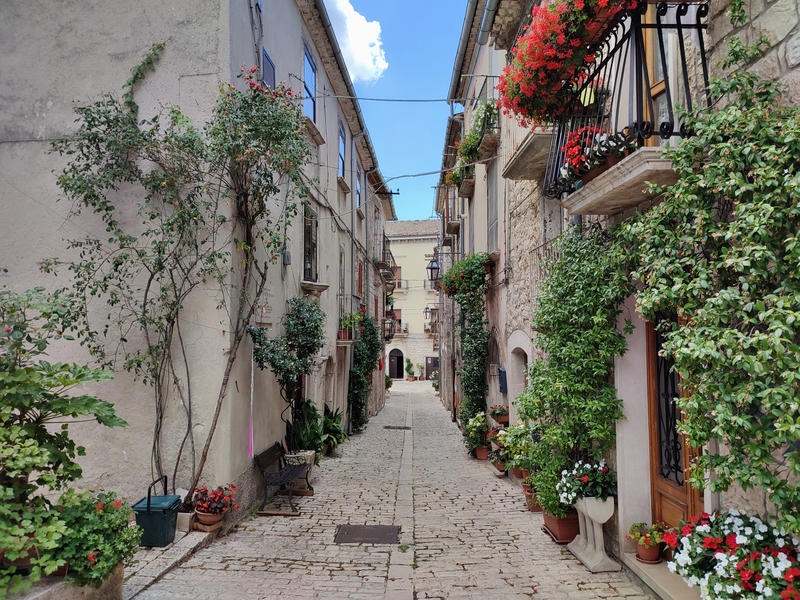 A visit to Oratino will please you at every time of the year, also thanks to the many events that animate it. On the day dedicated to Sant'Antonio Abate, the 17th of January, people gather around a propitiatory bonfire lit in front of the church of Santa Maria di Loreto; during the event, you can enjoy le lessate, a traditional dish made with legumes and cereals. In May, the village celebrates poetry with the Premio Nazionale di Poesia Arturo Giovannitti while, on Christmas Eve, it's time to celebrate with la faglia, a 12 meters-high (40 feet) wood torch set on fire in the hours leading to the birth of Christ. Initially, the faglia was certainly associated with fertility rites, but then it turned into a symbol of spiritual unity during the "most magical" night of the year.
The Biferno Valley, where Oratino is located, is known for its good food: here, you can enjoy minestra di laganelle e fagioli, a soup made with fresh pasta similar to small lasagna and beans, and also cacio e ova con salsiccia, a dish made with goat cheese and eggs, cooked in a rich sausage sauce.