Joe DiMaggio was a first-generation Italian kid, working the shores of Fisherman's Wharf in Northern San Francisco from dawn to dusk with his four brothers.
Due to difficult economic conditions, Joe had to help his fisherman father, but from an early age, his obsession was baseball. It was this passion that marked the career of this Sicilian-born young man who would later be called "the greatest living baseball player." When he took the field for the Yankees in 1936, he was greeted by 25,000 tricolor flags hoisted by his countrymen.
On the day of his passing in 1999, President Bill Clinton voiced these defining, memorable words to honor the venerable Joe DiMaggio: "This son of Italian immigrants gave every American something to believe in. He became the very symbol of American grace, power and skill."
Names like Joe DiMaggio, Yogi Berra, Phil Rizzuto, Dave Righetti, and John Franco still resonate today among baseball enthusiasts. The Italian-American Baseball Foundation (IABF) is adamant about adding new names to the list of Italian-American Baseball great players. While countless proud Italian-American organizations across the country fight for the preservation of Italian-American heritage and culture, the Italian-American Baseball Foundation carved a niche in baseball and, to do so, they promote not only scholarships for college baseball and softball players but also events like Italian-American heritage nights at stadiums across the country.
In 2023, the foundation partnered with many clubs to offer Italian-American Heritage Nights, which started off with a Miami Marlins game in April and will wrap up with a Diamondbacks game in September. This month, the event reached South California.
On August 9th, the Angels played the San Francisco Giants at the Angel Stadium in Anaheim. On this occasion, a portion of ticket sales benefited IABF while in others, other local Italian-American organizations in that city will benefit. Either way, we're supporting the culture through baseball.
Italian footballer Giorgio Chiellini was the special guest of the night at the crowded Angels Stadium where he threw his first pitch. Chiellini, now a defender for the LAFC, played in two World Cups, won an Olympic bronze medal, was the captain of the Italian soccer national team, and won nine Serie A titles with Juventus. Today, he's happy to call Los Angeles home and he has just signed to play in the MLS championship for another year.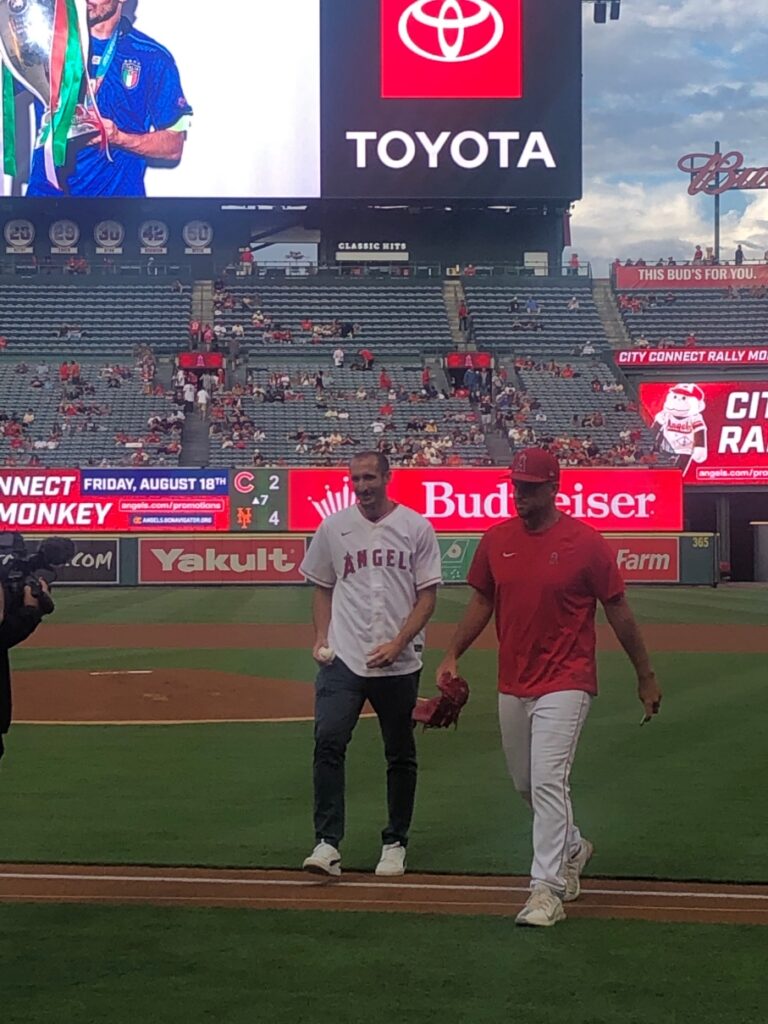 "I am very happy about the experience I am having here, both for me and for my family," Chiellini tells us. "After so many years playing under a different type of pressure, I am enjoying it here. The first few months were difficult because it was a very big change. For us Italians, baseball is perhaps the most American and cinematic of all sports. I was telling the Angels catcher before pitching that, in Livorno, we built a baseball arena that never took off. I'm happy to have been chosen for the Italian-American Heritage Night, also because, as soon as I moved here, I found a lot of Italians who welcomed me and helped me get used to fitting into a totally different culture."
IABF president Joe Quagliano says that "Our focus on developing young talent both in the US and Italy is a top priority. Each year, we sponsor training sessions and masterclasses led by former MLB players and top college coaches. We invite professional scouts and college recruiters to attend and evaluate potential talent. We are working closely with several colleges and are deeply committed to helping those who qualify academically achieve a college education through baseball and softball."
"The IABF provides citizenship documentation assistance for Americans who want to play in the Italian Olympic team and WBC team. We also donate equipment to individuals, teams, and leagues that qualify: helping families by giving their children the opportunity to have proper equipment is very important to us," President Quagliano continues.
And what is the goal of the IABF in Italy? Quagliano gives us an answer.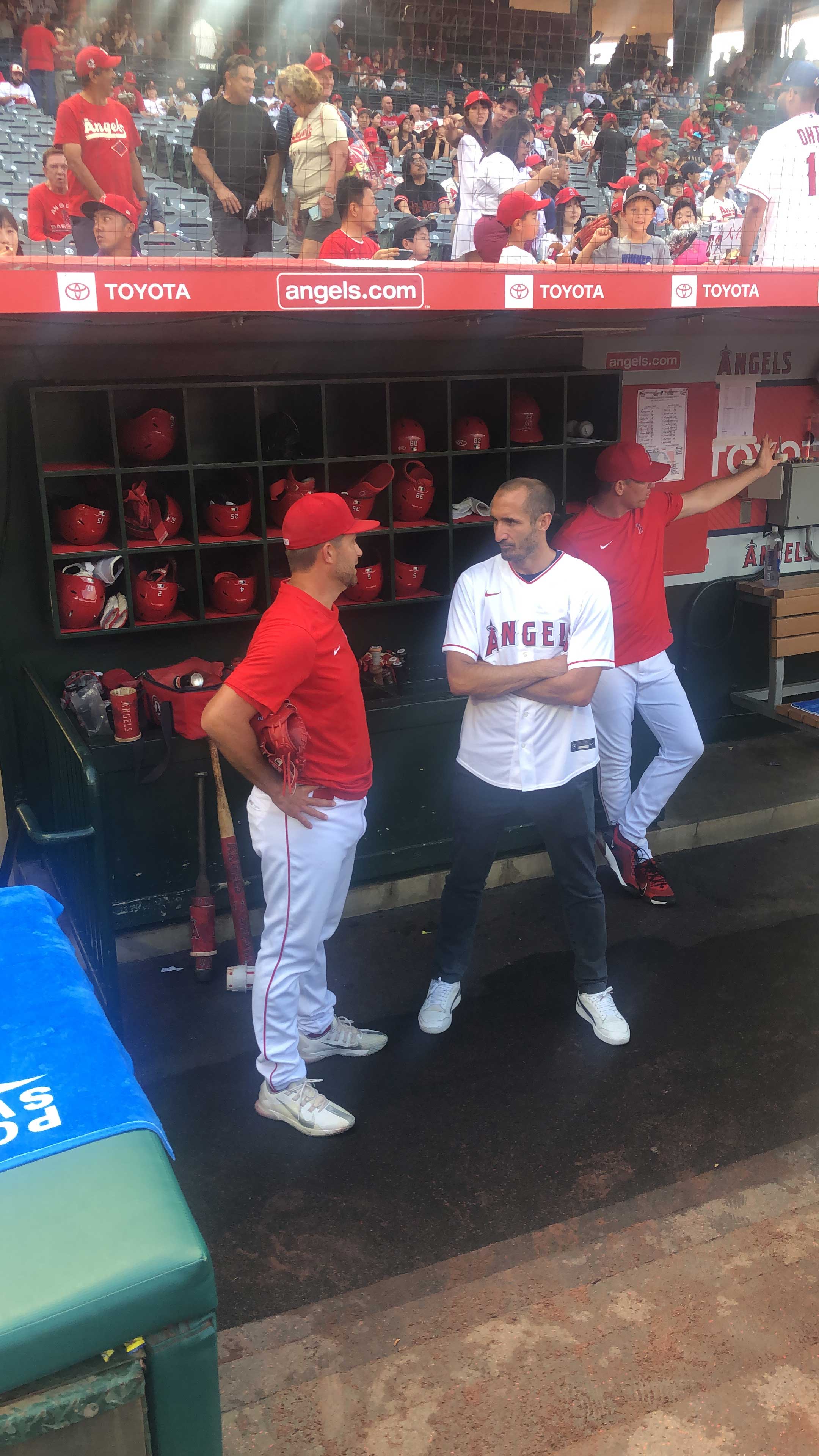 "Baseball", he says, "has long been America's favorite sport. Its rich and proud history is steeped in folklore and tradition. Plus, some of the most legendary players, who contributed to making the game great, have been the sons and grandsons of Italian immigrants. However, not many Italian played in the MLB.
"In Italy, baseball struggles to gain popularity as soccer is and will continue to be its national sport. We know we can't change that but we are determined to bring awareness of the game to Italian youth throughout the country. We will travel through Italy with former MLB players and carry out training sessions. We have an agreement with the Federation of Italian Baseball & Softball (FIBS) so that our camps will benefit from the best facilities and support. Former MLB players, including Frank Catalanotto, Jeff Nelson, Francisco Cervelli, and Bobby Valentine will be our coaches and instructors.
The IABF will sponsor camps for high school students to showcase their talent in front of top college baseball and softball programs in the United States. Having a student be awarded a college scholarship through one of our showcases is our ultimate goal!"
The Italian Heritage Night was also promoted by Little Italy of Los Angeles Associaton (LILAA).