Baci Perugina must be the best-known Italian chocolate in the world: with their silver wrapping covered in blue stars, they look like a precious stone and they are pretty enough to be gifted just like that, on their own and out of your hand. Then, when you open them, you don't only find a delicious chocolate, but also a tiny piece of white wax paper surrounding it, which contains a love message. Written in blue and in several languages, it is a gift within a gift and often puts into words what that bacio means. Because Baci Perugina are the chocolates of Valentine's Day, they are a symbol of passion and enduring love between two people. They are the most romantic of all candies.
Knowing all this, it becomes difficult to imagine that, at least initially, these creamy symbols of romanticism were supposed to be called cazzotti, a very familiar and even slightly crass rendition of the word pugni, or "punches." To understand why and learn about their name and popular association with love, we need to step back one hundred years.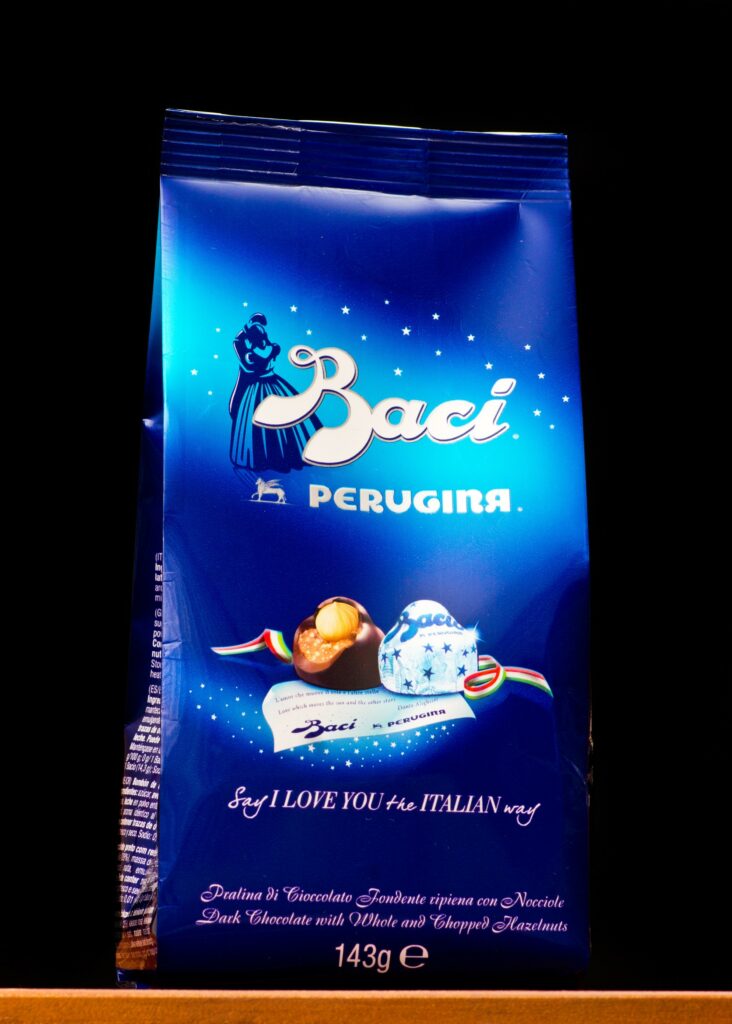 La Società Perugina was founded in 1907 by businessmen Francesco Buitoni, Leone Ascoli, Francesco Andreani, and Annibale Spagnoli. Spagnoli's wife Luisa, who had a penchant for commerce and business, got involved in the company pretty soon and she was the one who, in 1922, created the first bacio: as you would expect from any crafty Italian woman of those years, she didn't want to see chocolate left over from other productions go to waste, so she came out with the idea of putting together a creamy ball of gianduja and hazelnut crumbs, top it with a whole toasted hazelnut and cover it with Perugina's trademark "Luisa" dark chocolate. She called her creation cazzotto, a familiar synonym for "punch," because she thought the praline looked a lot like a closed fist, ready to hit.
The bacio was delicious, but that name … that name wasn't right. "How could a customer come into our store and ask, perhaps to a pretty sale assistant, 'please, could I have a cazzotto?'" thought Giovanni Buitoni, young administrator at Perugina. And how could we blame him? He came out with the much more charming name bacio, "kiss," perhaps because Luisa, who was his lover, had invented the chocolate. Buitoni also wanted to change its shape, transforming the "punch" into, some say, a delicate woman's breast. By the way, you can decide yourself whether that's true or not, because the shape of baci has remained the same since.
Baci became a success, and not only because they were – and still are – delicious chocolates. The advertising campaign created for them was just pure genius, so much so that we still see the same iconic color palette of blue and muted azure and image on their boxes today. Painter and early graphic designer Federico Seneca was Perugina's art director in the 1920s, and he was the creator of the famous couple of lovers kissing on an indigo background we are all familiar with. To be truthful, the indigo has become in time a more vibrant light blue, but the feeling remains the same. Seneca was inspired by Francesco Hayez's famous "Kiss:" he changed the lovers' background, transforming it into a minimalist one-dimensional blue and indigo slate, made their clothes more modern, and changed the girl's posture slightly to create what is, today, an ageless classic of Italian advertisement art. Seneca was also the mind behind baci's shiny silver and blue wrappings, which were supposed to remind people of moonlight.
The chocolate, the logo, the wrappings … but what about the love messages inside?
Well, legends say that it was Seneca again to add them in the 1930s, inspired by the secret love messages for Giovanni Buitoni that Luisa Spagnoli would hide in the chocolates. As beautiful and apt to the product as this explanation may be, it's more likely the idea was imported from the US by Buitoni himself. And the earliest maxims weren't romantic at all, but more like little limericks: for instance, the first phrase was meglio un bacio oggi che una gallina domani, "better a kiss today than a hen tomorrow," a wordplay on the popular Italian saying meglio un uovo oggi che una gallina domani.