Eggplants are a summer staple in our home. I don't cook eggplants in winter as they are likely to have been grown in a greenhouse, and I find them generally to be spongy and slightly bitter. Here in Umbria, field grown, delicious, Sicilian eggplants turn up at the farmers markets in the early summer and they are available well into September.
There are so many varieties and so many ways to cook this fabulous vegetable. At the beginning of the season, the deep purple oblong eggplants are great for parmigiana.
They are followed by the light purple round eggplants which are wonderful grilled or baked. Later in summer, the small Japanese-style ones make their appearance, while by fall, the season concludes with the pretty striped eggplants.
Regardless of the variety, make sure to buy them fresh, with the stem still green. They should feel heavy for their size. Pick them with a smooth and shiny skin, firm but not rock hard, and not too large as they might be full of seeds.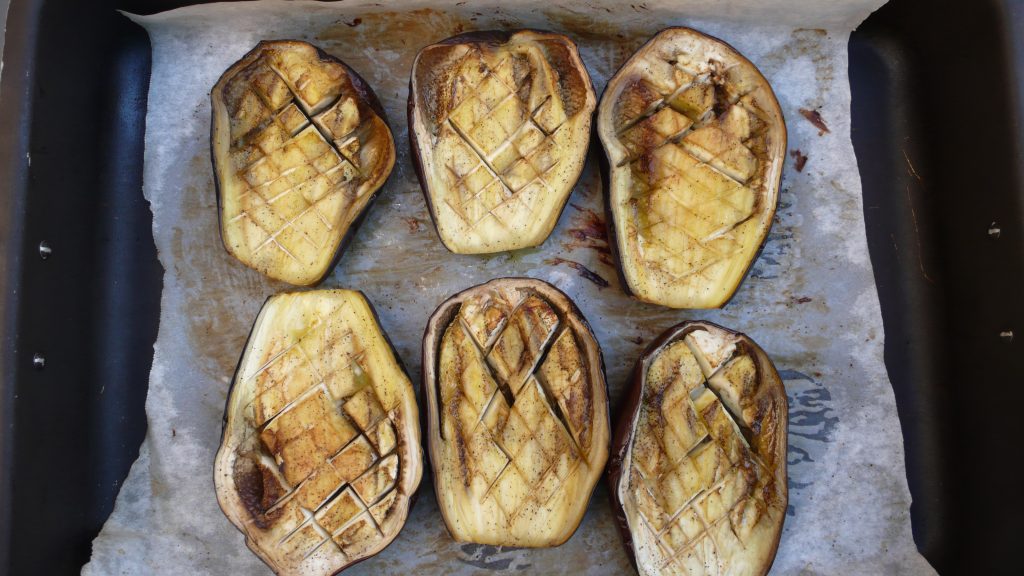 This recipe uses a combination of flavors which, save for the anchovy, is similar to a classic eggplant parmigiana but lighter and quicker to prepare. You can use a variety of toppings if you like: a different cheese, toasted breadcrumbs, olives, or capers.
I recommend being cautious with the anchovy, don't use too much or too little, as you will miss that perfect balance of savory and sweet that makes this dish so mouth-watering. Use olives if you don't eat fish, and maybe a sprinkle of finely chopped sundried tomato as a flavor enhancer.
Served with a slice of crunchy bread, this is a perfect meatless meal. You can also serve the roasted eggplants as an appetizer, or cut them into squares and serve as an aperitivo.
Ingredients (serves 4 as an appetizer or light meal)
4 eggplants
250 g (8 oz) soft fresh mozzarella, thinly sliced
3-4 anchovy fillets packed in olive oil
1 1/2 teaspoons dried oregano
2 garlic cloves, finely minced
400 g (14 oz) can of plain crushed or diced tomatoes
one handful fresh whole basil leaves
extra-virgin olive oil
salt and black pepper
Preheat the oven to 200C (390F). Wash the eggplants, remove the stalk then cut them in half lengthwise. Use a sharp knife to make several parallel incisions in the cut side of each eggplant half, without cutting through to the skin. Repeat at an angle to obtain a diamond- shaped or grid-shaped pattern.
Sprinkle the cut side with salt and place the eggplants in a colander with the cut side down for a couple of hours. The salt will draw away the excess liquid and any bitterness. When ready to bake, squeeze gently to remove any remaining moisture, then pat dry.
Transfer the halved eggplants, cut-side up, to a baking sheet lined with parchment paper. Brush them with olive oil and sprinkle lightly with oregano, salt and pepper. Roast for 35 to 40 minutes, or until the flesh becomes soft and lightly browned.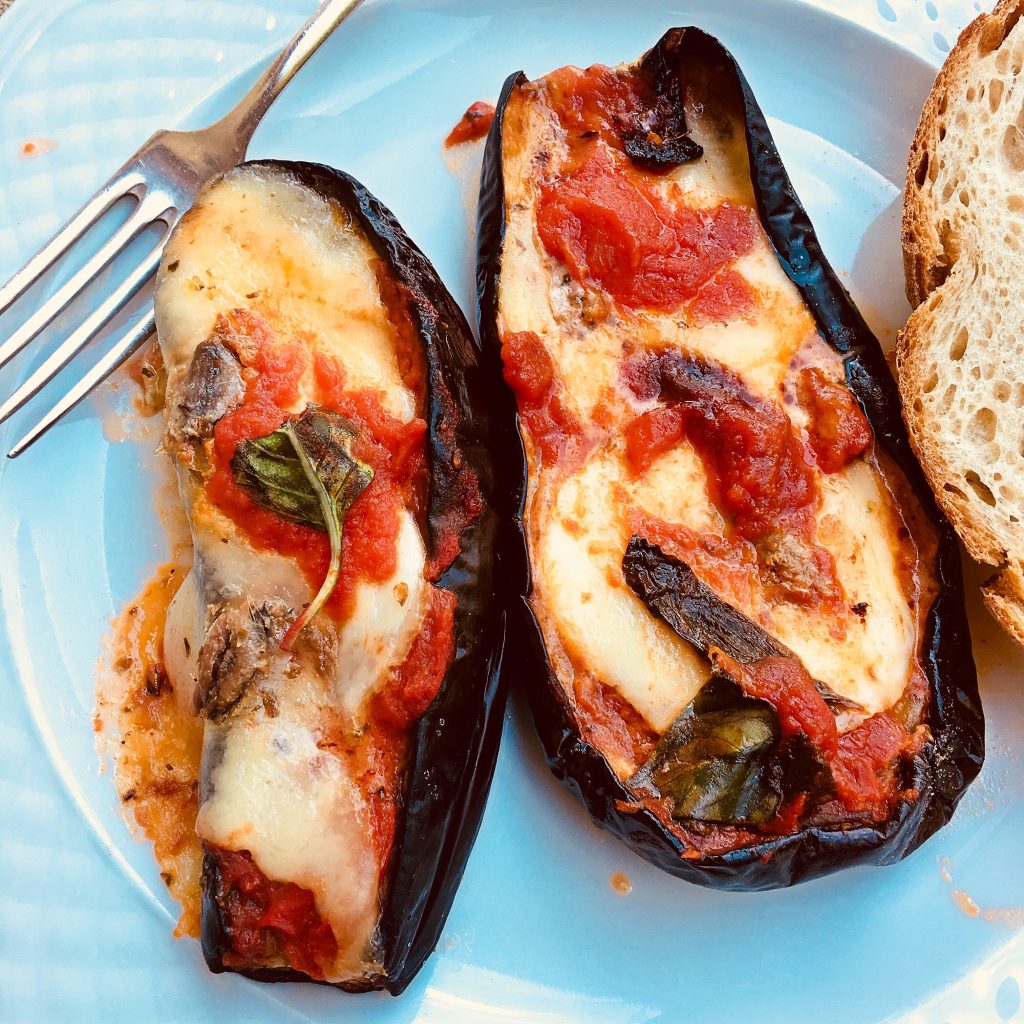 Meanwhile, sauté the finely minced garlic cloves in a tablespoon of olive oil in a shallow pan over a low heat until fragrant, 30 seconds to 1 minute. Add the crushed tomatoes, basil, a sprinkle of salt and black pepper and cover. Simmer for 10 minutes or until slightly thickened.
When the eggplants are ready, spread the tomato sauce over the cut sides, top with the mozzarella slices, basil leaves, 2-3 tiny pieces of anchovy per halved eggplant, sprinkle again with oregano, and season with salt and pepper. Bake for 5 to 10 minutes until the mozzarella is melted. Serve warm or at room temperature with crusty bread.
Letizia Mattiacci is a cookbook author and owner of Alla Madonna del Piatto Cooking School and Agriturismo in Assisi, Umbria, https://incampagna.com. This recipe has been previously published in Mrs. Mattiacci cookbook entitled Festa Italiana.