If you like pasta – and who doesn't? – and if you like cake -and again, who doesn't? – then you're sure to like timballo di pasta, pasta baked in a mold then served as a kind of pasta cake.
Italian cookery has some quite elaborate timballi di pasta, dating back to the days of the monzù, with decorative pastry crusts and elaborate fillings, like one featured in the film Big Night with Stanley Tucci. But especially in summer, I like to keep things relatively light and simple. And today's timballo di pasta con melanzane from Sicily fits the bill quite nicely. The pasta—traditionally the ring-shaped pasta called anelletti— is dressed in a simple tomato sauce, then mixed with cheese and baked in a shell of fried eggplant slices.
The recipe involves multiple steps but, all in all, it isn't terribly hard to make. And the results make quite the impression, a nice way to start off a special occasion or Sunday dinner in style.
This timballo is also quite nice served at room temperature, so you can make it ahead, if you like. In fact, according to the fascinating Encyclopedia of Pasta, in and around Siracusa this timballo is sometimes called pasta ro bagnu because of its popularity for beach picnics. Nice image, that…
Ingredients
Serves 4-6
300g (10-1/2 oz) anelletti or another pasta of your choice
For the sauce
1 bottle of passata di pomodoro
a sprig or two of fresh basil leaves
For assembling the timballo
2-3 medium to large eggplants, thinly sliced lengthwise
75g (2-1/2 oz) freshly grated Parmigiano Reggiano (or Pecorino Romano)
250g (1/2 lb) mozzarella, scamorza or caciocavallo cheese, sliced or cut into cubes
Directions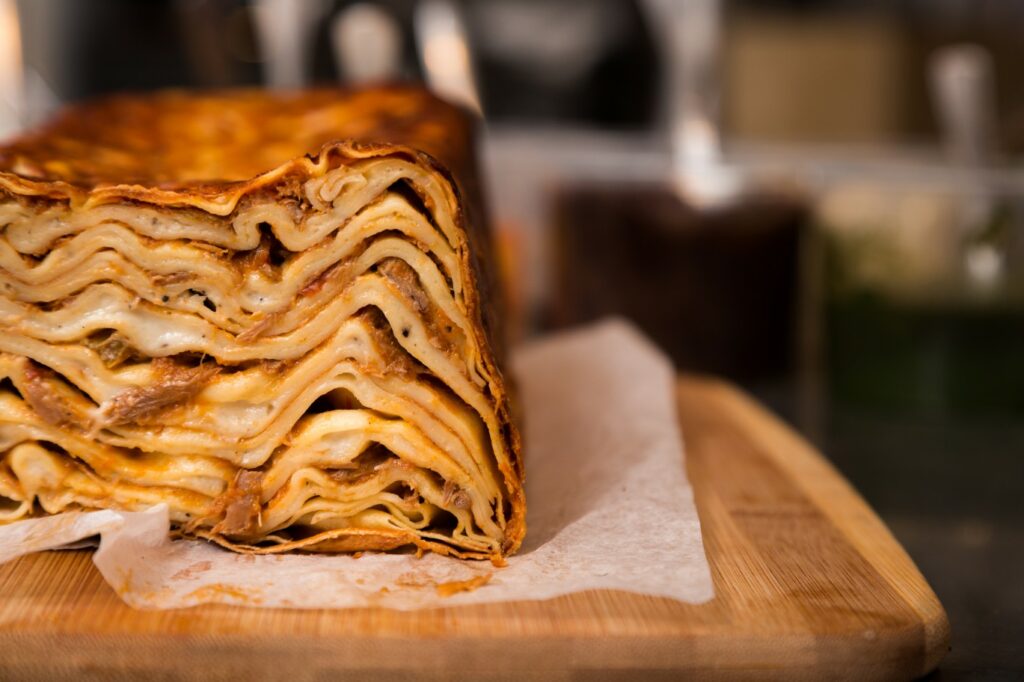 Slice the eggplants lengthwise in thin (but not paper thin) slices, say about 1cm (3/8 inch). Lay the slices in a colander, salting them lightly on both sides. Let sit for at least an hour, then pat the slices dry, and fry them in olive oil until they have softened and lightly browned. Lay out paper towels to soak up the excess oil and set aside until needed.
Meanwhile, in a saucepan, sauté the garlic cloves gently in abundant olive oil. When the garlic is just beginning to brown slightly around the edges, add the passata and let it simmer for about 15 minutes, until it had reduced and separated from the oil. A few minutes before it's done, throw the basil leaves in the saucepan and season with salt to taste.
Cook the pasta until it's slightly underdone. Drain and pour into a large mixing bowl. Add as much of the sauce as you need to coat the pasta nicely (without drowning it!) along with the grated cheese. Taste and adjust for seasoning.
Now to assemble the dish: gingerly lay the fried eggplant slices in a decorative pattern to cover the bottom of a well-greased springform pan about 19cm/7-1/2 inch across (see Notes), slightly overlapping. I like to place them starting from the center outwards, covering and flopping over the sides, as if they were the spokes of a wheel.
Pour half the pasta into the mold. Lay the slices of mozzarella or scamorza here and there over the pasta, leaving a small border at the outer edge of the pan. Cover with the rest of the pasta and flatten it out with a spatula. Take the ends of the eggplant and fold them in over the pasta. Cover the bottom with any remaining eggplant slices. Using paper towels or parchment paper for protection, gently press down on the top to flatten things out and consolidate the filling.
Bake the assembled timballo in a moderately hot (190C/375F) oven for 30-40 minutes. Remove from the oven and let it rest for at least 15-20 minutes.
Flip the timballo onto a serving dish and unmold it. Serve cut into wedges with some more sauce on the side for those who want it.
Notes
The main trick to success when making this dish? Like any dish that has to be unmolded, you need to make sure it doesn't stick to the mold. Using a nonstick mold is obviously one option but I'm here to tell you it's not foolproof. You still need to grease the mold generously. Even better, use some fine parchment paper to line the mold, in particular the bottom. In fact, they sell parchment paper circles which, for my money, do the job perfectly.
It is also important to avoid slicing the eggplant too thinly. If you do, the slices will tend to fall apart and/or stick to the mold. And you want to fry them in oil hot enough so it bubbles up when you place the eggplants in, to avoid them absorbing too much of it. The pre-salting, though not strictly necessary, also helps to reduce oil absorption. It softens the eggplant, too, which reduces frying time.
In Sicily, the classic choice of pasta is anelletti, a small ring-shaped pasta that dates to the Middle Ages. The story goes that their shape was inspired by the earrings worn by the women of the Moorish nobility that then reigned over Sicily. They are not particularly easy to find, but they are sometimes marketed as "pasta rings."
Anelletti, also known as anelli or anellini, are popular in Puglia as well. And besides their use in timbales, like other small pastas they are served in soup. Although I shudder to mention it, for Americans they are probably best known as the main ingredient in that abomination known as "SpaghettiOs".
In Naples, where they also make a very similar timballo, ziti are a popular choice for the pasta filling. But I've seen recipes that call for all sorts of other pasta shapes, from stubby pastas like penne, fusilli or rigatoni to long ones like bucatini to fettuccine. In short, you can use just about any shape you like!
Frank is a lawyer with a true passion for cooking and sharing food with the people he loves. He inherited his love for Italian cuisine and culinary tradition from his grandmother, nonna Angelina, to whom he dedicated his culinary blog, Memorie di Angelina: www.memoriediangelina.com