Chestnuts roasting on an open fire…Jack Frost nipping at your nose.
Opening line in "The Christmas Song."
When late singer-songwriter Mel Torme composed those lyrics 77 years ago, he perhaps envisioned the dark brown nuts roasting on stands at street corners and shopping malls across the United States, symbolizing the sights, scents and tastes of the holiday season.
But scenes like this are not limited to this country. In Italy, as soon as there's a chill in the air, chestnut vendors descend on piazzas with carts and roasting trays full of the gleaming nuts, a reminder that the fall is followed by Christmas.
The difference is that in America, Torme's tune brings about nostalgia with images of Christmas past for folks who never roasted a chestnut over an open flame. In contrast, the Italians don't need a song to consider hot-from-the-stove chestnuts as vital to their holiday season dining as baccalà and cannoli are.
Chestnuts (castagna) grow wild on hills and mountains throughout Italy. When they turn ripe around November, the nut – encased in a spiny shell – falls from the tree. They vary in size, crunch and sweetness. The queen of all chestnuts is the marrone, a large, plump, particularly sweet variety that's often candied and sold as a confection.
Until recently, the chestnut was a staple in much of Italy. Wild nuts were harvested by hand easily and cheaply, then ground into a sweet powder called farina dolce. The original polenta, commonly called cornmeal porridge, was made with chestnut flour since corn had not yet been imported from the New World.
Cook's Illustrated says chestnuts must be roasted for 25 to 30 minutes at 425 degrees, then cooled at room temperature before shelling. To keep them from exploding when steam builds up as they cook, the magazine suggests scoring the shell at its widest point.
In addition to being a Christmas meal favorite, chestnuts also associated with death in parts of Calabria, Marche and Val d'Aosta, where they're sprinkled with sugar and grappa and flamed to take on a dark, funereal color.
Traditional chestnut polenta from Tuscany includes manifregoli (with pecorino cheese and olive oil), and vinata (chestnut flour cooked in wine). The flour lacks gluten to bind the dough together, so it is blended with wheat flour for bread and biscuits. Castagnaccio, a dense semi-sweet cake, is a classic chestnut flour dessert.
Puréed chestnuts, a creamy dish served with roasted turkey, goose, pork or game, is common on holiday season tables. The recipe calls for heavy cream, butter, salt and freshly ground pepper mixed with the finely ground nuts.
Though chestnuts are imported from Italy and other European countries, the US grows and markets most of the low-fat, high-starch nuts consumed in this country. In grocery stores, they are usually found whole or canned, priced around $4 a pound.
A serious problem that almost wiped out a portion of the domestic chestnut industry led to the establishment, in 1983, of the American Chestnut Foundation. The organization was founded by prominent scientists who feared the severe impact and possible demise of the American chestnut would have on the economy and ecology. Reigning over 200 million acres of eastern forests from Maine to Florida, the chestnut tree was in danger of succumbing to a lethal fungus infestation known as "chestnut blight" during the first half of the 20th century. An estimated 4 billion chestnuts grew within this range.
Under the direction of Dr. Paul Sisco, a plant genetics specialist, a program of research, breeding and restoration was initiated, including a partnership with Penn State University, to eliminate the disease and restore the ecosystem to its biological health.
Today, chestnut trees in the eastern and Californian woodlands are healthy and producing all those chestnuts we enjoy during Christmastime and other occasions.
Chestnuts are a traditional yuletide gift for the palate. They're so tasty that we don't mind waiting and watching them roast while Jack Frost nips at our nose. Especially during the holidays, cooks are inspired to create something new and different. For example, a dessert that combines chestnuts with chocolate in a cookie. Originating from Italy's northern Piedmont region, these delicious crumpets promise to bring the meal to a tasty conclusion. Here's the recipe: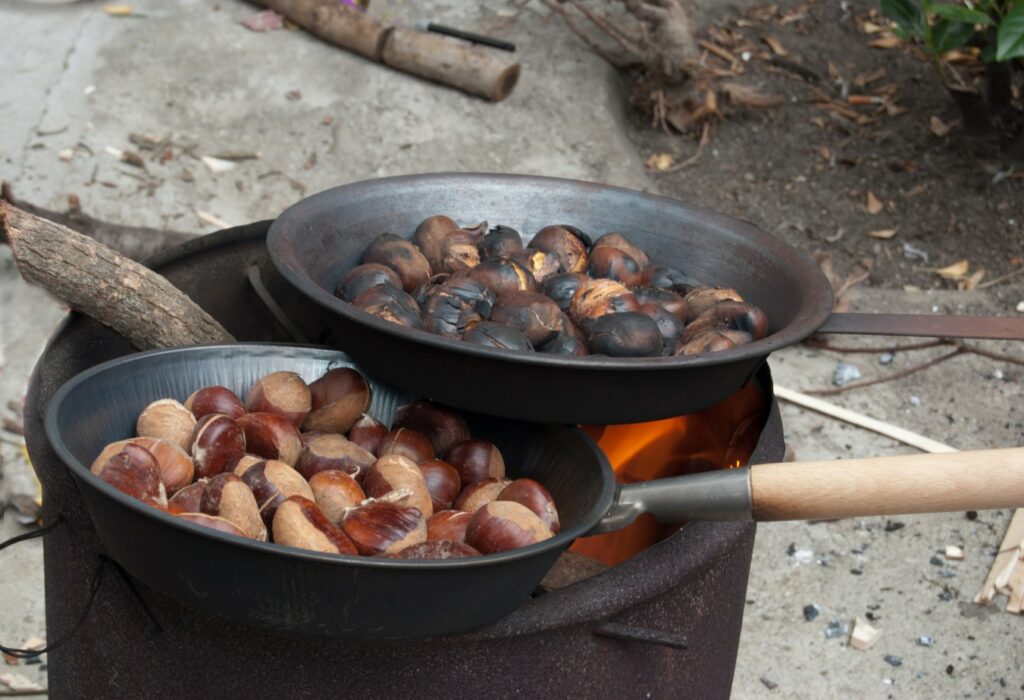 Chestnut chocolate cookies
Ingredients (Makes about 50 sandwich cookies)
1 cup peeled and roasted chestnuts (6 ounces)
3/4 cup unbleached all-purpose flour
1/3 cup unsweetened cocoa powder
1 cup (2 sticks) unsalted butter at room temperature
2 teaspoons pure vanilla extract
Filling
3/4 cup confectioner sugar
4 tablespoons (1/2 stick) unsalted butter
1/2 cup pure vanilla extract
Directions
Preheat oven to 325 degrees. In a food processor, pulse chestnuts until finely ground.
Measure 1/2 cup of nuts, then reserve renaming nuts for filling.
In a medium bowl, whisk flour, cocoa and salt; whisk in 2 tablespoons water.
In the bowl of an electric mixer, beat together butter and both sugars at medium-high speed for 2 minutes. Add in 1/2 cup ground chestnuts and vanilla; reduce the speed to low and beat in the flour mixture until combined.
Place the sanding sugar in a small shallow dish. make small balls of dough with your hands, roll in sanding sugar to coat, and flatten slightly, then transfer to a parchment-lined baking sheet. Repeat the process with the remaining dough.
bake, rotating sheets mid-way, for 12 to 15 minutes at 325F, or until cookies are puffed.
For the filling: in an electric mixer with the paddle attachment, beat sugar, reserved chestnuts, butter, vanilla and salt at medium-high speed 3 to 5 minutes, until light and fluffy.
Spread 1/2 teaspoon of filling onto the bottom half of the cookies, then sandwich them by pressing gently.
Completed cookies are best eaten the day they are made.