To make something valuable out of something that might be seen as not having any value at all. It's with these words that Chef Massimo Bottura, well known worldwide for his three-Michelin-star restaurant in Modena, explains what's the spirit of his Refettorios. The Italian word comes from Latin and means "to re-make" and "to restore." Originally a place where monks gathered together to share their daily meal, it is now where food, culture, and sense of belonging come together to create a community. With locations in Italy, France, UK, Brazil, Australia, Switzerland, Mexico, Peru, and the United States, the Refettorios are just one of the initiatives led by Chef Bottura and Lara Gilmore's project, Food for Soul. With learning networks and innovation hubs, the initiative aims at building a more sustainable and inclusive food system, as well as providing basic human needs, increasing well-being, and accelerating opportunities for social mobility.
We interviewed Chef Bottura and learned more about his connection with America and the initiative launched in California through Food For Soul and thanks to the partnership with San Francisco's nonprofit, Farming Hope.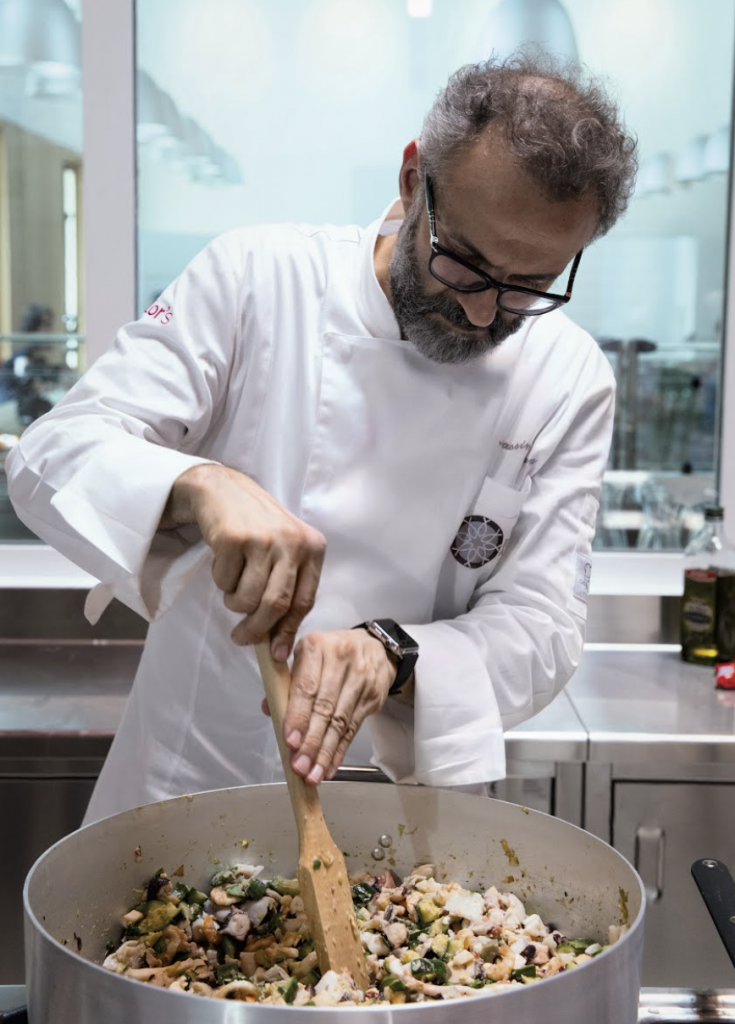 Chef Bottura, what makes you close to San Francisco and its people?
My heritage is 100% Italian, yet America played an important role for me, he made me grow both as a person and a chef. During the summer of 1978, I came to the US for the first time and picked San Francisco to study English. I was just 16-year-old, coming from a small town in Northern Italy, and had my own idea of ​​California: rock concerts, convertible cars, and cowboy hats. Nevertheless, after three months of being with an American family, I became a different person. My English had improved, and I had gotten some life lessons on the value of diversity and freedom of expression that changed me forever. Those same principles have become part of my cooking as a chef and how we create both a menu and an experience that represent us. It's our ideas, our emotions, and the connection with the place we come from. I hold memories of San Francisco in my mind and heart. Being able to contribute with small actions, especially during the pandemic, is for me an opportunity to shed light on how we care for people and the environment. In many ways, San Francisco has been a leading city in both areas: the Bay area has always pushed for a more inclusive community, where everyone fights for individual rights and to restore dignity to those who are often marginalized. The city has progressively become an advocate for a healthier food system by supporting local farmers and fostering better agricultural practices. This is how we can help shape best practices for the world.
Why did you think San Francisco needs a project of this kind?
Italy and America share many of the same values. Democracy, freedom, civil rights, and a free-market economy are the values ​​that will help both countries recover from the pandemic. Nevertheless, they are essential everywhere. A Refettorio is designed to help rebuild a community by sharing a healthy meal with those who need it. It is just a starting point though, from which we are able to create a sense of belonging for the most vulnerable people and a way to make sure that those who are lucky think differently. This isn't a project made for charity but for culture. We see value for everyone involved, guests, chefs, volunteers, community partners. No matter where we are in the world, food means support and ways to create opportunities for freedom. For this reason, these projects include training activities, educational programs, and artistic initiatives. You cannot fight hunger just with a meal. Much more happens when we bring people together to reimagine a system that keeps people isolated and in poverty.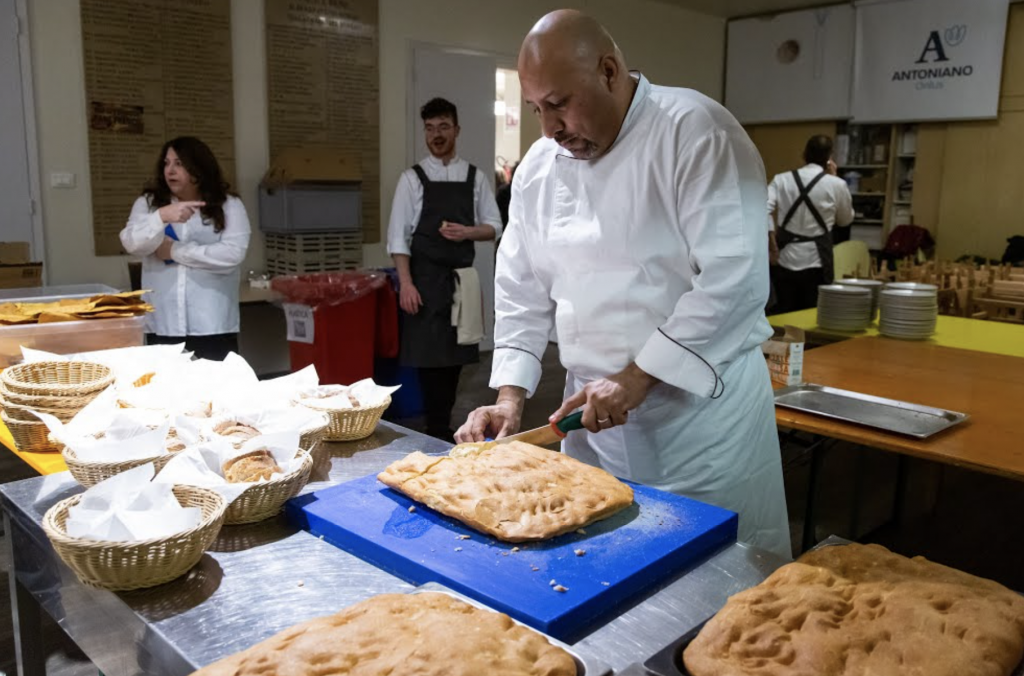 What made you create this project in different cities around the world?
The Refettorio model is based on bringing together different perspectives, ideas, and people to create a place that is born from and for the colors that need it. There should be a place at the table for everyone so we can create a healthier future. The Refettorio initiatives help celebrate the potential around us, inspire people and, above all, get people to act. The pandemic has left more people and families facing food insecurity, many people cannot access basic needs such as food. This dire situation offers us the opportunity to break the cycle of waste – natural resources, human lives, and food. I believe that a Refettorio can be the voice that helps us think differently, giving visibility to the role of culture in changing behaviors for social change.
What kind of relationships were you able to build around this project?
Farming Hope has been an amazing partner so far. The team is determined to create paths for those who need them most. They didn't stop working during the pandemic to feed San Francisco's neighbors and successfully maintained their culinary training and apprenticeship program when many closed. This kind of resilience and character are part of many nonprofits and community organizations we partner with: it's the ability to forge new relationships with those who dream and are willing to take risks in San Francisco. If we are fully open to all kinds of programs, we can give the world a vision of how stronger we are when we work through collaboration. The project is connected to a number of service organizations that help the team define who needs a meal and additional health and human services to feel safe, nurtured, and protected. Most of these people are homeless, some others know how to cook: the food we offer is both prepared meals and fresh and healthy food to be prepared at home. We strongly focus on achieving a hospitality service for families and young people: the Refettorio will become a place for them to enjoy a meal around the table and dedicate themselves to after-school activities. Over the past 12 months, partnerships have grown to include suppliers and food markets that help the Refettorio recover excess ingredients; the support of the Consulate General of Italy, and many companies, municipal officials, and institutions. Amid all the changes, the hospitality industry and chefs continue to play a supporting role – being a workforce opportunity for those who graduate from Farming Hope's programs.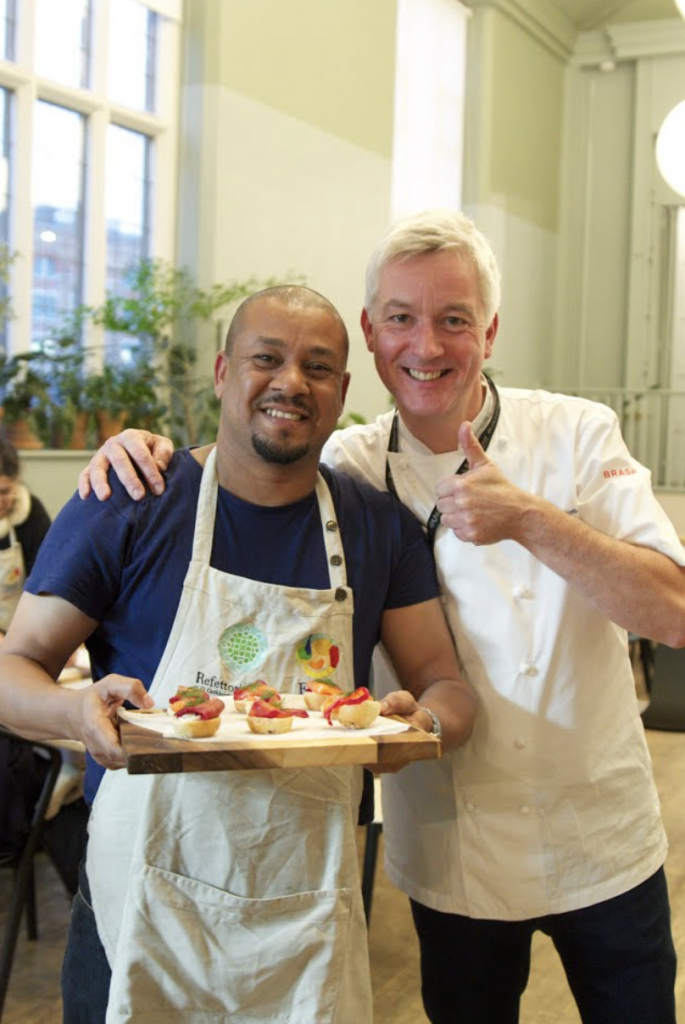 This strong collaboration with Farming Hope was at the center of our conversation with Jill Conklin, Strategic Development Officer at FoodForSoul. The non-profit, founded by Chef Massimo Bottura and Lara Gilmore, is a cultural project to shine light on the invisible potential of people, places, and food. And like Chef Bottura said, it's through partnerships that the organization is able to build a progressive human-centred model where culture allows to foster human connections and improve food systems.
Jill, tell us a bit more about this project.
I'd start by saying that every Refettorio is somehow unique. The global idea becomes somehow special at the local level, even if we tend to see the same exact results. There is a need in the communities we serve and that's the need of keeping people's dignity, whether it's at lunch or dinner time. There's the hospitality component, where the Refettorio opens its doors while people welcome you with a smile, a handshake, inviting everyone to bring their own perspective at the table. Every voice is heard, everyone is at the center.
What has been the timeline of the Refettorio project?
In 2015, the first Refettorio opened with the idea of sustainably feeding the future, reducing food loss, and promoting inclusion. This pop-up concept was presented during the Milan World Expo and by the end of it, everyone – chefs, partners, people in general – understood this was not just a soup kitchen, it was much more. It's a cultural hub. Of course, with the pandemic, it evolved and needs had to be shifted, as well as the setup, including volunteers, safety measures, and restrictions. Every Refettorio changed and grew, becoming an open pathway where to share a sense of belonging. Massimo and Lara had a model in mind that has been beneficial in many communities.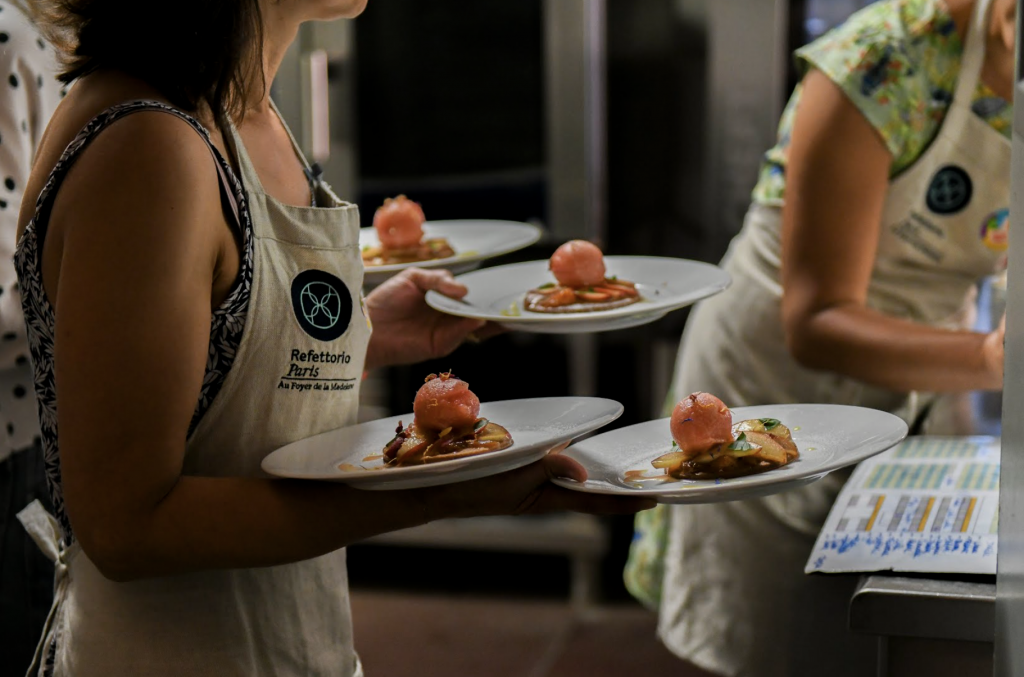 How did this project end up in San Francisco?
The choice around where to have the next Refettorio does not happen overnight. We spent time researching and understanding the city. Also, we had to explain why the Refettorio opens in a certain area not to change it but to amplify and put lights on it. Through a grant from the Rockefeller Foundation, we could capture all the information we needed, walk the streets in San Francisco and Oakland and see what people understand about food waste and food aid.
How did the collaboration with Farming Hope take off?
Later on, in 2018, we went through a process of vetting and choosing the non-profit that could help us open the Refettorio. Farming Hope was just the right partner for us: they are deep thinkers on how to make changes in new directions. They understand and want everyone to learn how food is a basic necessity and how you feed the soul and keep the mind inspired. Jamie and the team haven't stopped a moment when it came to finding the place for the Refettorio. The pandemic happened and they did not shut down any programs, they pushed to be at the center of the community. They work to empower people from all backgrounds. We are very grateful to Farming Hope because we can work together and leave a legacy of powerful collaboration, country to country, person to person.