In medieval mythology there is a land named Cockaigne (Cuccagna in Italian), which is an imaginary place of  pleasure and plenty where the harshness of peasant life does not exist. In Cuccagna, the mountains are made of gold, silver or cheese, lakes are filled with milk and honey and candied fruit rains from the sky.
Throughout the centuries, the status of candied fruit as the food of dreams is unchanged.To this day, the brilliant preserved fruit is still an essential ingredient for panettone, cassata, cannoli, pastiera, panforte, panpepato and a myriad of other wonderful treats belonging to our culinary tradition.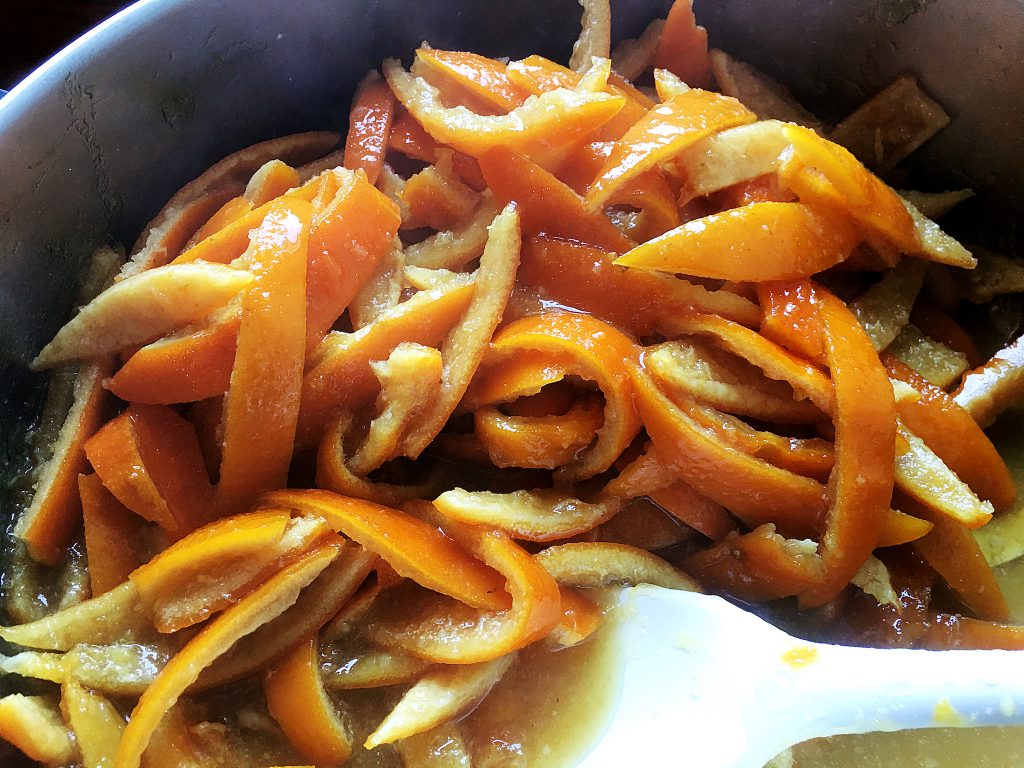 However, I am sure that some of you might have found yourself picking out the candied fruit from a slice of panettone or other fruitcake. I did when I was young; then I just avoided fruitcakes altogether. I remember wondering why anyone would ruin a cake with all those plasticky orange and green bits? What went wrong? The market is flooded with cheaply made sweets studded with candied fruit that has no resemblance to the luxury food of the past and is most often than not full of artificial flavors and coloring.
Several years ago, I happened to have too many oranges, too much marmalade, and more than enough arancello (orange liqueur), so I decided to be adventurous and investigate how to make candied orange peel. I was not convinced I would love it, but I planned to use it as decoration for panna cotta and other desserts. Luckily, I was in for a surprise: I could not believe my taste buds, but homemade candied fruit is heaven!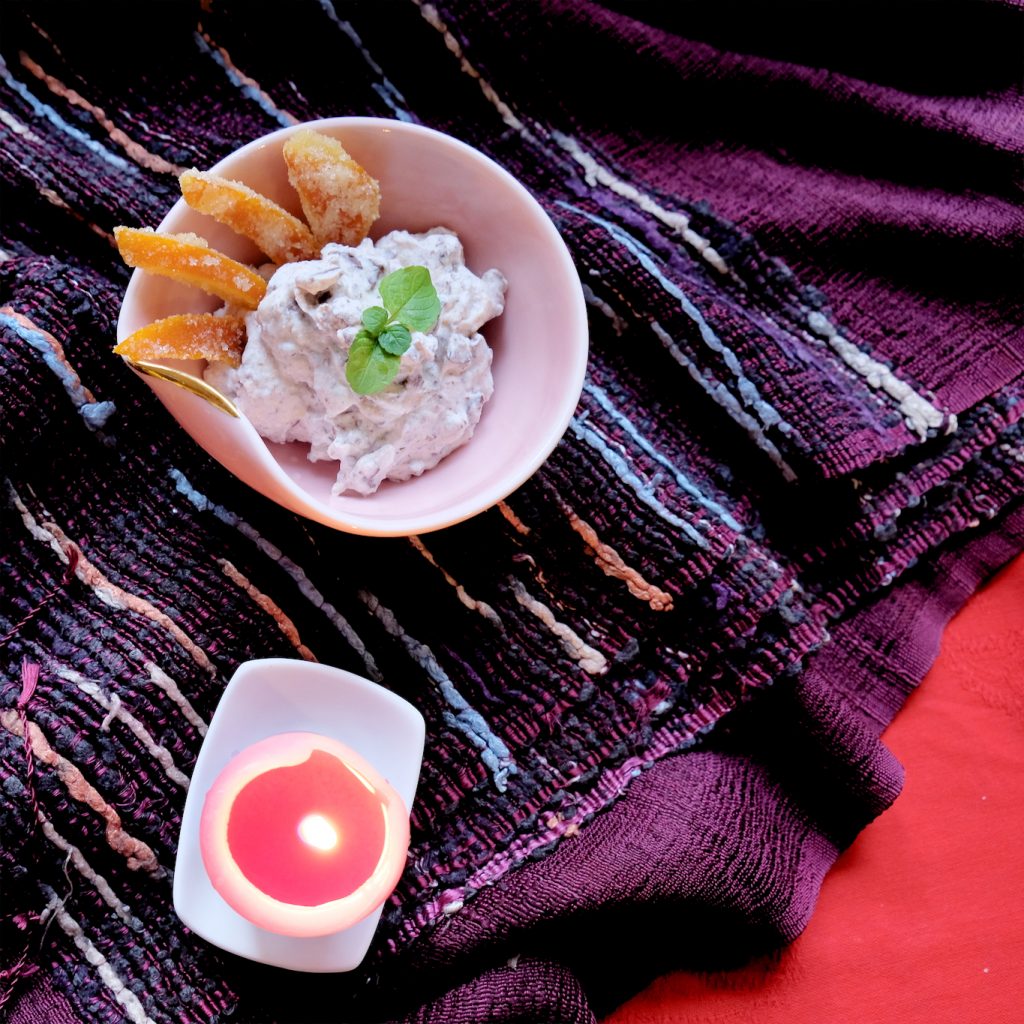 Proper candied fruit is indeed addictive – fragrant, intense and not plasticky as the cheap supermarket variety. It imparts wonderful citrus nuances to any cake, cookies, or sweet breads. I also dice it into special salads. After this revelation, I began to make candied orange peel every January, as a special ingredient and for edible gifts. They keep for the whole year.
We can't grow oranges or lemons in Umbria, so every winter I order a crate of organic oranges from Sicily and use them to make preserves for the whole year. I experimented with various recipes for candied orange peel but was always unhappy with the convoluted methods and leathery results until a few years ago when a kind friend gave me this easy recipe, taken from an old magazine. If you make the candied peel before Christmas you can package it up into pretty jars and give them as fabulously delicious gifts.
Ingredients
• 2.5 kg (5 lb, approx. 12 oranges) organic, unwaxed oranges with a thick skin, for example Washington Navel oranges
• 1.8 kg (8 cups) sugar
Procedure
Halve and juice the oranges. Keep the juice for some other use. Place the peels in a large pan and cover with cold water. Bring to the boil, cook for 3 minutes and then drain.
Return the peels to the pan, and cover with cold water. Bring to the boil, cook for 3 minutes and then drain. Repeat for a third time. Leave the peels in a colander until they are cool enough to handle.
Using a metal spoon, scrape out the soft membranes and discard. Cut the peels into 1/2 inch(1 cm) wide strips and set aside.
In a large shallow pan set over a high heat, bring 2 lt (8 cups) of water and 1.35 kg (6 cups) sugar to the boil. Add the peels, reduce the heat to maintain a gentle simmer, and cook, stirring occasionally until the peels become tender and translucent. This will take 1 1/2 to 3 hours, depending on the thickness of the peels. Do not let the sugar turn brown or caramelize.
Using a slotted spoon, drain the peels and spread them out on
a large tray lined with parchment paper. Once they are at room temperature, toss them in a cup of sugar. Allow them to dry for a day.
The next day the peels should be soft but dry. If they are still sticky, toss them with some more sugar (1/2 to 1 cup) and let them dry for one or two more days. By this time, the peel should still be soft and can be packed for gifts.
The peels will last for about a month but be aware that because they are not treated with artificial preservatives, mould may eventually grow on them.
To preserve the peels for cooking, leave them on the tray for several more days until they are completely dry. Transfer to a box, cover loosely with kitchen paper and keep in a dry cupboard, where they will last for up to a year.
Letizia Mattiacci is a cookbook author and owner of Alla Madonna del Piatto Cooking School and Agriturismo in Assisi, Umbria, https://incampagna.com This recipe has been previously published in Mrs. Mattiacci cookbook entitled "A Kitchen with a View."