Have you ever heard of Atrani? Well, if you haven't, you are in for a pleasant surprise.
Located a mere 1/2 mile from Amalfi (I am sure you are familiar with this one!), Atrani is one of Italy's Borghi più Belli d'Italia and, in name of its characteristic medieval architecture, is also part of the UNESCO World Heritage List, along with other sites of the Costiera Amalfitana of which it is part.
In its simplicity, Atrani is quite breathtaking, perched as it is on a rocky hill, yet just one tiny step away from the sea. With its little, quaint beach  (considered among the most beautiful of the whole Costiera), mostly frequented by its lucky residents, and its main church dedicated to San Salvatore de Birecto, neoclassical in style, but originally built in 940, this village seems so distant from the touristy, attractive Amalfi, which is however only a short walk away. Yet, it is as much as a quintessential Costiera corner as its bigger, more popular sister: it just embodies a different side of it.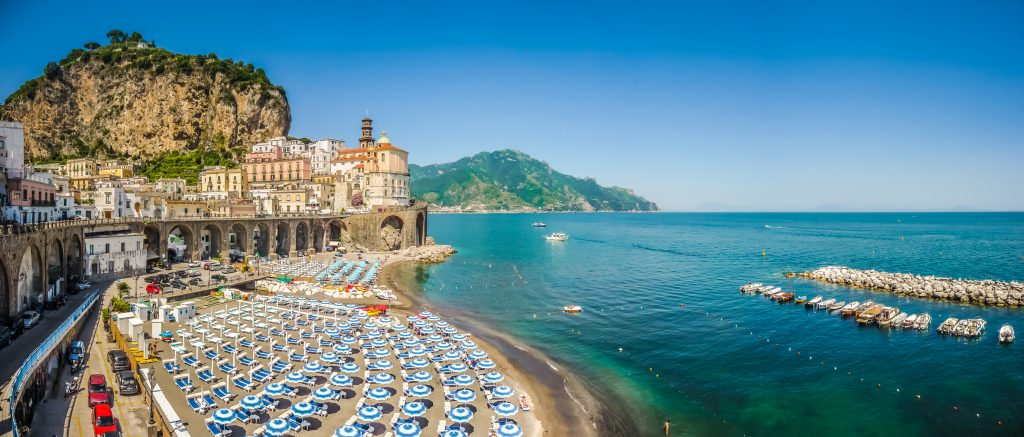 Atrani is, indeed, a very small place, but certainly not smaller than others when it comes to number of residents: 832, as of 2020. A pretty common number, especially when you travel away from larger cities to embrace the slightly old-fashioned, but far more magical world of our countryside. Indeed, there are, resident wise, much smaller communes, like Moncerisio in Piemont and Morterone in Lombardia. But it is to Atrani that the medal for smallest commune in the peninsula goes, not in name of the amount of people calling it home, but because of the tiny area it covers, only about 0.12 square km. Curiously, these data also make it the commune with the highest density in the Salerno province, that is to say, those 832 people are a lot for such a small place.
If you look at pictures of it, you'll soon understand how it's possible that almost 900 people live on such  a small square of land: the village develops in height and many houses appear to be built on terraces, pretty much the way it happens, for instance, in Liguria, where the space between the sea and the mountains is minimal. In spite of its size, Atrani has a lot be loved for, starting, of course, with its location: a village that sits on a mountain, but filled with the scents of the sea, hidden to the eye of the curious by a rocky promontory, its shoulders protected by a river, the Dragone, that legends say used to be home to a fire spitting dragon. Walking in its winding alleys brings to mind a game of hide and seek, with arches and minuscule piazzas appearing around every corner ,and you may be surprised to know that Atrani is also very lively when it comes to its nightlife, especially on New Year's Eve.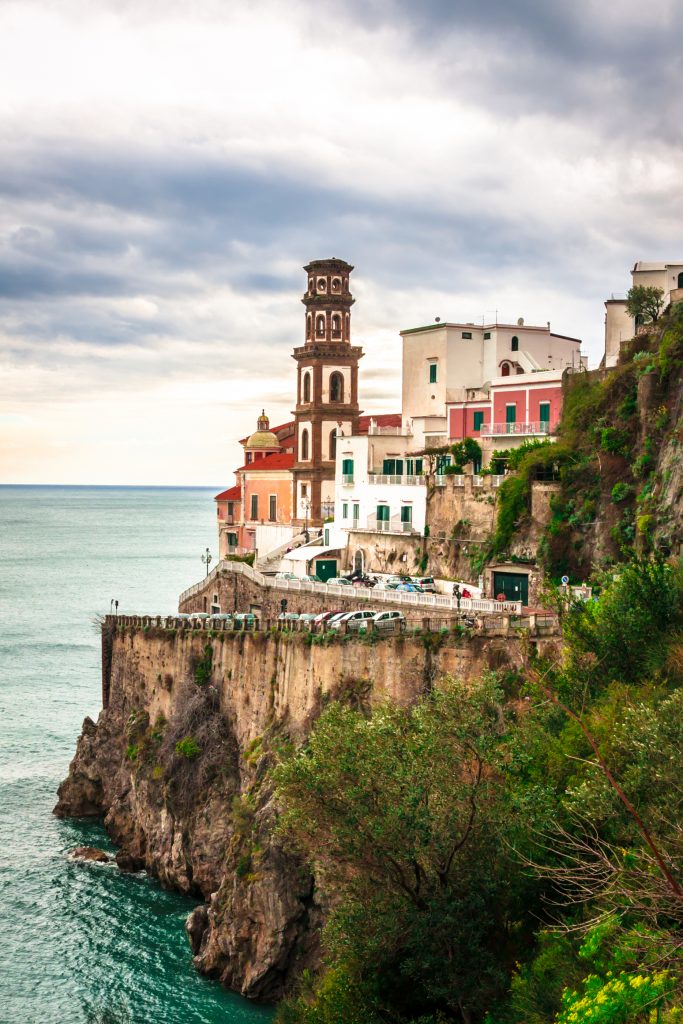 For those who enjoy history and architecture, a short walk uphill will lead to the church of Santa Maria Maddalena, built in the 13th century by the Atranesi to honor and thank the Virgin, who had protected them and eventually freed them from Saracens' incursions; its maiolica dome and its belfry are, perhaps, the most recognizable features of the village.
Just beside it, you'll find the Grotta di Masaniello: here, tradition says, the famous Neapolitan leader who fought against the Hapsburg dominion on Naples, had found refuge while escaping from the Viceroy and his army. As the grotto was believed to be near Masaniello's mother's home, the implication is that he was originally from Atrani.
Just above the street connecting Atrani to Amalfi, you'll find the Grotta dei Santi (the Saints' Grotto) which was, once upon a time, part of a monastery dedicated to Saint Ciriaco and Saint Judith, which no longer exists. It was probably built sometimes in the 10th century, as attested by papal documents, and it developed around the grotto itself, in a style typical of the early Christian hermits, which still survived in those centuries. It is called "dei Santi" because the Byzantine style frescoes that ornate its walls represent several saintly figures, including a warrior saint believed to be saint George. Today, the grotto magically opens on to a lemon grove, an extension of beauty and peace to what embodies an early representation of spirituality and one of the earliest examples of Medieval visual arts of the whole Costiera Amalfitana.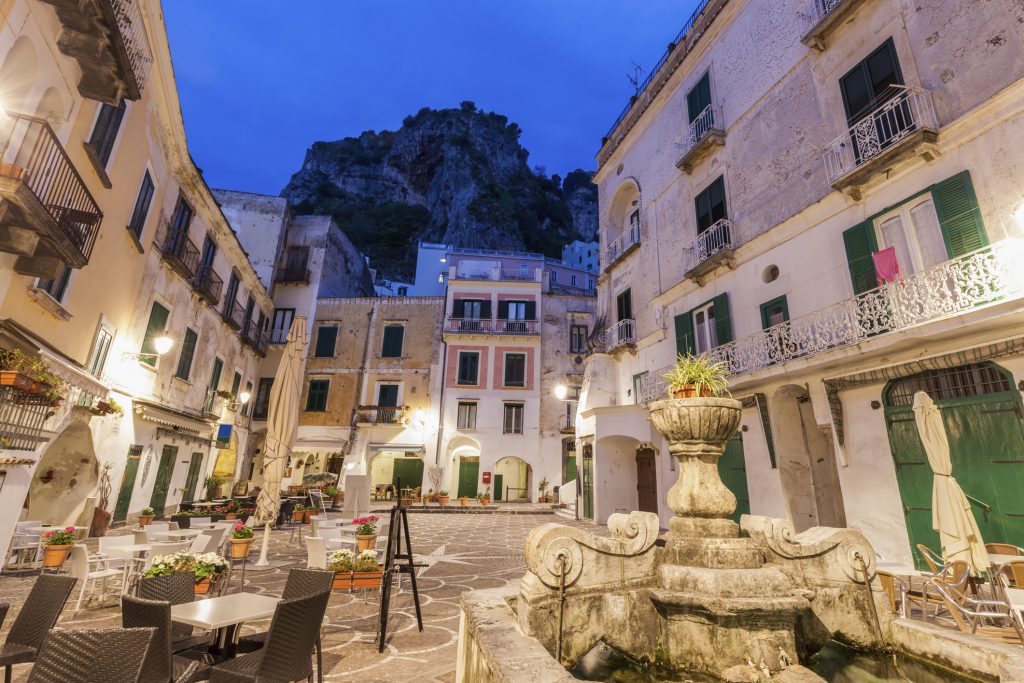 And this is Atrani, Italy's smallest village. Forgotten by the masses, blessed by beauty and tranquillity, in one of the most charming corners of the Belpaese. Perhaps, being on the Costiera — and so close to Amalfi — let Atrani's understated beauty go unnoticed and who knows, in this day and age, where the brazen is often more appreciated that then quiet, it may continue to be so. But what a jewel it is, to the eyes of those who understand beauty, just like it is to Enzo del Pizzo, a contemporary local poet, who wrote that Atrani è nu Presepio: as simple and beautiful as a Neapolitan Nativity.