My first stop when entering Apulia was at the Wojtyla airport in Bari Baggage claim. While waiting for the conveyor belt to start delivering my bags, I looked up and noticed the room's only advertisement: a banner pasted across the top of the wall highlighting il Pane di Altamura DOP—Altamura's famous semolina bread. Was I shocked? No. I had come to Apulia with every intention of traveling to Altamura to eat this bread. Was I surprised—and delighted—to see a fresh loaf of bread advertised on the wall like a phone plan? Well, yes.
October 16th is World Bread Day, but in Southern Italy, great bread is celebrated (and consumed) nearly every day. Traditionally, it comes not from a plastic bag on a supermarket shelf, but from a local panificio, where a lievito madre—or starter—gives each loaf its unique flavor, the local grains its pale yellow color, and a wood oven an extra scent and crispy crust. In this, the heel of the boot—Apulia and its neighboring region, the Basilicata, to be specific—breadmaking traditions have resulted in the rivaling breads of Altamura and Matera, as well as a beloved focaccia that once gave McDonald's a run for its money.
So what was the Bari airport billboard boasting about? Altamura is a town of nearly 70,000 inhabitants sitting about 40 minutes southwest of Bari and the Adriatic coast. Set in the high plateau of the Alta Murgia region, this small town is famous for its namesake bread—the only one in all of Italy to have received PDO status (its ingredients and production take place in a well-defined region, and the recipe must be strictly followed)—as well as for a battle in the early aughts that proved American fast food was no match for either focaccia or the local pride.
The Pane di Altamura is noted for its long conservation, signature semolina taste, and texture, but the breadmaking speaks to a longstanding tradition. Written records date as far back to 37 BC when the Latin poet Orazio wrote about "the best bread in the world" that he had eaten in le Murge, this area of Italy. In the 15th and 16th centuries, documents discussed the bread as well. In a land of farmworkers, Altamura's bread had to be sturdy on the outside and soft on the inside to make it last several days to a week—however long workers were out in the fields. Women made their dough at home, taking the bread to be baked in communal ovens, (since personal ones didn't exist for a long time), and the initial representing the family's surname name would be etched into the top crust to identify who the loaves belonged to.
Locals sought to formalize the breadmaking tradition, and it received PDO status in 2003. The beauty of the bread is in its simplicity, as it's made of only four ingredients: semolina flour (hard grain), starter, salt, and water. The four flours (Appulo, Arcangelo, Duilio, and Simeto) must be grown locally and the bread must weigh no less than 500 grams, have a golden brown crust at least 3 millimeters thick, and a humidity up to 33%. The loaf can be shaped in one of two ways: one in a flat round, and the other with a signature hump folded on top. Its crispy and toothsome exterior gives way to a lovely, pale butter-yellow interior, also soft and chewy. It goes great with olive oil and salumi, or even butter and jam.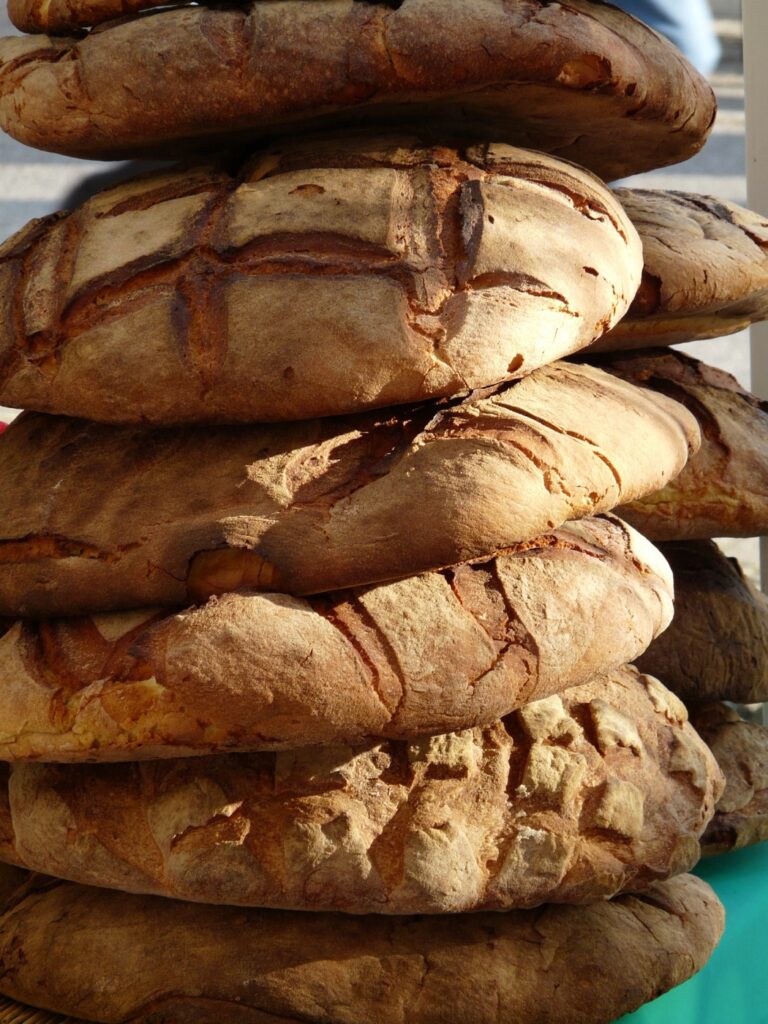 Meanwhile, travel just 12 miles from Altamura to the UNESCO World Heritage town Matera, which sits on the other side of the Apulia-Basilicata border, to find an eerily similar bread advertised on restaurant and shop windows, with the proud declaration of being Pane di Matera. It's clear that Materans don't want any confusion with the sister loaf in Apulia. Matera's signature loaf differs slightly from Altamura's—but the untrained palate might not notice at first.
Matera's bread has received PGI status, and though less rigorous than a PDO designation, it still requires a high level of regional production. Notably different are the types of semolina flours included in the dough: Cappelli, Duro Lucano, Capeiti and Appulo—all but the latter are different, and all must be grown in the Basilicata region. Matera's bread, while also fermented by the lievito madre starter, also contains brewer's yeast, which gives it slightly more rise than that of Altamura. While shaped into a sinewy S, with a few incisions along the top, the bread still looks much like that of its rival in Altamura. One YouTuber does a side-by-side comparison of the breads, noting everything from the thickness of the crust to the light golden interior color and air pockets. Altamura's bread looks just slightly more compact.
The other famous bread in this southern region of Italy is focaccia. While it might seem more like a cheeseless pizza to outsiders, the local focaccia barese is built on local staples—lots of extra-virgin olive oil, tomatoes, and olives—and is served by the slice topped with a bit of sea salt or herbs. And it was this mouthwatering street food that was ultimately used by Altamurans to kick American fast food out of town. In 2001, McDonald's launched a franchise in Altamura, where the local bread makers did not welcome them with open arms. Instead, local bread maker and panificio-owner Luca Di Gesù opened a storefront next to the McDonald's, pushing local baked goods—everything from biscotti, bread and all-you-can-eat focaccia—in an attempt to drown out desire for the ubiquitous taste of American fast food. Ultimately, the effort worked, with locals remaining loyal to their own breads and traditions, leaving McDonald's no choice but to eventually close their doors and move out of town. 
Today, the Di Gesù bakery remains a fixture in Altamura, and the famous PDO breadcan be picked up here. If you're like me, it's not enough to see it on a billboard in the airport. Instead, you'll drive out of your way to find the town, get a loaf of bread, and make it last a week through your journey home—overseas—so that you can make your memories of Apulia last just a little bit longer.