Piemonte, characterized by its undulating landscapes and fertile plains, has a rich agricultural heritage: it is a region known for its radici contadine, or rural roots, where la terra is at the heart of life in all its facets. For generations, the Piemontesi have cultivated their land to produce some of Italy's most renowned wines and cheeses, as well as raising calves with the best meat in the country and tirelessly searching for the most precious truffles.
Alba well exemplifies Piemonte's commitment to tradition, respect for the land, and innovative spirit. Indeed, no place like Alba, perhaps, embodies the spirit of the region so well: walking its streets is like jumping one hundred years back, yet this is perhaps the most internationally connected and innovation-aware place in Piemonte, even more so than the region's capital, beautiful, elegant Turin.
Just like the hills around it, Alba has a lot of tales to tell. The town's streets, lined with medieval towers and ancient fortifications, offer a glimpse into its storied past: the 11th-century cathedral of Saint Lorenzo, with its Romanesque architecture, stands as a symbol of Alba's religious and cultural significance, while the medieval Loggia dei Mercanti once served as a hub for traders and merchants, highlighting Alba's economic importance in bygone eras. The ancient Via Maestra, now known as "Via Vittorio Emanuele II," has been the center of Alba's social, cultural, and economic activities for centuries. This street, with its historic buildings juxtaposed with high-end boutiques, showcases Alba's journey from a quaint medieval town to a prosperous modern city. And just to let you know, you'll barely find any Albese calling it by its current name: Via Maestra is … Via Maestra.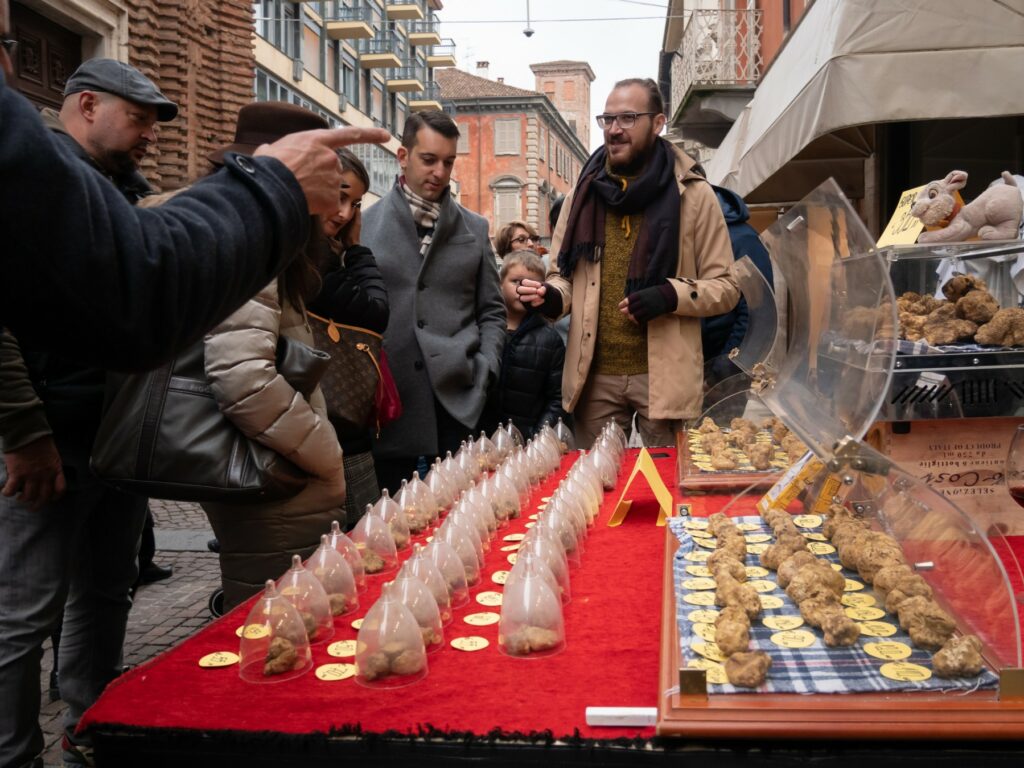 But Alba is also often referred to as the gastronomic heart of Piedmont, and it shouldn't surprise us, considering its diverse and delectable culinary landscape. The town's global renown for its white truffles, a rare and coveted delicacy, is undisputed: every year, enthusiasts and chefs from around the world flock to the Alba White Truffle Fair, eager to experience this underground gold. The intricate process of truffle hunting, always aided by trained dogs, is an age-old tradition that is still very popular in the hills of Southern Piemonte; and while the hunt remains rooted in time-honored practices, Alba embraced innovation and sustainability when it comes to its preservation and commerce: it's not by chance that, today, Alba truffles can reach every corner of the world without losing any of their fragrant deliciousness.
In fact, the town's commitment to sustainable and conscious food production and consumption is evident in its support for the Slow Food movement. Founded in the 1980s as a response to the proliferation of fast food, this movement, with its origins in a town not that far from Alba herself, Bra, champions local produce, biodiversity, and traditional gastronomic practices. Besides the large number of businesses that proudly and fondly have a connection with the movement thanks to the products they sell or use, the most curious and heart-warming initiative is perhaps the Slow Food-endorsed Alba Earth Market, a platform where local farmers and producers showcase their products, ensuring short supply chains and promoting eco-friendly practices.
Beyond truffles, the rolling hills of Piemonte are dotted with hazelnut orchards, and produce some of the finest hazelnuts in the world. These hazelnuts form the core ingredient of many confectioneries, most notably those of the Ferrero Group. Founded in Alba, Ferrero's transformation from a quaint pastry shop to a global confectionery behemoth, with iconic brands like Nutella and Ferrero Rocher, is a reflection of Alba's commitment to quality and innovation.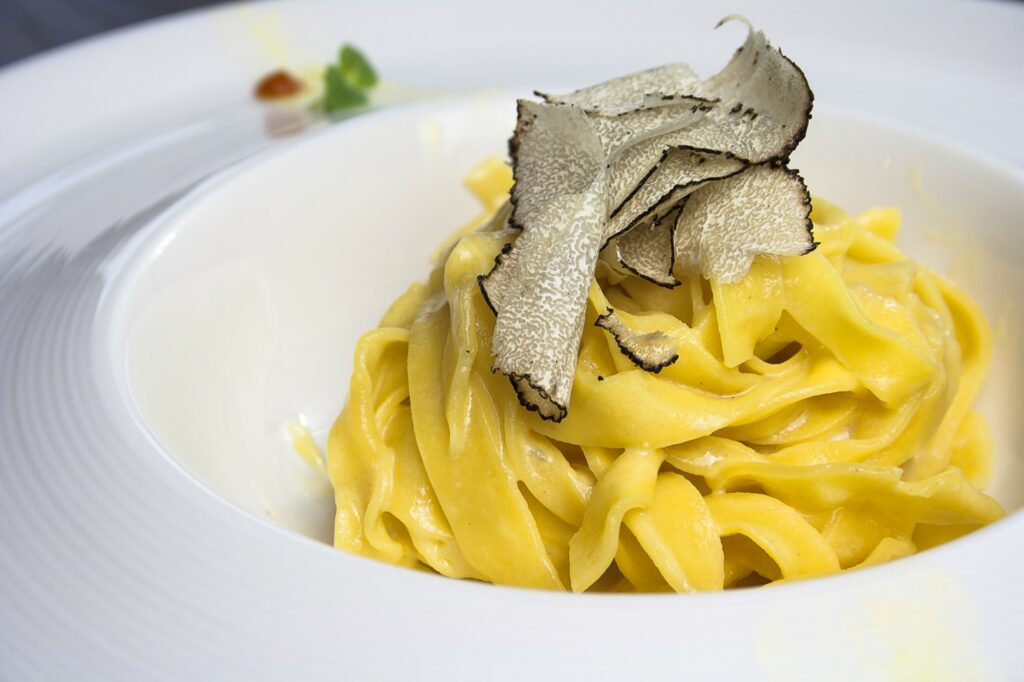 And how could we talk about Alba without mentioning wines? The wines from the Alba region are a true reflection of the area's rich terroir and centuries-old winemaking traditions, and local vineyards, particularly those in the Langhe-Roero and Monferrato zones, are UNESCO World Heritage sites, underscoring their historical and cultural significance.
Barolo and Barbaresco, often referred to as the "king and queen" of Italian wines, are perhaps the most celebrated wines from this region: Made from the Nebbiolo grape, they are known for their deep color, rich tannins, and complex aromas of cherries, roses, and tar. They are wines that age gracefully, often requiring several years to reach their full potential.
Barbera, another red grape variety from Southern Piemonte, produces wines that are bright, fruity, and have a characteristic acidity; Barbera d'Alba, in particular, is known for its juicy cherry flavors and its versatility in pairing with a wide range of foods.
And then we have Dolcetto, meaning "little sweet one" in Italian, which is somewhat of a misnomer as the wines produced from this grape are typically dry. Dolcetto d'Alba wines are known for their soft tannins, black cherry, and licorice flavors, making them perfect for early consumption.
The region also produces exceptional white wines, most notably those made from the Arneis grape. The winemakers of Alba, while deeply respectful of their traditions, have also been at the forefront of innovation: modern viticulture techniques, combined with a deep understanding of the local terroir, ensure that the wines from the Alba region continue to be celebrated on the global stage.
Adding to Alba's culinary prestige are establishments like Piazza Duomo and La Piola, helmed by Chef Enrico Crippa. Piazza Duomo, with its Michelin stars, offers a gastronomic journey that marries local ingredients with innovative culinary techniques. In contrast, La Piola celebrates traditional Piedmontese cuisine, offering a rustic yet refined dining experience.
Alba's international reputation extends beyond its culinary delights, though. The town's emphasis on quality, whether in food, fashion, or craftsmanship, has positioned it as a benchmark for excellence. Its thriving economy and global recognition, often overshadowing even Turin, are a sign of the town's dedication to maintaining high standards in every endeavor. Thanks to its rich heritage and booming economy, Alba has transformed into one of Northern Italy's wealthiest towns. Often likened to a "Monte Carlo in the Langhe" by locals, Alba is a hub of luxury and elegance: you'll only need a walk along Via Maestra to encounter window displays that rival those of jewelry shops, showcasing the region's prized truffles, mushrooms, and chocolates. The people of Alba, the Albesi, truly understand and celebrate the treasures that have brought prosperity to their town.