As everyone knows, zucchini (aka courgettes) are a staple of modern Italian cookery. Italians have come up with a nearly endless variety of recipes for their beloved cucurbita pepo: They can be sautéed in garlic and olive oil, stewed in tomato sauce, stuffed, fried then marinated in vinegar, napped with egg and cheese, baked parmigiana style, used as a filling for frittata, made into fritters, a condiment for pasta… They even make their way into dessert! The list goes on and on.
Most of these recipes involve some sort of sauce or condiment to compliment or "elevate" the mild taste of this vegetable. Today's recipe for zucchine a fiammifero, or zucchini matchsticks, lets the vegetable shine on its own. The zucchini are cut into julienne strips, salted to remove excess liquid, and pat dry, then lightly floured and deep-fried. And that's it.
With only four ingredients, this recipe is just about as simple as you can get, but for best results it does require due attention to technique. The zucchini need proper prepping, and the frying needs special care if you want your zucchini matchsticks to come nice and crispy. But no worries, it's all well within the skills of even a beginner cook. And the results will repay you handsomely. Zucchini matchsticks are as addictive as French fries, only lighter and even tastier.
Zucchine a fiammifero make a fine side dish to compliment just about any meat or fish dish you can think of. Or, especially when paired with other vegetables fried in the same way, they can serve as an antipasto. And they're quite at home as part of a fritto misto.
Ingredients
Serves 4-6 as a side dish
4-6 medium-sized zucchini
Flour
Oil for frying
Salt
Directions
Trim the ends off each zucchini, then cut them in half crosswise. If your zucchini are not too long, you can also leave them whole. Cut the zucchini lengthwise into thin strips using the julienne blade of a mandoline slicer. Or if using a knife, cut them lengthwise into thin slices, then cut the slices lengthwise into thin strips.
Place the resulting zucchini "matchsticks" into a colander and toss with a good pinch of salt. Let the zucchini rest for an hour or so.
Just before you're ready to cook, pat the matchsticks dry with a paper towel. Then toss them with flour to coat them lightly, shaking off any excess flour.
Proceeding handful by handful so as not to crowd the pan, deep fry the matchsticks in abundant oil until they turn golden brown. Transfer each batch to a bowl lined with paper towels to soak up excess oil.
Once you've fried all the zucchini matchsticks, toss them with a pinch of salt if they need it. Serve them right away, while they're still hot.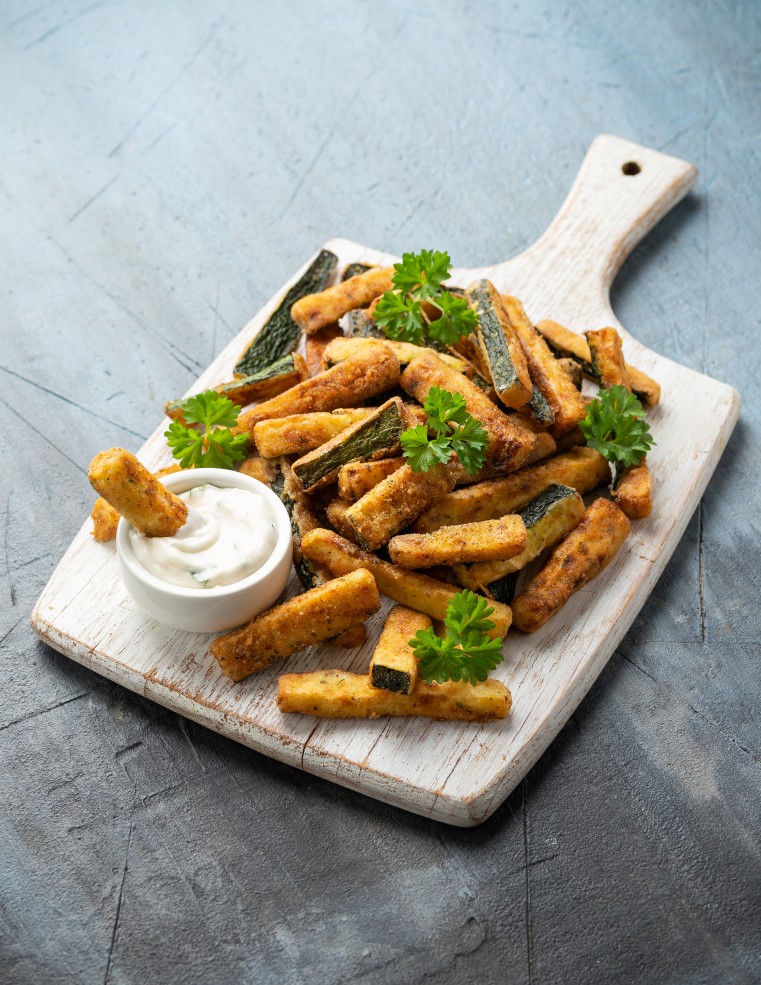 Notes
The initial salting and resting of the zucchini matchsticks are essential. You might be tempted to skip that step, but resist the temptation. Zucchini are a watery vegetable, which is why, as you probably have noticed, cooked zucchini tends to be very soft. Salting leeches out their excess water, which should ensure they don't turn to mush when you fry them but rather crisp up nicely. (The salt also "pre-seasons" the zucchini, so taste before salting after frying). Recipes are all over the map on how long to let them sit, with some calling for as little as 15 minutes and others as long as two hours. I find an hour (as recommended by Ada Boni in her classic Talismano della Felicità) works quite well.
After they've been purged of their excess water, you'll want to pat your matchsticks dry very gently with paper towels, so as not to bruise them. I actually like to lay them out on one layer of paper towels, then top with another, then roll them up and press them together very gently. You may need more than one go to get them perfectly dry.
Take care to fry your zucchini matchsticks right after you've floured them. If you wait, the flour may turn gummy, which will inhibit browning. If you're making a large amount, you may want to flour in batches, then fry in batches, too. And here's another case where Wondra flour does work wonders. It won't cake onto the zucchini and stays dry, producing a light, crispy crust. I've seen Italian recipes call for rice flour for the same reasons, which makes the dish gluten-free as well.
All the usual tips about deep frying apply here. Use a lot of oil for a true deep fry. The zucchini strips should be able to float around freely in the oil. Also, make sure the oil is nice and hot (but without actually smoking) before you begin to fry. If you toss in a test matchstick, the oil should immediately bubble up vigorously around it. And above all, don't crowd the frying pan, so the zucchini matchsticks fry up quickly and brown nicely. Try frying too many at once and you may wind up with a greasy mess.
Frank is a lawyer with a true passion for cooking and sharing food with the people he loves. He inherited his love for Italian cuisine and culinary tradition from his grandmother, nonna Angelina, to whom he dedicated his culinary blog, Memorie di Angelina: www.memoriediangelina.com