What's the difference between a bottle of wine priced at $3.95 and one that sells for $39,000? The factors that determine the price of wine are varied, volatile, and vague. Here's an inside look at what you're getting for your money.
At a wine auction in France, a bottle of vintage Château Lafite Rothschild Burgundy is sold to the highest bidder for $230,000. At a Trader Joe's store in California, a bottle of Charles Shaw Chardonnay, known in local slang as "Two Buck Chuck," is priced at $1.99. At a vineyard fountain in central Italy, visitors can help themselves to all the Montepulciano d' Abruzzo rosé they can drink, for free. From zero to six figures, wine prices are all over the radar. What you get for what you pay is determined by complex influences, with a huge gap between high and low.
Wine is an alcoholic drink made from fermented grape juice. With an annual worldwide production estimated at 26 billion quarts, prices are defined by such factors as vintage, age, economy, vintner, viticulture, harvest, reviews, supply, and demand.
For instance, some investors compare the élite Lafite to a Leonardo da Vinci masterpiece painting. Critics describe this wine as "dark, ruby purple with extraordinary notes of graphite, black currants, sweet fruit, flowers, and unsmoked cigar tobacco." Noble articulation indeed, but why would anyone pay such an astronomical amount for it? How many people can tell the difference between rare Lafite and bargain table wine? Blind tastings and academic studies found that neither amateur consumers nor experienced connoisseurs can consistently distinguish fine from cheap wine, or identify the flavors.
Wine has three essential markets: low, medium, and expensive. The majority of sales belong in the first category, with an estimated 90 percent priced less than $12. Key considerations in pricing include production and distribution. Let's do the math…
With a bottle of wine selling for $30, distributors buy it from the producer for $15, then sell it to retail outlets for $20. Markups vary, but most retailers sell it for $30. Supermarket giant Costco, one of the largest wine retailers in the US, gets $22. Target has been known to offer average reds and whites for as low as $5.
The economics for cheaper wines are geared toward volume sales. For instance, a bottle of Australian Yellow Tail Chardonnay for $6 somehow covers the cost of production, taxes, import duties, marketing, overhead, and middleman. That's quite an accomplishment.
Point of origin also impacts prices. Wine from Napa, for example, is usually 61 percent higher than similar California brands, due primarily to premium-grade soil and marketing muscle.
By comparison, icon-class wine is another matter. Almost entirely prestige, venture capitalist or symbol of wealth driven, its prices rise and fall with more regard to profit than personal satisfaction. As one investor puts it: "Investing in wine is risky. You buy as much as your budget allows, watch the value increase over time, then keep half and sell the remainder to recoup your investment. With proper timing, your profit comes in the form of a prestigious portfolio of superb wine."
China's booming economy has developed a new generation of local millionaires, many of whom have become formidable players in the international investment game. Chinese involvement is partially responsible for vintages to skyrocket in value. At a Hong Kong auction, for example, prices bid for Lafite nearly doubled those for the same wine at European and US auctions.
Millionaires aside, common folks can enjoy expensive wine that emphasizes drinking over dividends. Wine $10 or less produced by reputable wineries are like diamonds in the rough. Here, according to wine experts, is how to find them:
Avoid high-profile locations – No way you'll pay less than $10 for wine originating from the renowned vineyards of Italy, France, or Spain. Look for products from lesser-known regions like Paso Robles, Cal.
White is all right – Since most white wine is rarely aged in oak and spends less time from grape to glass, you're likely to find light, bright versions cheaper than reds. 
  Try obscure grapes – Though virtually unknown, grapes like Albarino and Nero d' Avola produce less expensive wine than those such as Pinot Noir or Sangiovese.
Go Old World – Older appellations generate lower prices because they have been around longer and their cost of producing wine is less than newer, state-of-the-art wineries.
Forget bins – Bins and clearance sales are stocked with wine selling slowly or not all. You may find a bargain or two, but not necessarily a decent wine.
Champagne isn't always Champagne – It may say Champagne on the label, but it's not always the real deal. Prosecco delivers the same sparkling fizz and bubbles, often for less than $12.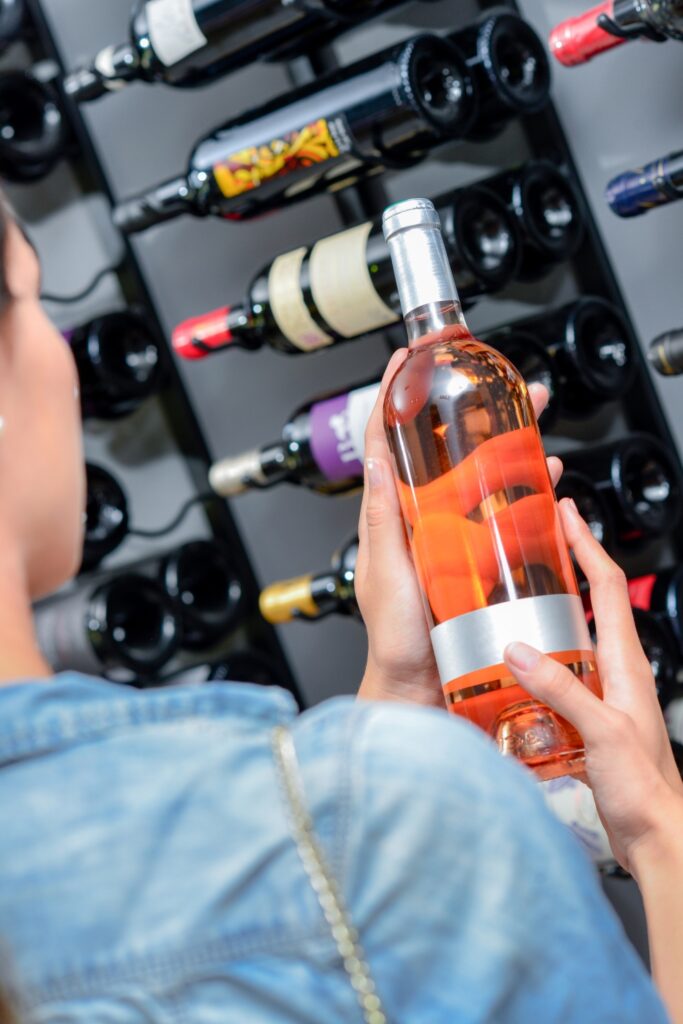 Before getting overwhelmed by price points, here's what you can expect to pay for wine in these categories:
Extra Value – $4.
Value – $4-10.
Popular Premium – $10-15.
Premium – $15-20.
Super Premium – $20-30.
Ultra Premium – $30-50.
Luxury – $50-100.
Super Luxury – $100-200.
Icon – $200 plus.
Finally, a quiz. What is generally regarded as the world's most precious wine, hailed by specialists as "the perfect Burgundy," with the archbishop of Paris proclaiming it as "velvet and satin in a bottle?" The answer: Domaine de La Romanée Conti Grand Cru Côte de Nuits 1987. The name is as long as the price. If you can find a bottle, be prepared to shell out $39,000. Otherwise, Two Buck Chuck is easy on both the palate and pocketbook.
For aficionados of Italian wine, here are examples of per-bottle prices for standouts in the three basic categories:
Cheapest ($12) – Barone Fini Pinot Grigio Valdadige 2016. Slightly fleshy with apple, ground ginger, clover, and honey notes. A touch of almonds and juicy acidity endow this light red with a smooth finish.
Mid-Price($48) – St. Michael Eppan Sauvignon Alto Adige San Valentin 2016. This mineral white has a smoky undertone to support subtle peach, melon rind, pink grapefruit, and pastry cream flavors. It is medium-bodied with a rich, floral finish.
Expensive ($250) – Falleto di Bruno Ginicosa Barolo – This sturdy, elegant red scores with a delicate floral, cherry, strawberry and mineral profile. Vibrant acidity and supple tannins result in an exceptional finish.
Wine, including Marsala, Moscato, and Barolo, is an essential element in many Italian recipes. Zabaione, which derives its name from the Sicilian
word zabina, meaning "to whip," is one of them. Here's the recipe!
Ingredients (serves 4)
4 egg yolks
1/4 cup sugar
1/4 cup of wine (usually Marsala, but you can also make it with Moscato!)
Directions
Warm eggs and sugar in a double boiler over low heat.
Whisk briskly until foamy.
Add wine and continue beating until soft, creamy, and holds its shape.