Whether you visit Rome for a quick 24 hours before heading off to explore other regions of Italy, or you plan to stay longer in the Eternal City, there is a list of must-do's which I consider obligatory. While you may have a list of all the monuments you wish to see, I know there will be another list of all the foods you will be desperate to eat once you land on Italian soil. Of these two lists, we all know which is more important – and I am obviously not referring to the list of the monuments! The must-do's which I consider obligatory have to do with food, of course. I often tell my food tour clients that the monuments are wonderful sights to see while we are digesting a meal, and there is also no doubt in my mind that wandering around ancient ruins is definitely a perfect time to plan what will be the next best thing to eat!
So, where does one begin? Let's start in the morning, and let me take you on a virtual walking foodie tour, a little culinary adventure of some of my favorite things to eat in Rome. The first thing to begin every Italian's day is la prima colazione, (breakfast), and coffee reigns supreme as the number one choice of fuel to kick start the day. Most Italians will have an espresso at home as soon as their eyes open and they mentally adjust to the beginning of a new day. I strongly suggest though that you experience a local bar and drink coffee in true Italian style: standing at the bar. Apart from being the cheapest way to drink coffee, it's also the best way to experience the noise and chaos associated with the morning coffee rush. Inhale the intoxicating caffeine aromas as you brush shoulders with the locals, and listen to the banter between the barista and his clients.
If it's your first time visiting Italy, a simple thing like ordering a coffee in a bar can seem like a daunting task if you don't speak the language. Typically, you pay first, and then present your receipt to the barista. In Rome it is customary to leave a 10 or 20 cent coin on top of your receipt on the bar as a little tip as you tell the barista what you want.  If the bar is noisy, you may have to yell, but be assertive.  I learnt a long time ago that being a quiet "shrinking violet" at a crowded bar or at the Post Office (before they bought in numerated tickets) will leave you standing and waiting for quite a while!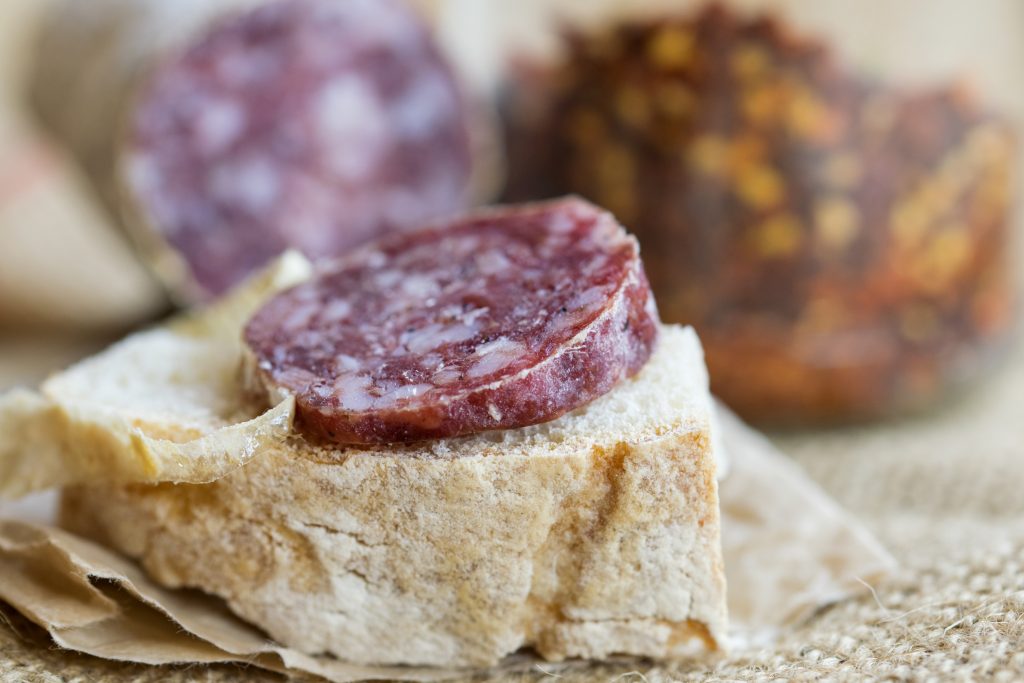 Cappuccino is best had in the morning and is classified as a breakfast or morning coffee. Most breakfast items in Italy are sweet, and at the bar this is usually a pastry. I suggest visiting a bar near Campo dei Fiori, so you can enjoy the famous fruit and vegetable market there once you've finished your coffee and pastry. I love walking through markets, and although some say Campo dei Fiori has become touristy, you will still find stall owners who have been selling there for most of their lives and it is for this reason I feel it is still an authentic market experience. If it is Summer, I suggest you buy some lovely fresh figs because they'll pair beautifully with the next foodie stop I insist you have.
Within the piazza that is Campo dei Fiori, there are restaurants and bars that line the perimeter. There is also a special, magical place that is the Norcineria Viola and it has been there since 1890. "Norcineria" is the Italian word for a butcher store that also (traditionally) makes all their salami, sausages and cured meats on the premises. Traditionally the man who works there and makes the different types of salumi is known as the norcino.
Even though Norcineria Viola has a small store front, it is hard to miss it with the large taxidermied boar's head hanging outside, to the right of the front door. Here you can buy a tasting tray which includes 9 or 10 different salamis – all of which are of their own production. Remember those fresh figs I suggested you buy at the market? This is a great time to pull them out and pair with the delicious selection of salami on offer. My favorite is the liver salami with orange zest and it is an originally family recipe. I know that wouldn't be for everyone but if you're adventurous, please try it. ( www.norcineriaviola.it/en/ ). Don't be surprised if they also offer you some red wine – it's never too early to drink red wine in Italy!
Leaving the Norcineria, and exiting from Campo dei Fiori, make your way to a place which has become very famous over the years. Antico Forno Roscioli has a well-beaten path to their front door and they are usually included in every food guide that is written on Rome.  The word "forno" (oven) is a bakery, and in Rome you will see it written in large yellow letters above many bakeries so it shouldn't be hard to miss.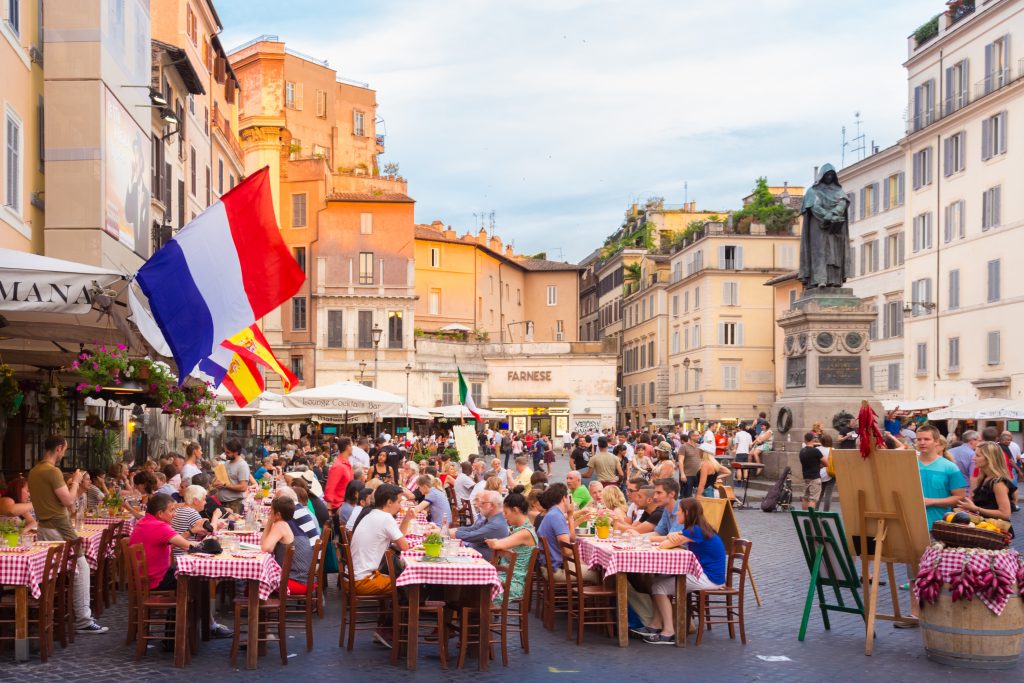 Antico Forno Roscioli is a dangerous place to visit, and I say that because stepping inside is really a feast for the eyes. While it is hard to look past the biscotti, pastries and various types of bread being sold here, this is where I usually bring people to taste a favorite Italian street food. This is where you should taste authentic Roman-style pizza, which is bought by the slice. You can choose a few different toppings but you should really make sure you try a simple, classic margherita… or simpler still, the pizza rossa which is a Roman food staple! Once you've chosen what you would like to eat, and the amount you want (you will pay by weight), you are given a receipt. Take this to the cash register, pay, and then return to collect your tray of pizza. Take it outside and eat it standing, leaning against one of the benches or on one of two wooden delivery boxes that are attached to two bikes by the entrance. You should also really get some pizza bianca to taste, too. Don't make the mistake of calling it focaccia though. Pizza bianca is the Roman version, I suppose you could say, but it is not as high and is much crunchier than its Tuscan cousin, which is the higher, softer focaccia bread. Pizza bianca is addictive though, and if you prefer a savory breakfast, try it hot from the oven and filled with freshly sliced mortadella! This is a traditional Roman savory street food breakfast option, although obviously it can be eaten at any time of the day.
After the bakery you will find, nearby, the Jewish quarter which is known as the Jewish Ghetto. Any of the restaurants here will happily let you eat the famous artichokes that Roman cuisine is known for. Order them both ways, the fried version from the traditional Jewish kitchen (alla Giudia) and the steamed Roman version (alla Romana). You can sit down and order just a plate of these at most of the restaurants here, and I suggest pairing them with a glass of prosecco! (Why not – I'm sure it's lunch time by now).
Leaving the Jewish neighborhood, head towards the Tiber River, il Tevere, and cross Rome's oldest bridge (62 b.c), Ponte Fabricio, onto the Tiber Island. Cross over to the other side of the city and visit the lively neighborhood of Trastevere. Now would definitely be time for a gelato, and my advice would be to seek out OTALEG, where you will find authentic homemade gelato with all the traditional favorites but also some very original flavors, like gorgonzola and caramelized figs. Flavors are seasonal though, so you will find different ones on offer each week. Eat it as you wander into the main piazza, Piazza Santa Maria in Trastevere, sit around the fountain to enjoy the gelato, and watch the world walk by.
There are so many more foodie stops that I could recommend and it is hard to narrow it down to a few. Obviously, for dinner you should have pasta and obviously you will choose from one of the four pillars of traditional Roman pastas: real Carbonara (hint: zero cream), Amatriciana, Gricia, or Cacio e Pepe, a pasta I never knew existed until I moved to Rome after living in Tuscany for 15 years. And I almost forgot – Oops… don't forget the aperitivo before dinner!