One of my favorite pastimes in the kitchen is finding ways to make under-appreciated and undervalued ingredients shine. I love an underdog.
Take celery for example. It shows up in any number of recipes, but almost always in a minor supporting role, either as part of the classic soffritto that provides the flavor base for so many Italian dishes, or as an aromatic to be thrown into the stock pot along with onions and carrots. Always a bridesmaid, never a bride…
Well, actually not quite never. There are a handful of recipes that give the oft-neglected vegetable its culinary due. This one, polpette di sedano or celery balls, is a specialty of Tuscany. Celery stalks (and ideally a handful of leaves too) are boiled until tender, finely minced, then bound together with egg, grated cheese and breadcrumbs before being rolled into little balls and fried to a golden brown.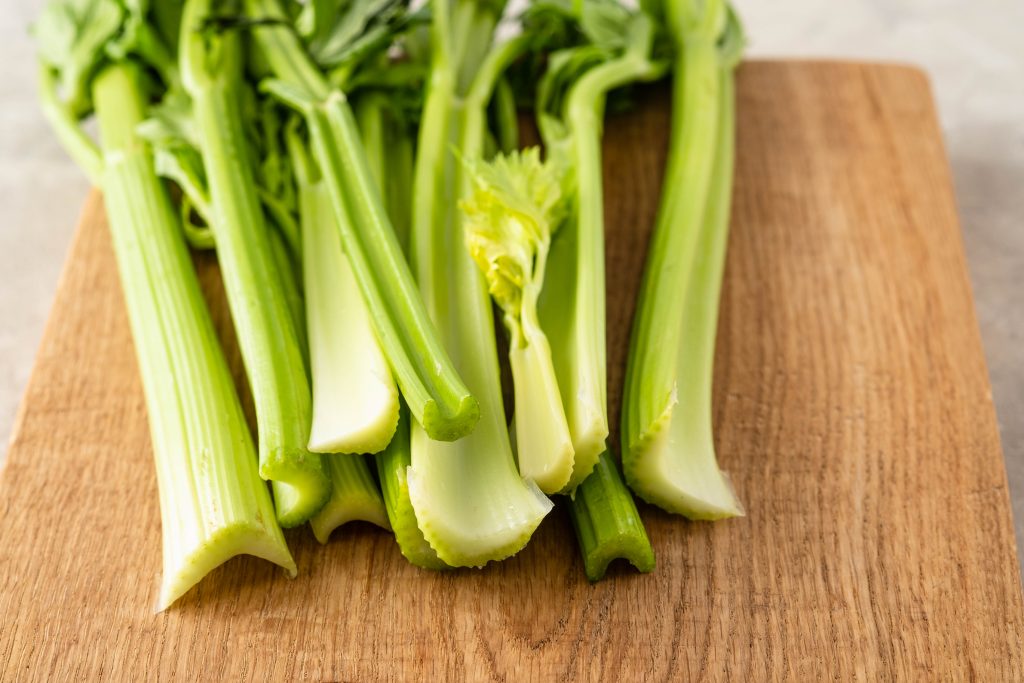 Polpette di sedano are perfectly delicious as an antipasto or a vegetarian main course, with or without an accompanying sauce. They're also quite nice served plain, perhaps as finger food to enjoy with a cocktail.
Ingredients
Makes about 20 celery balls
500-600 g (1lb) celery, cut into lengths, roughly one bunch, plus some of the leaves if you like
100 g (3-1/2 oz) grated parmesan, or a mixture of parmesan and pecorino
100 g (3-1/2 oz) breadcrumbs, or as much as you need to make a solid dough
2 eggs
Salt and pepper
For frying the celery balls:
more breadcrumbs, q.b.
oil for frying
Optional:
Directions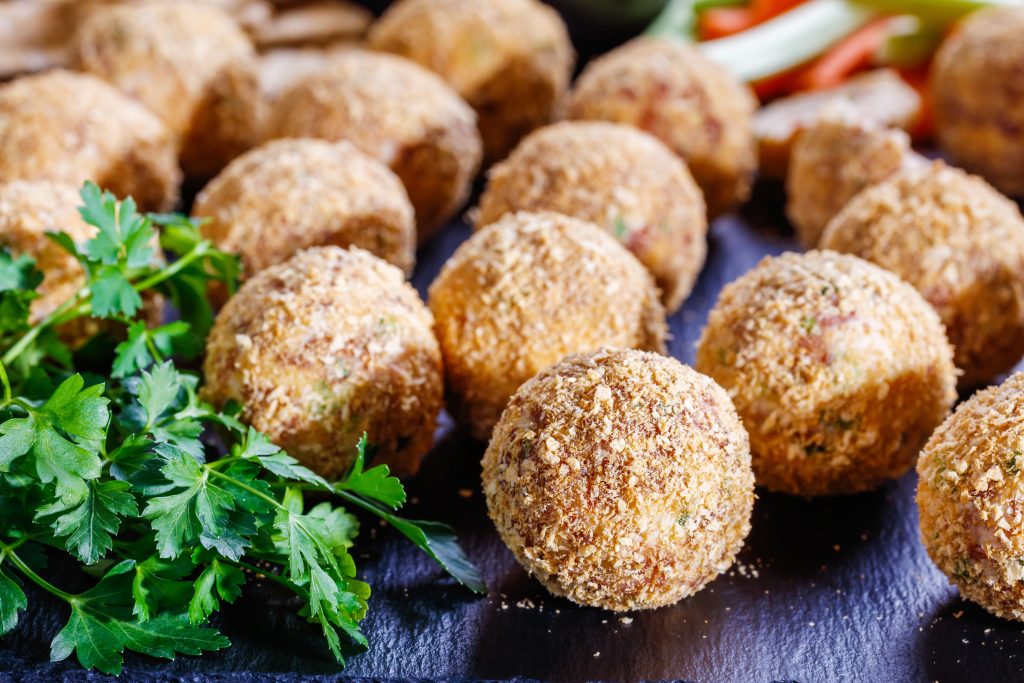 Trim the celery stalks (see notes) and cut them into short pieces. Boil the pieces in well salted water until perfectly tender, about 10-15 minutes. If using the leaves of the celery, add them about halfway through the cooking.
Drain the celery well and let it cool in a colander. When cool, squeeze as much liquid out of it as you can out and mince well.
Put the minced celery in a large mixing bowl and add the eggs, grated cheese, salt and a good grind of pepper. Mix everything well, then add in the breadcrumbs, as much as you need to bind everything together into a kind of dough. Let this rest for about 15-20 minutes.
Form the celery mixture into balls about the size of walnuts. A small ice cream scoop makes short work of this task.
When you're done, roll the celery balls in more breadcrumbs so they are well coated. The quickest and easiest way to do this, I find, is to place a few balls in a flat-bottomed mixing bowl with the breadcrumbs already in and, holding the rim of the bowl, toss them gently until they are all well-coated.
Shallow fry the celery balls into moderate hot oil until they are golden brown all over, making sure they're well spaced. Proceed in batches if need be.
As you go, set the fried celery balls on paper towels or a baking rack to drain off their excess oil.
Serve your polpette di sedano while they're still warm, if you like on a bed of tomato sauce, or at room temperature if you're enjoying them as finger food.
Notes on polpette di sedano
Be aware that I've written the instructions above for the kind of celery that is generally grown and sold here in the US. If you are buying your celery elsewhere, or are using "heritage" celery bought in a farmer's market, you will need to make some adjustments.
In the old days, celery was quite stringy, so old time recipes called for removing the strings before making this dish. This quality has been bred out of most modern celery, but it's worth checking. If you find your celery has some strings, you can pull the strings off easily using a paring knife or peel the outsides of the stalks with a vegetable peeler.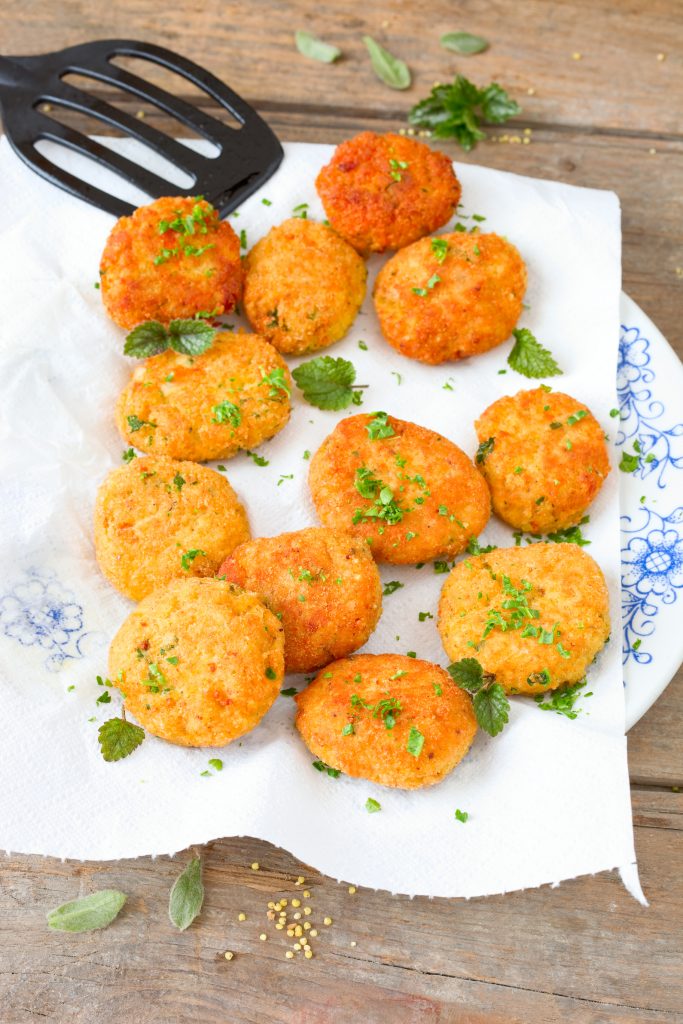 Equally, these days most celery, here in the US anyway, is sold without most or even any of its leaves. If your bunch has some leaves still on, you should trim them off, but add some back into the pot as indicated, if you like. And I do recommend it. The leaves add excellent flavor (a good thing, since something else that's been bred out of modern celery is most of its flavor). You should trim off the whitish root end off the stalk as well, as it tends to be tough.
The celery should be perfectly tender after its pre-boiling. Old time recipes calls for boiling the celery for a good 30 minutes, sometimes more. Modern celery tends to be quite tender, so 15 minutes or less is usually enough.
Variations
The most traditional recipe for polpette di sedano calls for a meat sauce in which you simmer the celery balls before serving. It's obviously non-vegetarian and more substantial than the version presented in this post. I've read the dish is traditionally served on September 8, for the festa della Madonna della Fiera, the feast of Virgin Mary's birth.
For the sauce to go with my celery balls, I made a rather straightforward sugo di pomodoro starting with two cloves of garlic, which I gently sautéed in olive oil, along with my secret ingredient—some extra celery leaves—until there were fragrant, then added tomato passata to simmer for some 15 minutes or so. Tuscany-based blogger Judy Witts makes a sauce scented with garlic and rosemary. But any simple tomato sauce would go well with these celery balls, in my humble opinion. As they do in the more traditional recipes, you can simmer the balls in the sauce before serving, much as you would the Abruzzese speciality,pallotte cacio e uova, with a sprinkling of grated cheese on top if you like.
The variations for making polpette di sedano, some rather subtle, go on and on. You can form the celery balls into logs or small patties rather than spheres. In some recipes, you flour the balls before rolling them in egg and then breadcrumbs (too much work for little gain, if you ask me). Some add a bit of nutmeg to the celery mixture (sounds nice). Killjoys can bake the celery balls rather than fry them, in a hot (200C/400F) oven for about 20 minutes or until golden brown.

Frank is a lawyer with a true passion for cooking and sharing food with the people he loves. He inherited his love for Italian cuisine and culinary tradition from his grandmother, nonna Angelina, to whom he dedicated his culinary blog, Memorie di Angelina: www.memoriediangelina.com