The Eternal City, as we all know, can't be fully discovered in a week. Often neglected despite its central location is the vibrant neighborhood of Testaccio. Today, we'll dive deep into this charming Roman district and highlight why it's a must-visit destination for anyone keen on Italian gastronomy and cultural experiences.
Situated within the heart of Rome, Testaccio's convenient location makes it a hub for those looking to explore the city, whether over a weekend or a longer stay. The neighborhood is easily accessible, served by metro line B, trams, and buses, and if visitors decide to move around on foot, they can stroll from Testaccio to central Rome within half an hour, passing landmarks like Circus Maximus or the Jewish Ghetto. If you like the idea of making Testaccio your Roman holidays' headquarters, you'll be happy to know that the area offers various accommodation options, from bed and breakfasts to hotels. Its proximity to the historic district of Trastevere, another must-see area of the Capital, and easy connections to train stations and airports, further add to its allure.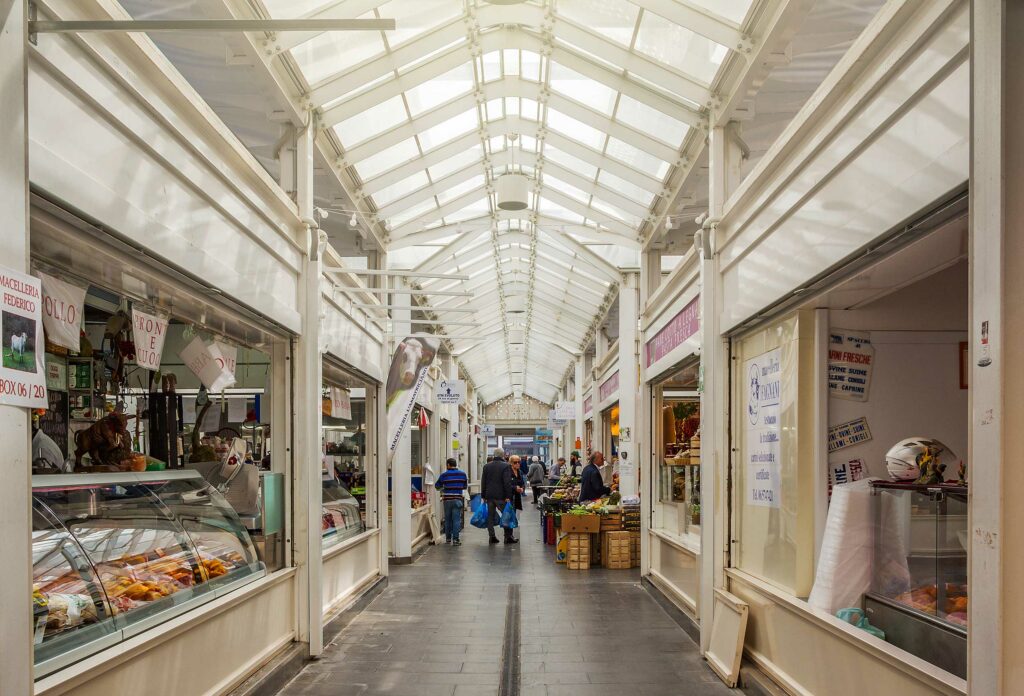 The charm of Testaccio lies in its traditional spirit and authenticity: as you meander its streets, you can catch a breath of authentic Roman air and soak in the lively chatter of locals. This neighborhood, the roots of which are truly popolari, as we say in Italian, remains inhabited by Romans and it's, perhaps, as authentic as you can get in the capital. Observing the morning activity around the Piazza Testaccio, the heart of the district with its Anfore Fountain, offers a distinct slice of Roman life you'll struggle to find elsewhere.
There is a lot to see and do, here in Testaccio. You could start from the old slaughterhouse, now converted into a cultural center known as the Mattatoio. This historic site, once the largest slaughterhouse in Europe, is home to a contemporary art museum, a school of architecture, and various other cultural spaces. The old Mattatoio truly embodies Testaccio's transformation from a blue-collar neighborhood to a hub of creativity and art. Of course, you shouldn't miss the opportunity to climb up the Monte dei Cocci, or Monte Testaccio, from where the area inherited its name This artificial mound, made entirely of discarded Roman amphoras, offers a panoramic view of the Testaccio district and the city beyond. The traces of ancient pottery tell a fascinating tale of Rome's trade and commercial practices during the time of the Empire.
In the northwestern part of the district, you'll find the Protestant Cemetery, a truly serene oasis in the noise and bustle of the city: this spot is the final resting place of notable poets like John Keats and Percy Shelley. Its tranquility, combined with the beauty of the tombstones and sculptures, make it a place of interest for history buffs and lovers of literature alike.
And of course, don't forget to take a walk along the Tiber river banks. The area, known as the Lungotevere Testaccio, is a popular spot for locals to relax, jog, or enjoy an evening stroll. As you walk, you can admire the Ponte Testaccio, a bridge dating back to 1868, that adds another layer to the neighborhood's historic charm.
What if you get hungry? Well, no worries, because Testaccio is considered a bit of a foody destination these days. Visitors shouldn't miss the bustling Nuovo Mercato Testaccio, located opposite the already-mentioned old Mattatoio. Its stalls teem with fresh fruits, bread, meats, and seafood, while food kiosks provide a tempting array of treats. Traditional and novel culinary delights coexist here: a bowl of tripe or an allesso sandwich, a slice of pizza, or a refreshing juice can fuel your exploration. The market also showcases glimpses of ancient walls beneath its floor, adding a layer of history to the vibrant atmosphere.
But Testaccio's gastronomic experience truly shines as the sun sets, when the neighborhood transforms from a day hub of original inhabitants to an evening hotspot for Roman nightlife. The dining scene offers everything from traditional Roman osterias and restaurants, serving dishes like cacio e pepe, carbonara, pajata, and amatriciana, to contemporary eateries featuring international cuisines and creative gastronomy. The fierce competition to claim the title of Rome's best trattoria adds a delightful edge to the gastronomic scene.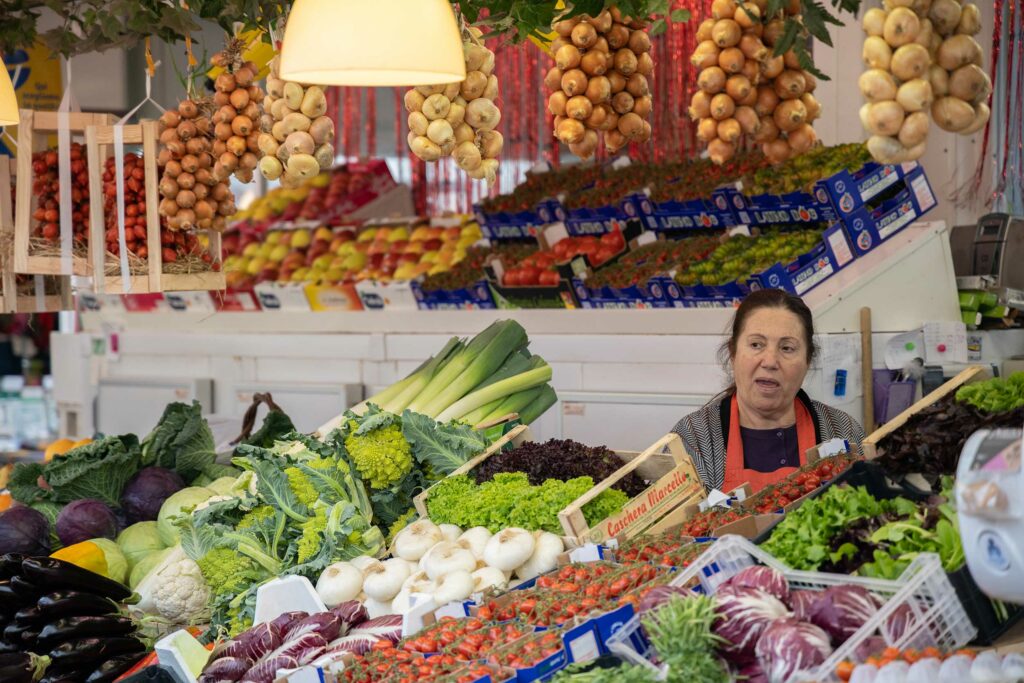 There is more because since 2021 Testaccio has been home to the Collettivo Gastronomico (Gastronomic Collective), a group of gastronomic professionals who, through a project partnership with the consortium Città dell'Altra Economia, aims to elevate the district's culinary scene. The Collettivo works to intertwine the district's history and gastronomic tradition with a creative twist. The team, composed of Marco Morello of FoodBox, Daniele Camponeschi of Menabò Vino e Cucina, and Pasquale Livieri and Edoardo Iervolino, among others, seeks to promote a culinary offering that is solid, distinct in flavors, and open to international influences. It also wants to be a representation of the city's agricultural and pastoral tradition: in their menu, history takes center stage, along with the many influences that keep Rome's culinary panorama so lively. The Collettivo maintains a space for vegetarian dishes and pays homage to the region's gastronomic heritage, ensuring that their activities reflect the transformation the district has undergone from its origins. If you think about it, ancient Roman cuisine was just like that, a mix of all the influences and people that formed the Empire, an idea that the Collettivo certainly follows with its bringing together different techniques and traditions, while always keeping in line with seasonal availability of ingredients.
Testaccio is the union of the old and the new, a place where tradition and innovation merge to provide a unique cultural and gastronomic experience. It invites guests to immerse themselves in its rich cultural narrative, a heady but pleasant blend of flavors, music, culture, and community activities that define the district. If you're visiting Rome, don't miss out on the opportunity to take a walk through Testaccio's streets – a journey that will charm your senses and fill your heart with Roman spirit.