I have spent years living in what we call the "alto Salento" part of Puglia, which means the upper part. Puglia is a very big region, full of little towns to discover and I made it my mission, this past summer, to start exploring some of what was situated further south.
The Salento coastline in Puglia has also been given the nickname of the "Italian Maldives." Why? Crystal clear waters, warm like a bath, super shallow for miles, no waves and completely dreamy.
Baroque Nardò
I had wanted to visit a town called Nardò for ages, as well as the neighboring beach town called Santa Maria al Bagno, which looks like a postcard. It's that beautiful.
Nardò is located in the Lecce province, less than a 30-minute drive from Lecce itself. It reminded me of a mini-Lecce in fact, with its stunning Baroque-style architecture. What I love about Nardò, is the fact it is still relatively up-and-coming so the property prices have not gotten inflated (yet).
One sunny August morning I set off from my house in Martina Franca, situated in the heart of the Valle d'Itria, and made the 90-minute drive "down south."
Given the fact it was due to hit nearly 40 degrees Celsius, my first stop was Santa Maria al Bagno, the picturesque beach town situated less than a 5-minute drive from Nardò itself. Imagine a stunning little bay, with colorful buildings that are dotted around the coastline which make up bars, restaurants, cafés and residential properties. I got myself settled by the shore and managed to get one of the last patches of sand to place my towel before the crowds rolled in.
An excellent morning was spent people watching, taking a dip into the water and then when it started to get close to lunch time, I asked some locals where the best place to eat was. Two lovely ladies advised me to check out "La Pergola" and it did not disappoint!!
A New Lifestyle
After lunch, I made my way over to Nardò where I was to meet up with some friends, Darrell and Debbie Stacey, who I knew of for quite some time through the expat groups in Puglia on Facebook.
They are the proud owners of Palazzo Cariddi, a stunning property in the historic center of Nardò. Darrell and Debbie very kindly took me on a tour of the town and pointed out all the new developments that were being restored in the old town, new boutique hotels and the like, with money being poured in from international investors.
If you are someone who likes to get ahead of the boom, then definitely add Nardò to your research list! I do very regularly feature properties in the lower Salento region in my weekly property magazine La Dolce Vita Lifestyle Magazine, which shows our readers the very best turnkey ready-to-rent properties for sale each week in Italy.
I asked Darrell and Debbie to share a bit about their story, what made them decide to buy a property in Italy, above all in Puglia, why Nardò seemed like the right choice for them and what it meant to them leave their home country in the United Kingdom.
Darell and Debbie's Journey to Nardo, as told by Darell and Debbie
"We had been traveling to Italy for many years, always drawn back by the beautiful country, friendly people, and good food. Several years ago, we started looking at property in Santa Maria di Castellabate, however, we then decided there were far too many other places we wanted to visit and that we would feel tied down if we bought a property which, at that point, would only have been a holiday home. As we were too young and not rich enough to retire, it was always the intention to start a B&B so we could earn a modest income. Also, I would be able to teach English to private students. We were looking for a change of life as we both worked long hours and often Darrell could be working away from home for several weeks. 12-hour days, 7 days a week were not what we wanted out of life. Also, the town where we lived had little to offer and we wanted to live somewhere that had more happening.
"We eventually decided on Puglia as the climate was better and also the cost of properties was less. Puglia, although well-known by Italians as a holiday destination, is just emerging into the tourist arena as a place to go. We organized a trip in September of 2016, did our research and arranged viewings for several properties but none of these suited our needs. We knew someone who is from near Nardò and, as we had a few days spare, we decided to go for a visit. We loved the town! We were talking to the owner of the B&B that we were staying in and told him our plans. The next thing we knew, he had arranged appointments with a local estate agent, and we were viewing properties. The rest is history, we bought our property within 3 days and immediately returned to the UK.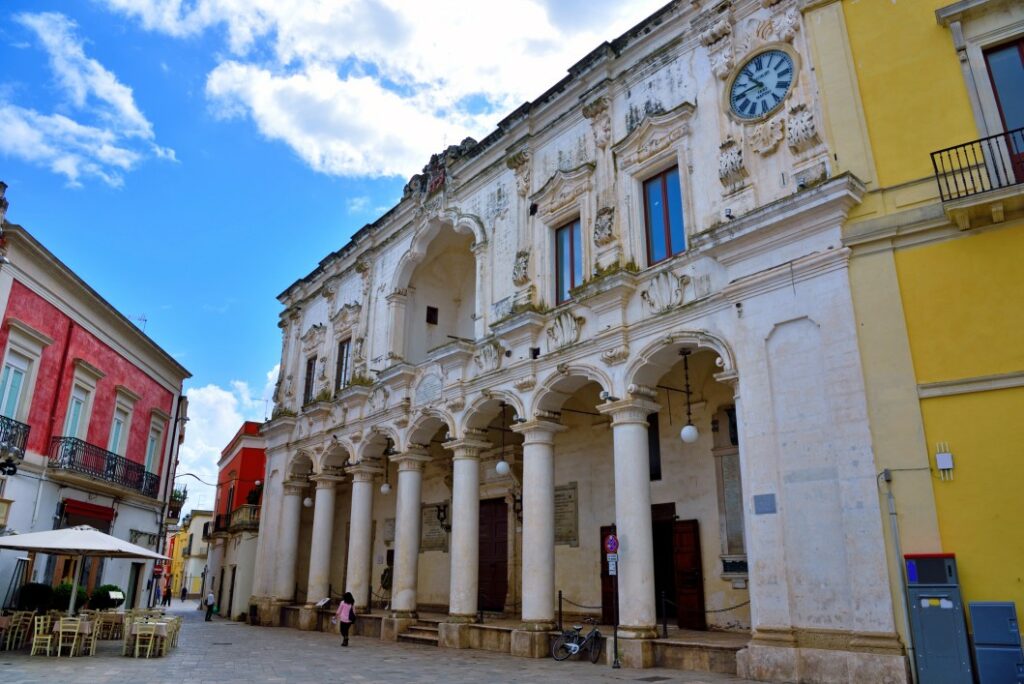 "We have gained a new way of life that is less stressful, have a new life for ourselves, and can take life at a slower pace. We have not come here to make loads of money, but just to be able to enjoy the Italian lifestyle.
"Although the property we bought did not tick all the boxes on our wish list, it ticked the main ones which were:
Location
Business potential
Private home
Outside space
Life all year
Near the sea
"We would have preferred not to have such extensive work to complete, but with the support of good architects and working on the project ourselves, we have no regrets and feel blessed to have our home and new life.
"We have completed extensive renovations as the property had previously been empty for 15 years and, prior to that, it was actually a local mental institution. It had not been a family home since the 1960s and it needed complete renovations for our private section, as well as for the rooms to provide accommodation for staying guests. We have now been accepting guests for 4 years.
"We are now only 10 minutes from the beach. There is always some festival or event happening in the town. Traditional local shops are right by our doorstep. The local people are friendly and Gigi our dog even knows which bars will give him biscuits. Nardò is not only a summer vacation town but has life all year round making it a fantastic place to live. And grow old."