Bread may be the one Italian food staple that most visitors don't seem to envy. Over the years I've heard all ki
Please consider that Italy has hundreds of kinds of bread, most unique to each region. Sardinia offers thin pane carasau, also called "music paper" bread; robust Altamura is a staple in Puglia; and focaccia, in all its many forms, is also a bread.
Specialist food shops and larger supermarkets stock non-regional breads but even then, the variety is limited. Only relatively upmarket restaurants offer flavored or seeded breads. Everyday bread tends to be plain.
Why is this? Why is a country acclaimed for its magnificent cuisine, happy with boring bread? The truth is, bread, for us, is like your pillow, and we don't consider it boring. We are used to its familiar flavor and texture and, most importantly, there are endless ways to eat it.
Our bread has a different role in a meal. With the exception of special occasions, bread is nothing more than a discreet companion to the delicious food that so many of us know and love. It's not for dipping – why spoil your appetite with bread and oil or butter, when so many good things await? It's not for absorbing excess sauce – Italians don't usually over-sauce their pasta, so no bread is needed to soak up any leftover sauce.
When you go to a restaurant, watch the way Italians eat. They take a slice of bread, break it up into small cubes and then eat it with soups, appetizers or a second course.
In Umbria we tend to eat low salt bread with a light and airy texture and a crunchy crust. It is ideal not only to make bruschetta or crostini, but is a perfect accompaniment to an Umbrian-style appetizer of charcuterie meats and pecorino, or to enjoy with our favorite street food, porchetta.
This is a rustic loaf of white, which works beautifully with stone-ground flour which makes bread flavorful, aromatic and rises well with hardly any effort. Good quality organic flour makes a worthy substitute but you might need to adjust the amount of water as every flour is different in its capability to absorb liquids.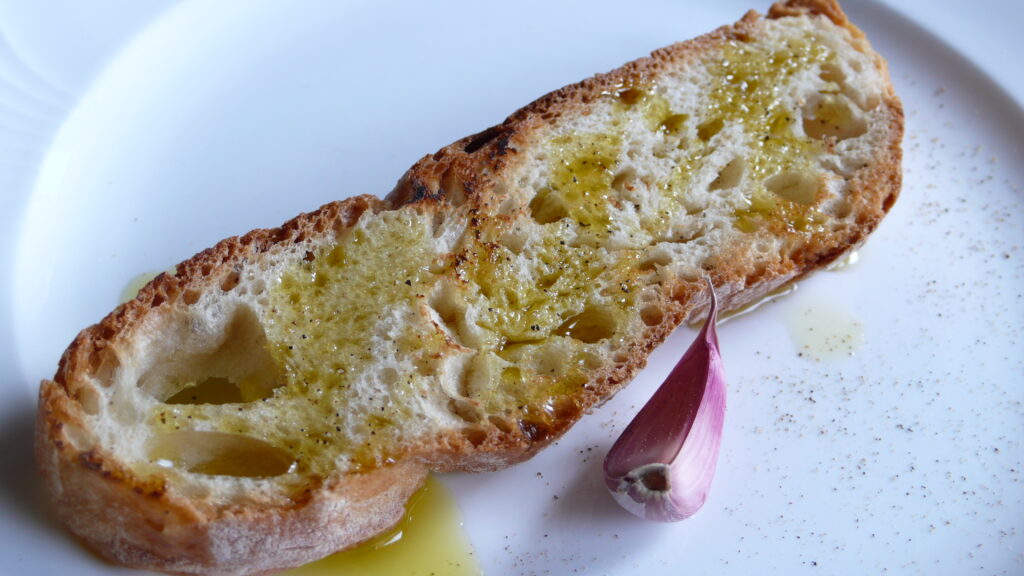 Ingredients:
550 g (4 and 1⁄2 cups) fine stone-ground flour or organic white bread flour (protein content 11-12%)
10 g (1 and 1⁄2 teaspoon) salt
10 g (2 teaspoons) sugar
2 g (1⁄2 teaspoon) dry yeast
25 g (1 and 1⁄2 tablespoons) butter, softened at room temperature
340 ml (1 and 1⁄2 cup) water, at room temperature
If you can't source artisan stone-ground flour, at least try to buy the best available flour. Compare different brands to see which one gives you more reliable results and a better flavor. You will find that not all brands are the same. With a good flour, even a plain bread like this one is very, very good.
To make the dough:
Sprinkle the yeast over the water and stir until the yeast dissolves. Using a mixer, combine the flour, butter, sugar and salt. Mix briefly. Add the yeast mixture and mix again to obtain a fairly wet, soft dough.
Transfer the dough to an oiled bowl and cover first with cling film and then with a tea towel. Place it in a draft-free area to rise, for example, a kitchen cabinet.
To shape the dough:
Once doubled in size, transfer the dough onto a well-floured worktop and stretch it carefully into a rectangular shape. Fold the long sides, one over the other, then roll the dough lengthwise into a ball.
Fold in the seams to create tension and shape it into a 35 cm long x 10 cm wide (13 x 5 inch) loaf.
Create a loose tent over the dough with foil or a cotton towel, and allow the dough to rise again for 30 minutes. The dough will still be quite soft so don't worry if it spreads a little, just fold it back into shape before baking if necessary.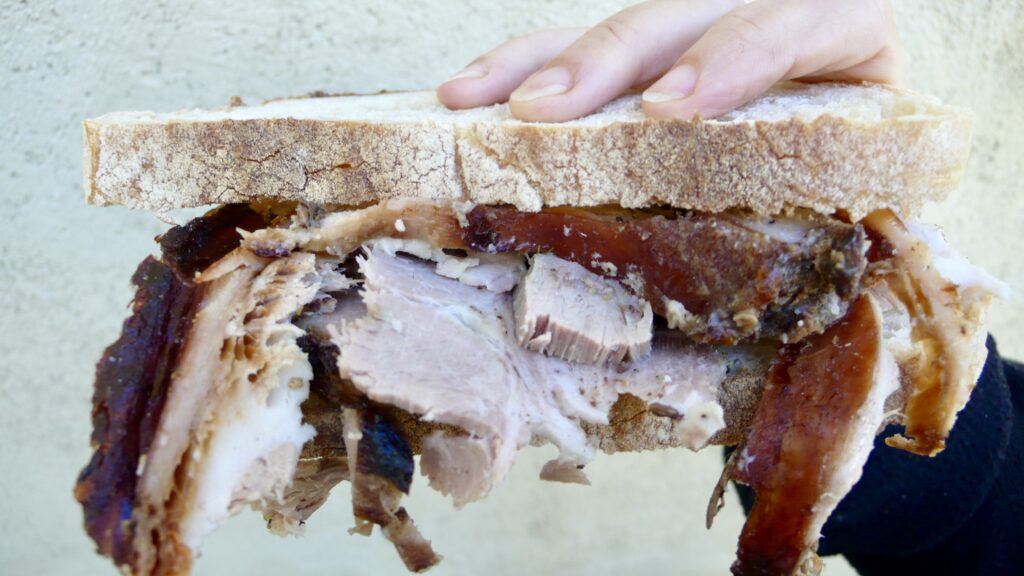 Place a pizza stone in the oven and preheat to 220 °C (430°F). In a small bowl, make a mixture of oil and milk (approximately 1/2 teaspoon of each) and use it to brush the surface of the loaf. Fill an ovenproof pan with boiling water, which you will use to create steam inside the oven.
Place the cookie sheet with the loaf onto the preheated stone in the oven. Quickly place the pan of hot water in the bottom of the oven and close the oven door. Bake the bread for 15 minutes, then remove the pan of water. Continue baking for a further 30-35 minutes or until the bread becomes a deep golden color.
Remove from the oven and cool on a wire rack before slicing.
Letizia Mattiacci is a cookbook author and owner of Alla Madonna del Piatto Cooking School and Agriturismo in Assisi, Umbria, https://incampagna.com. This recipe has been previously published in Mrs. Mattiacci cookbook entitled "A Kitchen with a view."