Summer may be wrapping up, but tourist season in Italy remains vibrant into the temperate months of fall. The languid heat of summer is fading while cooler temps coax plump grapes and rotund olives to prepare for harvest. Festivals are plentiful, as well, and offer tourists unique opportunities to first-hand experience local culture and cuisine. Who doesn't want to bring back a tangible memento of such special times, be it in fall, winter, spring, or summer

Tourists and souvenirs have been partners for as long as mankind has been mobile. Had this concept not existed, Italy might never have been introduced to the tomato! True or not, it's human nature to cling to sweet experiences and memories through an object, whether tangible or edible.
As markets have become globalized, the consumer game of buying souvenirs and gifts has become trickier than ever. Some really don't care where their purchase originated, but most seek out something authentic, something genuinely part of that special spot that stole their heart. How to avoid a counterfeit or something-less-than-local purchase? It's sort of a trick question as few regulations are in place to 100% guarantee authenticity, but a savvy shopping protocol and a few tips can help increase the odds your purchase is real-deal Italian.
A good place to start is awareness of Customs and Border Patrol restrictions. Nothing sadder than watching that slab of prosciutto and baby olive tree being carted off by an agent. A quick perusal of the government website (cbp.gov) holds all the details one needs to know. Your airline's luggage weight limits are important to know, too, but remember…most merchants will happily arrange to "spedire" (to ship) your treasures safely home.
Once on the ground, the fun begins. Most seasoned shoppers know to not fall for the first item that woos the eye, which is certainly challenging in any charming Italian setting. However, other perfunctory guidelines will help make the experience devoid of stress, save for making final choices. Receipts are a serious matter in Italy, and the lack of one could potentially lead to a hefty fine. It's the law to give and receive a receipt with any transaction. If a suavely dressed officer from the Guardia della Finanza should ask to see yours, be able to produce it! While a bit odd by American standards, this law is designed to foil tax cheats, effective or not. In my plethora of purchases in Italy over the years, this has yet to happen – but never say never! Consider, too, snapping photos of purchases before packing or mailing them home. Should they mysteriously disappear or arrive in multiple pieces, filing a claim will be much easier.
Preferred souvenirs and gifts vary as much as one's choice of favorite pizza or Italian wine; thus, none are bad choices! Yet, like selecting a cozy trattoria versus a plastic booth under golden arches, scrutinizing where purchases are made can pay off in quality and authenticity. If a high-end purchase such as a Prada bag or Armani sunglasses is on the list, main fashion drags such as Milan's Quadilatero d'Oro or Rome's Via del Corso should be calling your name. Avoid, however, the knockoff being hawked from a blanket. Not only is it of sad quality but if caught with something in hand, be prepared to fork over up to € 10,000 in fines. That fake Fendi suddenly becomes painfully pricey – and you don't even get to keep it. Flea markets, often held in conjunction with festivals, offer a dizzying array of unique items, many small enough to easily tuck in your backpack. Ancient coins, trinkets, glassware, books, prints – the options are endless and generally quite affordable. Don't be afraid to haggle if the spirit moves you. Other wonderful ideas for finding meaningful, memorable, and even practical items include local weekly markets held in virtually every town and village throughout Italy. An online search can point to the options nearest your location.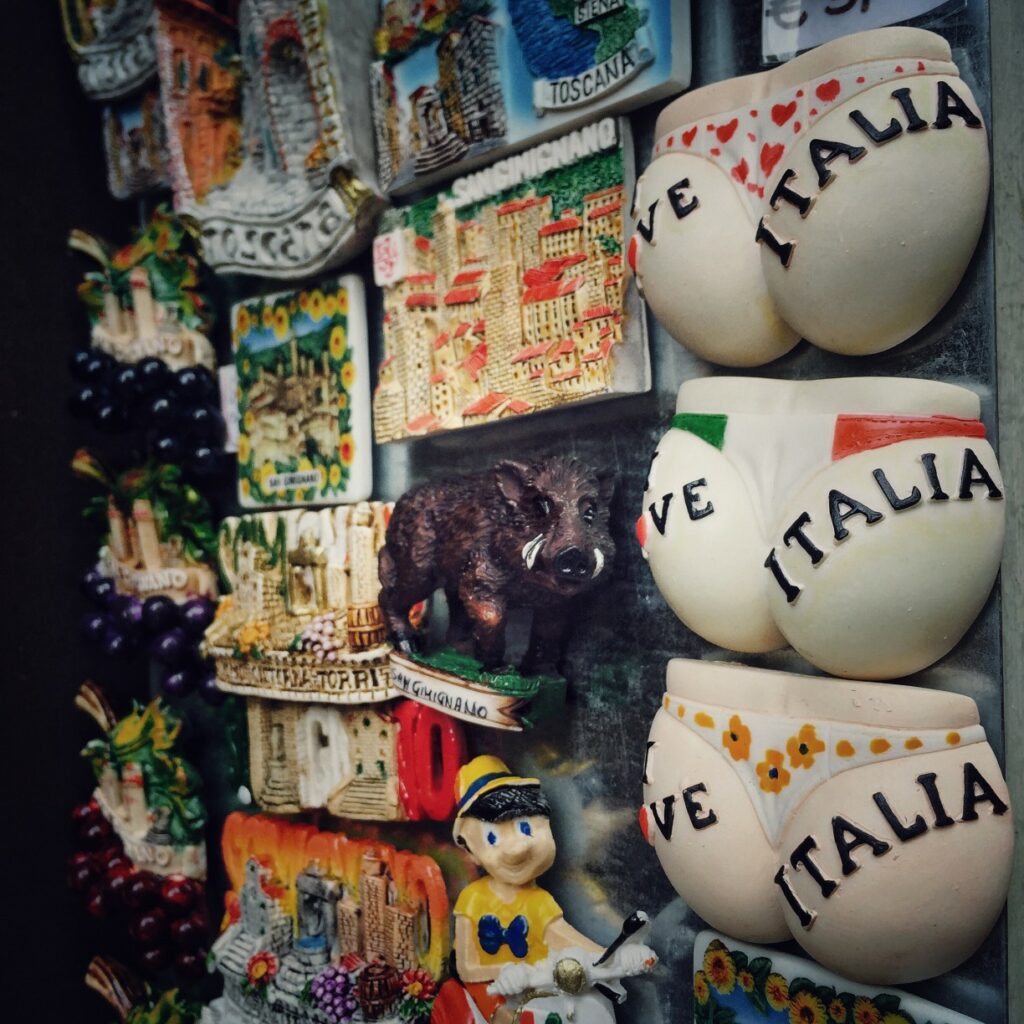 And have you ever been to an Italian hardware store? Oh the delights, including an array of home and kitchen doo-dads that will bring fond memories every time you use them. And don't forget local grocery markets: be adventurous – try a distinct Italian toothpaste, stock up on spices, pasta, candy, and even pet treats (if they're all sealed) at much less cost than the storefront of an eye-catching tourist shop. 

That's not to allude that shopping along the main corso of any given popular Italian destination is a bad thing. Just be savvy: check labels, talk to shop owners, scrutinize quality. A finely made hand-painted piece of pottery will stand out from a mass-produced, foreign-made product and should bear the mark or signature of the artist or shop. Online searches are valuable for a little beforehand education on specific purchases in an area visited, such as Murano's coveted (and often counterfeited) glass works. Seek out artisan shops where products are made on-site, often in view of shoppers. Coppersmiths, alabaster carvers, wool weavers, mosaic artists, painters, woodworkers, glass blowers – taking a purchase home that you've seen come to life, the artisan's voice a part of your memory, is priceless.
There's no shame in deciding to buy the neon green Leaning Tower statue or that apron of the well-endowed David if that brings joy. It's the memory, not the mass production – although many of the kitschier items are often made in Italy, as well… just do the research and shop local as much as possible.
Endless words could be laid forth on what to seek in Italy's twenty regions. Each holds treasures of unique and wonderful customs, traditions, food, and wine…where to begin! Suffice to say, spend just a little time before your visit to know what truly is quintessential to that area, then have fun looking, tasting, shopping, and buying. Experiences come and go, memories last a lifetime.
"Nothing is ever really lost to us as long as we remember it." ~ L.M. Montgomery