A cynic of Italian cuisine — a non-Italian — once observed that a typical Italian diet consists mostly of pasta, pasta, and more pasta. While it's true that most Italians and many Italian-Americans consume pasta by the bowlfuls on a regular basis, there are alternatives when you get overloaded with spaghetti, linguine, fettuccine, and other noodles.
Risotto and polenta are showing up in more homes in Italy and the US and on an increasing number of restaurant menus.
Risotto is a rice dish that lends itself to a seemingly infinite variety of preparations. Polenta is cornmeal, usually yellow, that's cooked simply in water or broth, seasoned, and served with sauce, mushrooms, or cheese alongside an entrée.
In one respect, they are opposite. To cook polenta properly, you should pour the cornmeal into a simmering liquid. For risotto, you need to stir the rice in a pot as hot broth is gradually added and absorbed. Both recipes require 20 to 30 minutes of diligent attention. Neither offers the quick ease of pasta that can be boiled for several minutes, drained, and reheated in boiling water for a few minutes longer.
Risotto, in particular, is best when made from scratch. When shortcuts are attempted, as often happens in busy kitchens and restaurants, the results may not be worth serving. Just because a dish has a chic cachet doesn't mean it has to be acceptable. Plain white rice crowned with sauce is not risotto.
Furthermore, the rice should be the preferred, imported long-grain Arborio type. Otherwise, the grains will not plump up to the desired creamy al dente texture. Borrowing recipes from their Italian counterparts, some American eateries get daring and serve risotto with cuttlefish in an ink-black sauce that results in a dark, evil-looking dish with a briny character. Others take a more conservative route and mix it with porcini mushrooms.
With risotto as a northern Italian staple, it's not unusual for Milan restaurants to have several pots going at the same time. Each is at a different stage of completion, similar to steaks on a grill, so diners have to wait no longer than 10 minutes for an order. More often than not, it is partnered with osso buco alla Milanese, a classic veal number.
According to restaurateurs, risotto is requested twice for every 50 servings of pasta. It is perceived as sophisticated, upscale food that must be cooked according to strict guidelines to maintain its integrity.
Four categories of rice are generally recognized and most common in Italy: comune (short grain), semi-fino (medium grain), fino (long grain), and super-fino (extra long grain). These are the categories most commonly used for risotto because they absorb great amounts of liquid without losing their shape. Piedmont is the most abundant source of Northern Italy's rice, but the method of preparation in Lombardy has become the standard.
On the other hand, in Piedmont, Valle d'Aosta, and Alto Adige, the rice may be covered and is more frequently left unstirred. In Venice the style is distinctly creamy and of an almost flowing consistency known locally as all'onda, meaning "like a wave."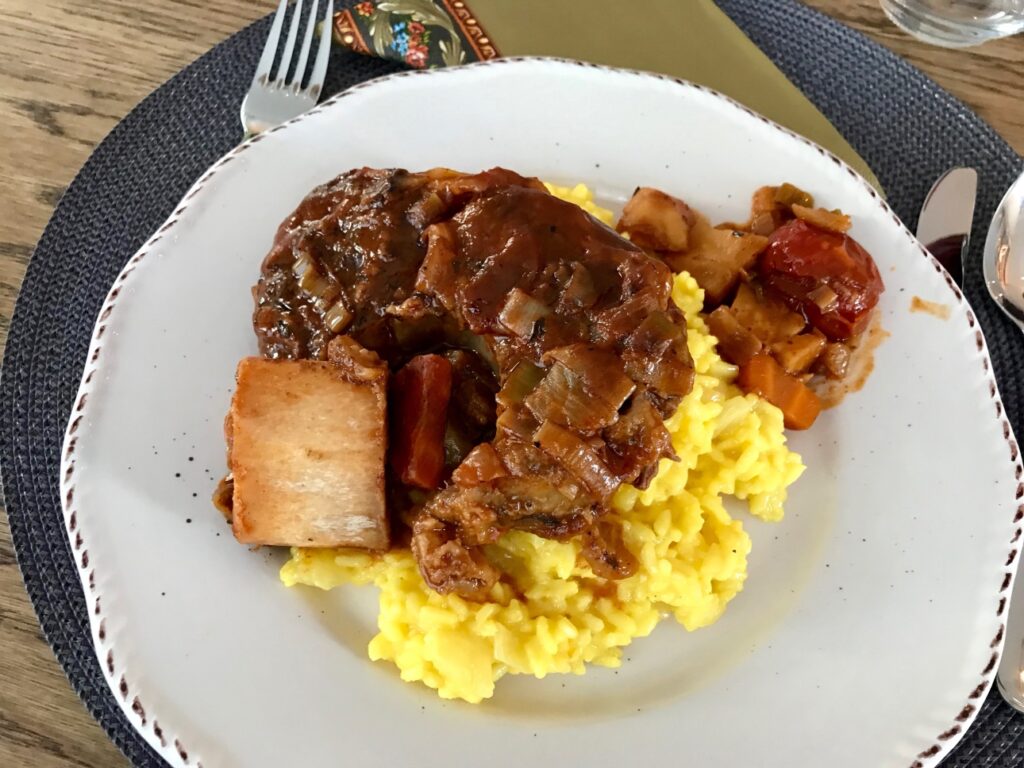 Polenta carries some mixed cultural baggage, It is similar to the cornmeal mush known as grits in America – synonymous with the US South – and couscous in the Middle East. The interest in American regional cuisine gives polenta-influenced dishes additional appeal. A California-style restaurant in New York City named Petaluma is believed to be one of the first in the country to offer "polenta of the day." It is presented in squares with bits of mushrooms or cheese and tomato sauce.
As for seasonal value, both risotto and polenta qualify for the down-home, comfort food category. That's why, as a change of pace for pasta, they hit the spot on winter nights with a frosty nip in the air. Extra-long grain rice is the most expensive Italian rice: the long, sturdy grains contain less starch than the others and are preferred for dishes such as Risotto alla Milanese (with wine and saffron), a classic Lombardy region dish. Here's the recipe:
Risotto alla Milanese (Serves 6)
Ingredients
2 ounces of veal or beef marrow
A pinch of saffron
8 cups of hot, clear beef broth
6 ounces of butter
1/2 cup of finely diced onions
3 cups of Arborio rice
1 cup of dry white wine
1 cup of grated Parmigiano
A pinch of white pepper.
Directions
Soak the marrow in salted cold water for about 2 hours, then cut it into small pieces and set aside.
Dissolve the saffron in 1/2 cup of hot beef broth, then heat 3 ounces of butter in a 3-quart casserole and cook the onions until transparent; add the marrow and rice, then stir with a wooden spoon until the rice is glazed. Stir in the wine and cook until it evaporates.
Add 3 cups of hot beef broth, stir, and let simmer on low heat for 5 minutes; add the remaining broth and simmer for 8 to 10 minutes more, then add some pepper. The total cooking time is between 18 and 20 minutes.
Remove the pan from the heat and let it rest covered for 2 minutes.
Stir in the remaining butter and the grated Parmigiano.
serve in a deep dish, sprinkled with extra Parmigiano(Serves 6).