I like to think that pasta is in the Italian genes – we consider it the mother of all foods. Pasta is a prominent memory in many moments of our lives. That tiny star-shaped pasta in your baby soup. Using your hands to stuff spaghetti into your mouth, lips glistening with olive oil. The first pasta you ever cooked (Mum made the sauce). The first carbonara you proudly prepared for your friends and the disaster of cooking it for too long or for too short a time, making it too salty or not salty enough. Coming back home after a long, long day and making a plate of pasta with anything that comes to hand. Aglio e olio or butter and cheese.
So easy, so good, so comforting. Pasta comes first. After all, we do call it primo.
In fact, not all Italians eat pasta every day. Twenty-first century Italians eat all sorts of food. Meat, fish, legumes, lots of vegetables and fruits, rice, polenta, whole grains, and even couscous are all part of our diet.
Like everywhere else, food choices vary according to regional traditions, age, and social conditions. A young urban Italian has a more adventurous taste palette than an elderly grandfather living in the countryside. So, if you look at the statistics, some countryman must be eating his pasta twice a day, and a lot of it!
"Do you only eat fresh pasta?" This is the second question that comes from my cooking guests as we get ready to make pasta dough.
This is definitely not the case. According to current data, Italians eat four times as much dry pasta, especially spaghetti, than fresh. Eating fresh or dry pasta in Italy falls into different categories and occasions. It's like eating chicken and duck, similar animals but different species.
Fresh and dry pasta differ in taste, shape, and texture and in how they combine with sauces and stuffing. This is why pasta is such an incredibly influential food and has made its imprint all over the world. Not only is it easy and generally quick to prepare, but it is sublime and comforting in its many forms, colors, and textures.
While dry pasta is easy and convenient, making fresh pasta represents the very essence of Italian cooking.
I especially love homemade ravioli for their endless variety of recipes, shapes, and ways of serving. Every region, and almost every village, has a special version depending on the season and holidays.
This recipe is inspired by the cuisine of Lombardy and Emilia Romagna where it is not unusual to include sweet elements like fruit, chestnuts, and even raisins in the filling.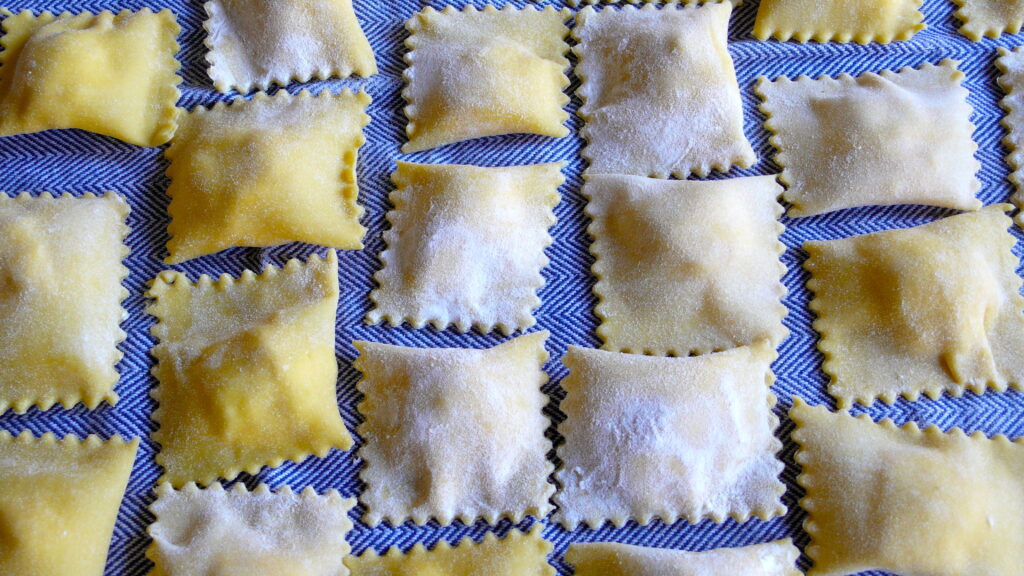 For the pasta dough (Makes about 50 ravioli, serves 4)
• 100 g (approx. 3/4 cup) 00 flour plus additional for kneading
• 1 large egg
For the filling:
• 250 g (8 oz) fresh ricotta
• 1 pear
• 60 g (2 oz) grated Parmesan
• grated zest of 1 lemon
For the sauce:
• 60 g (2 oz) butter
• 30 g (1 oz) thin shavings of aged Pecorino
• 2-3 teaspoon aged balsamic vinegar
Make the filling:
To obtain the right texture you need pears with firm smooth flesh, not grainy and soft varieties. You also need very aged balsamic vinegar, I use one that is 15 years old.
Peel, slice, and cut the pear into very small cubes. Sauté briefly in 1 teaspoon of butter and allow to cool. Combine with the ricotta cheese, lemon zest, and grated Parmesan.
Make the pasta dough:
In the food processor bowl, blend the flour and eggs until the mixture just begins to form a ball. Depending on the size of the eggs, it might be necessary to adjust the amount of flour to obtain a soft, but not sticky, dough. If the dough is too dry, whisk an additional egg and add it by the teaspoon and mix until the dough is formed. Using a pasta machine, roll the dough into thin sheets 12-13 cm (5 inches) wide. Trim the sheets to a rectangular shape and immediately reuse the scraps to make more sheets. If the air humidity is low, cover the pasta sheets with a dry cotton towel.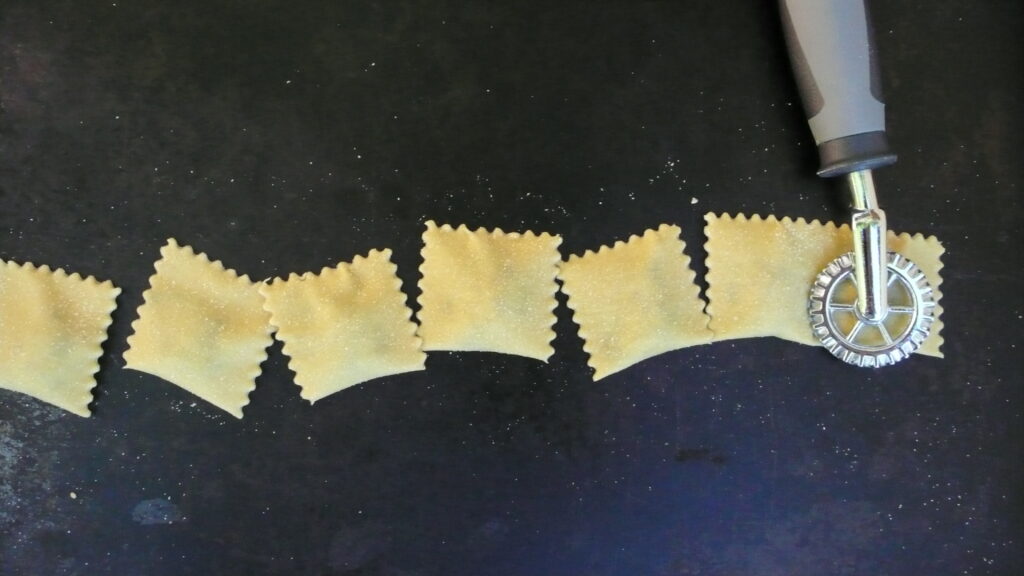 Make the ravioli:
Put teaspoons of the pear and cheese filling about 5 cm (2 inches) apart on the sheet so that you can make a "parcel" by folding over the pasta sheet.
Using a pasta cutter, seal each parcel by cutting on three sides (the fourth is the fold). Dust a large tray or your worktop with flour and carefully place the ravioli on it, taking care that they do not overlap.
Finish:
Cook in salted boiling water for about 3 minutes, until al dente.
Drain and transfer the ravioli to a large pan with the remaining melted butter. Increase the heat, add a few tablespoons of pasta water and stir to absorb.
Distribute onto 4 plates, top with Pecorino shavings and drizzle with balsamic vinegar.
Letizia Mattiacci is a cookbook author and owner of Alla Madonna del Piatto Cooking School and Agriturismo in Assisi, Umbria, https://incampagna.com. This recipe has been previously published in Mrs. Mattiacci cookbook entitled "A Kitchen with a view".