It's not Easter quite yet, but it doesn't mean we can't have a chat about pastiera — the most traditional Neapolitan Easter dessert — and learn how to make it!
This wheat berry and ricotta pie is wonderfully perfumed with orange blossom water, cinnamon and candied fruits, a kind of non plus ultra version of the everyday ricotta cheesecake.
Pastiera is not particularly difficult to make, but it does require some "exotic" ingredients you're not likely to find in a typical supermarket outside Italy, namely grano cotto (pre-cooked wheat berries) and orange blossom water. Candied fruits can also be hard to come by.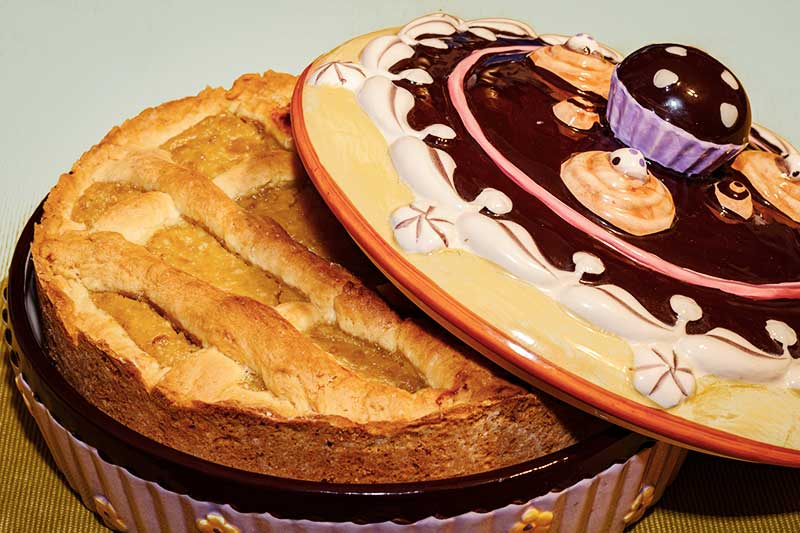 But there are sources and work arounds. (See notes for details).
A proper pastiera also requires some patience. Customarily, you start making it on Good Friday, when you prepare the filling and let it rest overnight. On Saturday, you actually make and bake the pastiera and let it rest overnight, before digging into it on Easter Sunday. Of course, you can do it all in one day, but I would still try to make your pastiera the day before, or at least in the morning for consuming in the afternoon. The rest really does improve the flavor.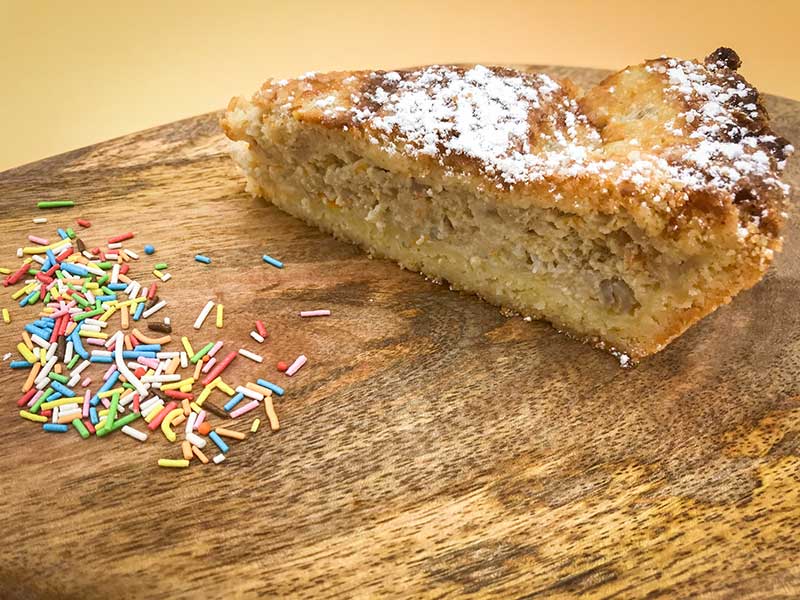 Ingredients
Makes one pastiera
For the grano cotto:
1 550g jar of grano cotto (or pre-boiled wheat berries or barley, see Notes)
250 ml (1 cup) milk
A heaping spoonful of sugar
Zest of 1/2 orange
A drop of vanilla extract
A knob of lard or butter
For the ricotta cream filling:
400g (or one 15 oz container) ricotta cheese
150-200g (5-7 oz) sugar, or more to taste
3 eggs
A pinch of cinnamon
A few drops of vanilla extract
A few drops of orange blossom water, to taste
75-100g (2.5-3.5 oz) candied orange and/or citron peel
For the crust:
300g (10-1/2 oz) "OO" flour (or pastry flour)
75g (2.5 oz) sugar
150g (5 oz) lard (or butter)
3 egg yolks
For serving: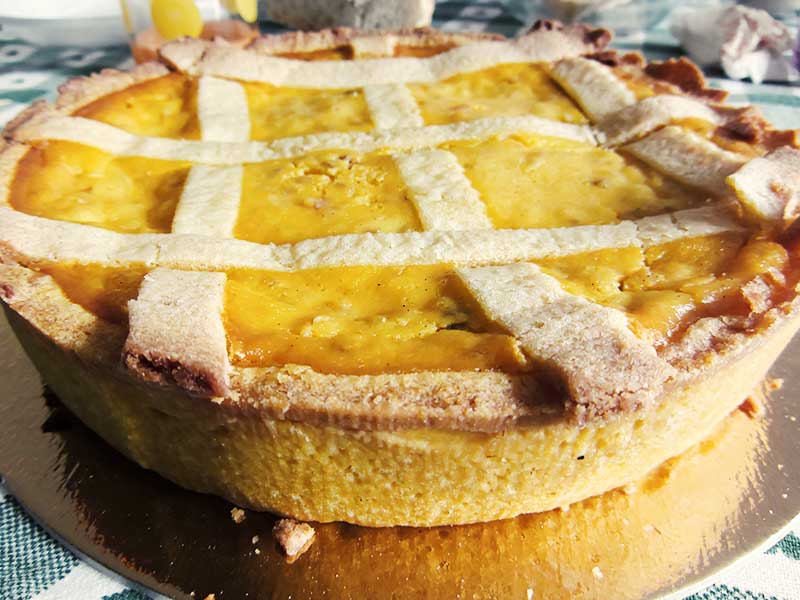 Directions
COOK THE GRANO COTTO:
Add the grano cotto to a saucepan, along with the other indicated ingredients, over low heat. Bring to a simmer and cook, stirring frequently, until the mixture turns creamy and porridge-like, usually about 5-10 minutes. Turn off the heat and let the mixture cool completely.
MAKE THE FILLING:
Pour the ricotta into a large mixing bowl. Add the sugar and whisk vigorously until the sugar is well incorporated and the mixture is rather fluffy. Mix in the eggs as well, one by one. Now add the cooled grano cotto, folding it into the ricotta cream until well incorporated. Add the cinnamon, vanilla and a few drops of orange blossom water. Taste and adjust the seasoning. Add more orange blossom water if you want a more perfumed filling, taking note that its intensity will lessen in baking. If you have the time, let this mixture rest in the fridge overnight. If not, even a few hours will do.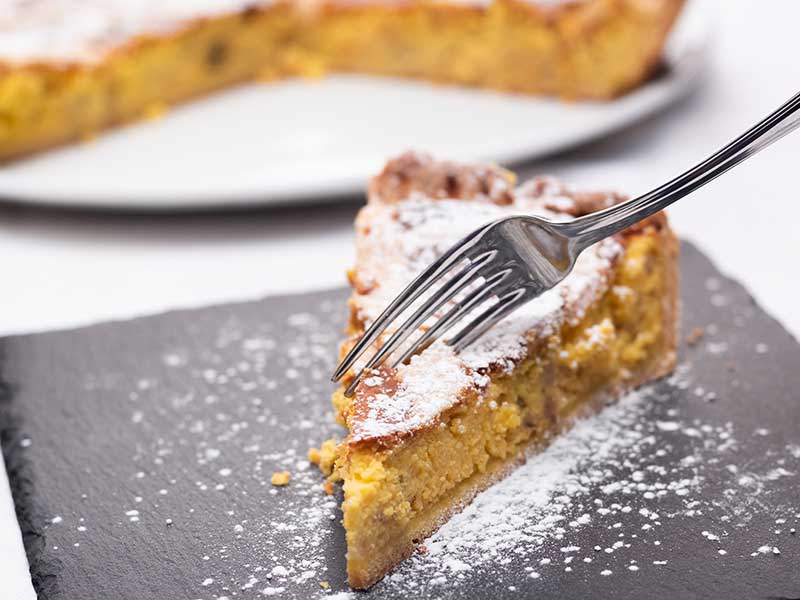 MAKE THE CRUST:
Mix the flour and sugar together by pulsing in a food processor. Then add the lard or butter and pulse until you have a sand like texture. Then add the egg yolks and mix again until the dough forms a ball, adding a bit of water, spoonful by spoonful, if need be. Cover the dough ball with plastic wrap and place in the fridge to chill for at least 30 minutes or until needed.
ROLL OUT THE DOUGH AND LINE THE PIE PLATE: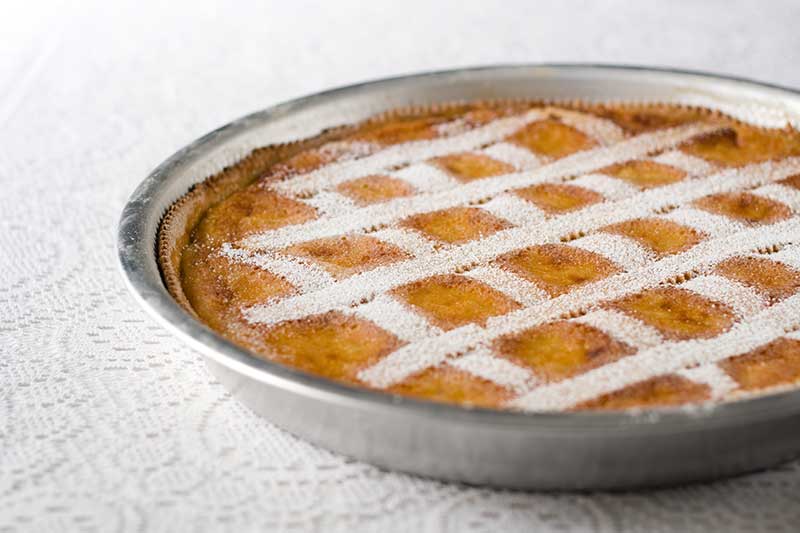 Take the dough out of the fridge. Take about 2/3 of the dough and roll it out into a round. To do this, I like to form the dough into a ball, flour it to avoid sticking, then beat it out flat with a rolling pin first, turning it around, then over, to get a fairly even round disk. Then I begin to actually roll it out flat. The round should be big enough, of course, to line the inside of your pie plate.
Roll the round of dough up with your rolling pin, the roll it out on top of a pie plate, which you will have greased well with a knob of lard or butter. (See Notes below about pie plate sizes). Using your fingers, make sure that the crust adheres to the sides. Cut off any excess dough that is hanging over the sides. (NB: A classic pastiera does not have any trimming around the edges).
FILL THE PIE PLATE AND LAY OUT THE LATTICE TOPPING:
Pour the filling into the pie plate, taking care not to fill the pastry shell to the very top, since the filling will swell during baking.
Roll out the remaining 1/3 of the dough, then cut into strips. Lay the strips over the filling in a diamond-shaped (not square) lattice pattern. Press the strips gently into the shell and cut off any excess dough.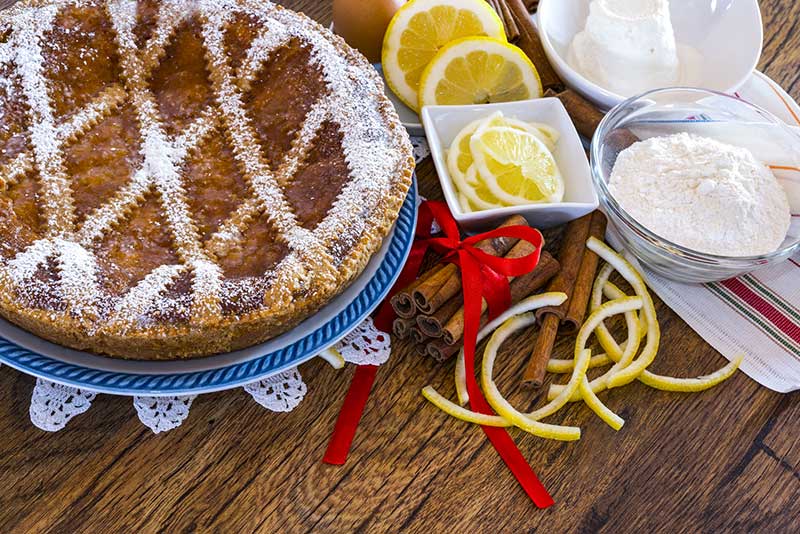 BAKE:
Place the pastiera in a moderate hot oven (190C/375F) for about an hour, until the filling is cooked through and the top has browned nicely. Check on it from time to time. If the pastiera is browning too quickly and looks like it might burn, you can cover it loosely with foil. If, on the other hand, an hour has passed and it's not a brown as you'd like, turn up the heat to 200C/400F and let it bake for another 15 minutes or so. (You can also run it under a broiler, but take care as the high-fat content in the pastry means it will burn easily if left unattended).
COOL AND SERVE:
Let the pastiera cool completely. If you have the time, let it rest overnight. Serve, straight from the pie plate, dusted with confectioner's sugar.
Notes
As mentioned, one of the ingredients that make a pastiera a pastiera—and not simply an Italian cheesecake—is the grano cotto or pre-cooked wheat berry. In Italy these days, grano cotto is sold commercially, in large jars. You may be able to find it in finer Italian specialty shops. You can also buy it online. The quality is generally excellent and it saves a great deal of time.
Otherwise, you can purchase dried wheat berries and cook them yourself, the old fashioned way. But beware of the kind you're buying. The only wheat berries I can find in my local supermarket are "hard red winter wheat berries," which won't do for this recipe, as they don't acquire the correct creamy, porridge-like texture. And they really are red, which won't do at all. (I tried it so you don't have to…).
Many traditional recipes said you needed to soak wheat berries for three days before cooking them—which meant you needed to begin making your pastiera a full six days before you wanted to eat it. Some even talks about old time Neapolitans soaking them for two weeks. But these days wheat berries don't need all that soaking. An overnight soak will do fine, and some sources say you needn't soak them at all. Boil them until tender, usually about an hour and a half, before using them as you would grano cotto in the above recipe.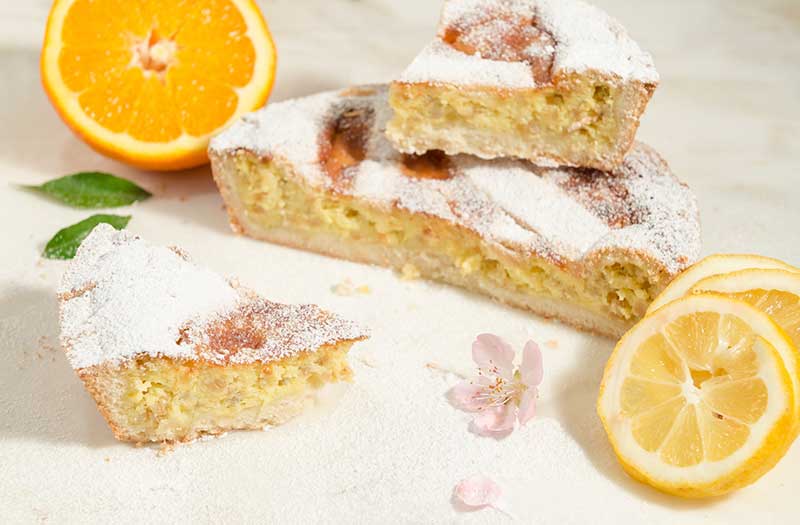 If you can't find dried wheat berries, I've gotten perfectly acceptable results with pearled barley. And they say that farro also works well, although I haven't tried it myself.
Other "exotic" ingredients
The other "exotic" ingredient you will need for your pastiera is orange blossom water. I would venture that if you have a Middle Eastern or North African market in your area, they would carry it. Otherwise, it, too, can be purchased online. Some recipes call for substitutes such as grated orange peel or orange extract. Neither quite does the trick, if you ask me. Orange blossom water provides a heady perfume that has no real substitute. Truly, you can't make a proper pastiera without it, although you'd certainly have a very tasty pie. I recommend you use it with discretion, as its strong aroma easily becomes overpowering.
The candied orange and citron peel can also be hard to come by, although supermarkets will sometimes carry them around Christmas time, for making fruitcake. You can also find them online. Or make them yourself, if you have the patience. You can also simply leave them out if you like.
Serving your pastiera
There is a typical pie plate used in Naples for making pastiera. It is very much like your typical US pie plate, but it is lipless and slightly wider than the standard 9″. If you're using a US pie plate, you're likely to wind up with a little extra filling following the measurements above, depending on how deep your plate is. But no worries, it's the cook's prerogative to enjoy a bit of the raw filling when no one's looking. It's quite tasty in its own right!
Typically, a pastiera is served "family style" directly from the pie plate. If you want a more elegant presentation, however, you can bake your pastiera in a springform baking pan and unmold it before serving.
Variations
There are all sorts of subtle and not so subtle variations among recipes for pastiera. The basic ingredients and method remain the same, but the measurements can vary tremendously. Today's recipe is my personal version, developed over time to suit my tastes. I've radically reduced the amount of sugar you'll find in most recipes. Classic recipes call for as much as double the sugar called for here, in both the filing and the crust. I find that cloyingly sweet. But if you have a sweet tooth, you could up the sugar, perhaps by 50% to start with.
I've also increased the amount of wheat berries—some recipes calls for only half this amount—and reduced the number of eggs. I've had trouble in the past with soft, almost liquid fillings too flimsy to hold up the lattice topping. These measurements eliminate that problem. And I like the rather chewy, slightly crumbly texture you get this way.
If you want a less rustic texture, you can purée some or even all of the wheat berries. If you want a more solid filling, you can add another egg or two. Some recipes have you separate the eggs and whip the whites, which are folded into the filling mixture just before baking. Other recipes call for a combination of two whole eggs and two yolks rather than 3 whole eggs. Finally, one common variation has you add a goodly amount of crema pasticcera to the filling.
The egg and fat content of the crust also varies quite a bit from recipe to recipe. I liked the result I got from the measurements given here. The high fat content gives it a nice flaky quality.
Post Scriptum
Leftover pastiera is enjoyed for days and even weeks after it's baked, often with morning coffee, which is exactly what I'm doing as I write these lines. And with the arrival of commercially made grano cotto, pastiera has become a year-round treat, even if it retains its close associations with the Easter season. So go ahead and enjoy this Neapolitan treat any time you feel like it.
Frank is a lawyer with a true passion for cooking and sharing food with the people he loves. He inherited his love for Italian cuisine and culinary tradition from his grandmother, nonna Angelina, to whom he dedicated his culinary blog, Memorie di Angelina: www.memoriediangelina.com