For more than two decades in the early 1900s, opera singer Luisa Tetrazzini charmed Pacific Northwest opera lovers. Known as the Florentine nightingale, she was so famous that a San Francisco chef named a pasta casserole – Chicken Tetrazzini – in her honor.
Renowned for her powerful singing voice, Luisa Tetrazzini thrilled audiences around the world, traveling throughout Europe as well as North and South America. Her fans loved her exuberant stage presence, her professional triumphs and woes, and her larger-than-life personality.
Born in 1871 in Florence, Tetrazzini claimed she started singing at the age of three. As a young girl doing chores around the house, she would sing entire acts from some of Italy's most beloved operas, performing every part.
At the age of 19, Tetrazzini made her opera debut in Milan, getting a lucky break when an aging diva was too sick to perform. In her debut, she played Inez in Meyerbeer's L'Africaine. She was an instant hit, and later that same year, she performed in Rome in front of the King and Queen of Italy. Her favorite operatic role was Lucia in Lucia di Lammermoor. In an 1899 performance of that opera in Russia, she was paired with Enrico Caruso who sang Edgardo to her Lucia.
Tetrazzini was a superstar, commanding huge fees and selling out opera houses and concerts around the world. Like many divas, she had her quirks. In London, she always stayed at the Savoy Hotel where her suite, No. 412, was decorated in duck-egg blue before she arrived. Two grand pianos were moved into the suite and tuned specially, depending if it were going to be a wet or a dry day. She kept a menagerie with her when traveling, which included a small crocodile and several parrots. One of the parrots was said to have a good singing voice.
Tetrazzini came to the Pacific Northwest several times. In 1912 on her second visit to Seattle, she wowed audiences at the Moore Theater. Eight years later, on a return visit in January 1920, she sang at the Hippodrome, a temporary gathering hall at Fifth and University in downtown Seattle. Reviewing her performance, The Seattle Times noted that "the combination of power and brilliancy with which she accomplishes her vocal flights is hers and hers only. And it is sensational."
Seattle's Hippodrome could accommodate 3,000 people, but apparently, it was not big enough for Madame Tetrazzini. After her appearance, the diva took the time to write a letter to the editor at The Seattle Times, making the point that Seattle needed a bigger auditorium if it wanted to attract world-class artists such as herself: "For a city the size of Seattle with its music-loving public, which I have met on my various visits here, the present so-called halls or auditoriums are far from doing credit either to the city or to a great artist. … By the next time I return next season, I hope to be able to sing to the kind and generous Seattle public in your new auditorium." In 1921, she was back again in Seattle, this time performing at the Arena.
After her 1920 appearance in Seattle, Tetrazzini went on to Spokane, undeterred by the snow and cold temperatures of January. In fact, she claimed to be captivated by Spokane's wintertime charms, which she characterized as beautiful and healthy. But just like Seattle, she was not pleased with the size of the venue. "Why does Spokane not have an auditorium like Denver and St. Paul," Tetrazzini complained to the local paper. "Then all of the great artists can come here and sing. Now they shrug their shoulders when Spokane is mentioned and say, Oh, there is no auditorium there, just a little theater."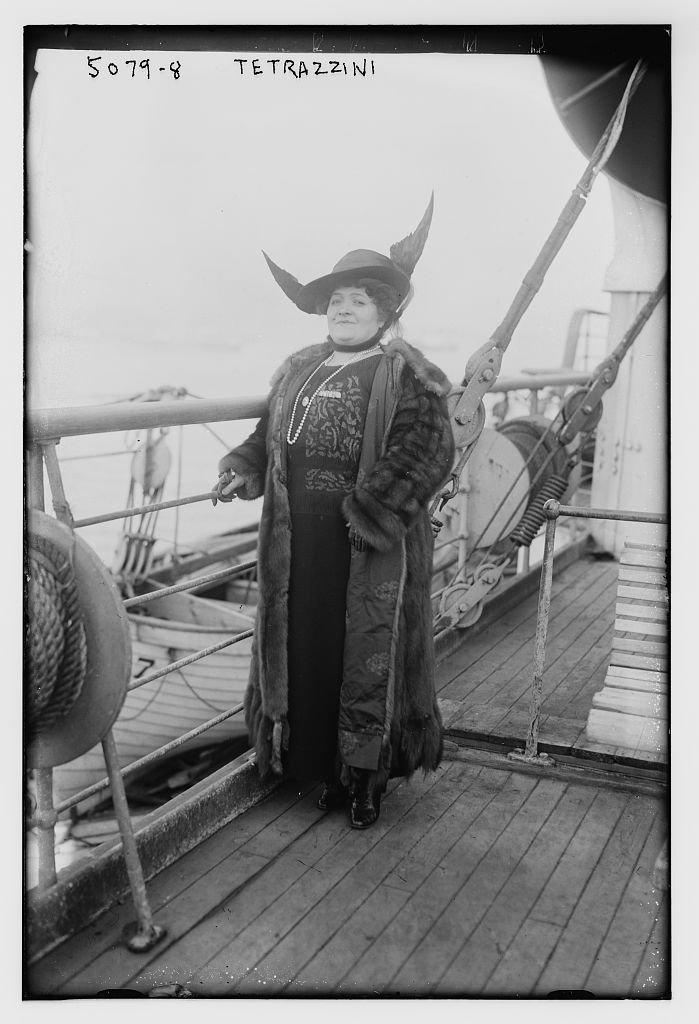 San Francisco was more to her liking and she often stayed in the ritzy Palace Hotel on Montgomery Street. It was there in 1910 that chef Ernest Arbogast created a dish in her honor. He called it Chicken Tetrazzini – a baked pasta casserole made with diced chicken (or turkey), mushrooms, and a buttery sauce of almonds, Parmesan cheese, and wine.
Tetrazzini died in 1940 at the age of 65 from a brain hemorrhage. By this point, she had been married three times, including once to a man 20 years her junior. Although she had stopped touring, she was still involved in music, giving voice lessons in her homes in Milan and Rome. Her London recordings are still available today.
Tetrazzini's connection to the Northwest did not end with her death. Her godson, George Halverson Fiore, had a lengthy musical career in Seattle. Born in New York City in 1926, Fiore was entranced by the piano at an early age, particularly the music of Chopin. He studied at Julliard where he met and became close friends with Van Cliburn. After marrying and moving to Seattle, Fiore became the organist/choirmaster at St. James Cathedral. He later joined the Seattle Opera, first as its resident opera program director and then as the chorus master, a post he held for 17 years. At the end of his career, he was with the Seattle Symphony where he served as associate conductor for choral activities. Fiore died in 2013 at the age of 87. His son, an internationally renowned conductor and music director, carries on the family tradition. He has engagements in Santa Fe and Berlin scheduled for 2023.