"Let me tell you an insane story:" artist Joe Blaustein is visibly happy as he brings back a memory of his days in Italy while walking me through his paintings in his art studio in Topanga, CA, and proudly showing me a medal he was awarded by the city of Florence in 2013. His bond with the capital of Tuscany goes way back in time, to 1966, when Florence experienced a catastrophic flood. On November 2nd, the Arno River overflowed, killing over a hundred people and destroying countless works of Florentine art, architecture, and literature.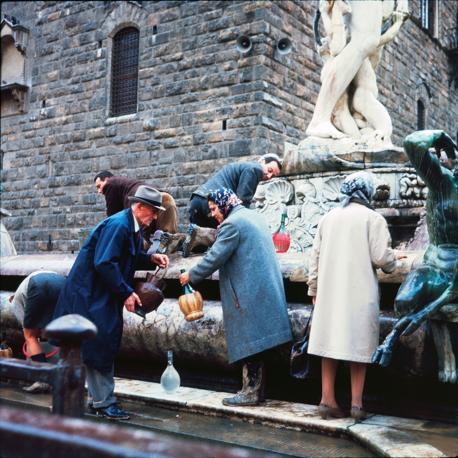 At the time he and his wife Paula, pregnant with the second of their three children, were visiting Italy, a trip that Joe, who will turn 99-year-old in August, took by chance. "I used to do advertising, I was the vice president of a company and, at the same time, I was teaching at UCLA." He recalls how "I did some work for General Electrics, and a senior vice president one day called me and told me 'Joe, I am supposed to go on a trip to the Vatican but I cannot, would you like to go?' So my wife and I packed everything, left our daughter with some friends, and took a trip to Italy."
Blaustein took his two rolls of Ektachrome color slide film and when he arrived in Rome, he bought a cheap old-fashioned camera with two lenses, a Rolleiflex. After meeting in person Pope Saint Paul VI at the Vatican, he decided to take a short trip to Florence. "I found a place 20 ft down the Ponte Vecchio, facing the Arno river. It was a very small place. It was November 2nd when we got there and it was pouring. We went to the room and while sleeping, at 3am, my wife woke me up, telling me that there was a smell of gas so I got concerned and went to the common room. There I met the signorina running the small hotel, and she was hysterical. She heard the river was rushing by, and she told me 'The water is out, the electricity is out.' While I was looking at the river, she added in her broken English: 'First the Nazis, now this.' "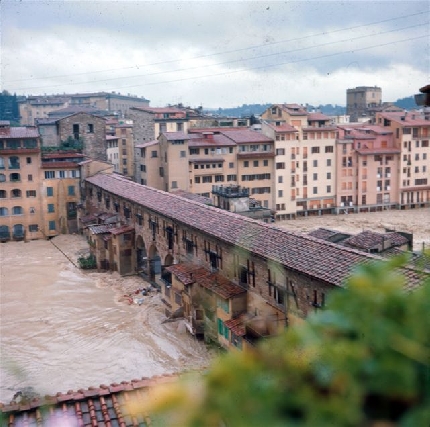 Back in his room, Joe took his Rolleiflex and started taking pictures from his window as he watched the river getting higher and higher. "We had no connection with the outside world, nobody knew anything. I saw the water going over the banks, flooding away and slamming against the Ponte Vecchio, I could see all those beautiful shops destroyed." 
The following day, when the water finally subsided, Joe decided to go out at dawn, before anybody was out. The water was 38ft at that point. He left his pensione at 6am and walked down to the Uffizi, through water and mud that were up to his knees.
"When I saw watermarks on the doors, I started crying. Even talking about it now makes me emotional. I walked all the way down to a little orphanage and I met a very handsome man, wearing galoshes but also wearing a beautiful scarf. We stood there talking, and at some point, he started crying, so he got me crying too. His name was Emilio Pucci and when eventually I went back to the States and told my wife about my encounter, as she knew a lot about fashion, she told me he was a very famous designer."
When he and his wife got back to the United States, Joe forgot about the pictures as he was very busy with UCLA and his advertising job. In the summer of '99, he went down to his basement and found the photos that still looked very good. "I took a look at them, some were molding but overall they were in good conditions." He points out. "Thanks to some of my friends and contacts in Florence, and especially with the help of Paolo De Rocco, I was able to get a first meeting and present some of the photos to Carlo Francini, who heads the UNESCO office for the City of Florence. Mr. Francini then brought the images to the attention of the city archive and eventually we all met while I was in Tuscany on a teaching trip in early 2013."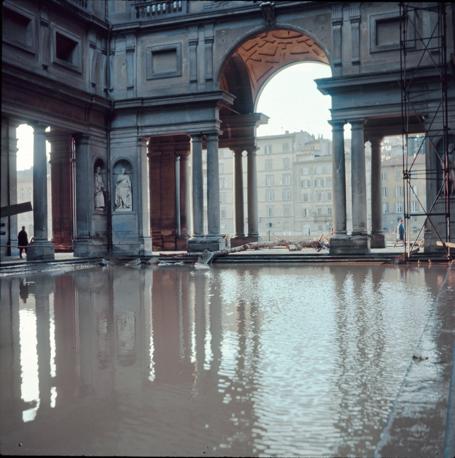 The city archive at that meeting was blown away by Joe's photos and enthusiastically accepted his offer of donating the scanned slides (almost 90 and among the very few color photos of the 1966 Florence flood) to the city of Florence, and started the preparations for the first public showing.
"It was a total accident, I am not a hero, anybody would have taken those photos. I was lucky that I have a decent eye. These photos are pure guesswork, I had no light meter, nothing was automatic, it was an old camera.
"But when the city archive saw the photos, in particular, the one of Arno and the one with the cars flooding and slamming, the head of the archive grabbed me and told me: 'You are an angel! This is a piece of history of our city!' It made me laugh because I thought of my wife that was there with me and that eventually passed away; she had a great sense of humor and she would have thought how funny it was that this recognition happened so many years after the flood when I was already almost in my 90s."
After many interviews and an exhibition "Remembering the flood of Florence 50 years later," which was also displayed at the Embassy of Italy and the Italian Institute of Culture of Washington, DC, Joe Baulstein was given a medal from the city of Florence by the mayor of the time, Matteo Renzi, and a year later he published the book, The Colors of the Flood: Past, Present and Future Through the Unpublished Color Pictures by Joe Blaustein.