His grandparents, originally from Reggio Calabria, met and married in Australia, where they had migrated after the war. Comedian Joe Avati grew up in Five Dock, Sydney, Australia, but his profound Italian heritage has always been at the heart of his stand-up comedy shows that are performed in the Calabrese dialect, in English with or without a Calabrese accent.
This summer, fans in North America will have the opportunity to enjoy his unique brand of comedy, as he brings to Canada and America his tour When I Was Your Age, which allowed the world-renowned Australian comedian to highlight with humor generational and cultural differences, putting on a hilarious portrayal of the complexities of modern parenting and the minefield of cancel culture.
A household name in North America, Avati is one of the original ethnic comedians. He first connected with his audience 25 years ago through his hilarious anecdotes about growing up in Australia as the child of Italian immigrants. That, along with his razor-sharp wit and priceless observations about generational differences, have since established him as a household name around the world, as well as in Australia, North America, and the UK where he regularly performs to sold-out crowds.
Setting him apart from other humorists is the fact that Avati keeps his shows clean and free from profanities, which means that fittingly, all generations can enjoy his shows together. "I have performed to comedy lovers of all ages — mums and dads, teens, and even kids because everyone can relate to my stories," Avati explains. "I can't wait to bring my new tour to Canada and America this summer because they are the best audience!" And it's no wonder. Avati had the privilege of selling out large theatres many times over since he started touring here in 2001. He also boasts two number-one live comedy albums in Canada, with one of those albums having held the top spot for 18 months straight.
Joe, what's your show about?
It's a show where I break down all the differences between my generation and the new generations. Obviously, the common theme is having an Italian background and being Italian. Growing up surrounded by Italian culture was very particular. For example kids today, they've got no problem asking for an expensive pair of shoes, a new car, or something like a new phone. I kind of addressed how kids are different in that respect. I've come to understand that kids are different from this perspective. And then I think to myself: imagine telling your father you want something… So I look back at how I was raised and how much stricter my parents were with me compared to how we are now with today's kids. Then I ask: and grandparents? How different are today's grandparents! If I were to say to my son Antonio, "Don't do that or I'll slap you," my mother would step out and say, "Don't you dare touch him!" And I feel like replying, "What? Do you have some kind of amnesia that made you forget what you did to me?" Every Italian grandmother would respond the same way, "I never slapped you!" I talk a lot about the things we had to deal with as kids in an Italian family and I tell funny stories about me and my marriage, about when I became a dad, and how it has changed my life.
Are you a very Italian dad?
Half of me wants to discipline my children the way that I got disciplined. The other half doesn't want to go to jail. I'll talk about this in my show as well, you can't hit kids today. But back in our day, you could hit anybody's kid.
When did you start doing comedy and impressions?
I started doing it with my cousin. I started making fun of the things that we had to go through, the way Nonna spoke or how she kept her olives in a black jar. Then I did it in public and it took off in a big way. All of a sudden, my phone started ringing from various promoters saying, "Oh, can you do this at this Italian Association? Can you do this at this Italian wedding?" or at a baptism. And then it started to grow from there and then it just sort of built into a one-man show and then that one-man show went all over the world. Now I don't do it in Italian just for Italians. It's for everyone. But in America and Canada, it's mainly Italians who come to my shows, in Australia everybody comes now.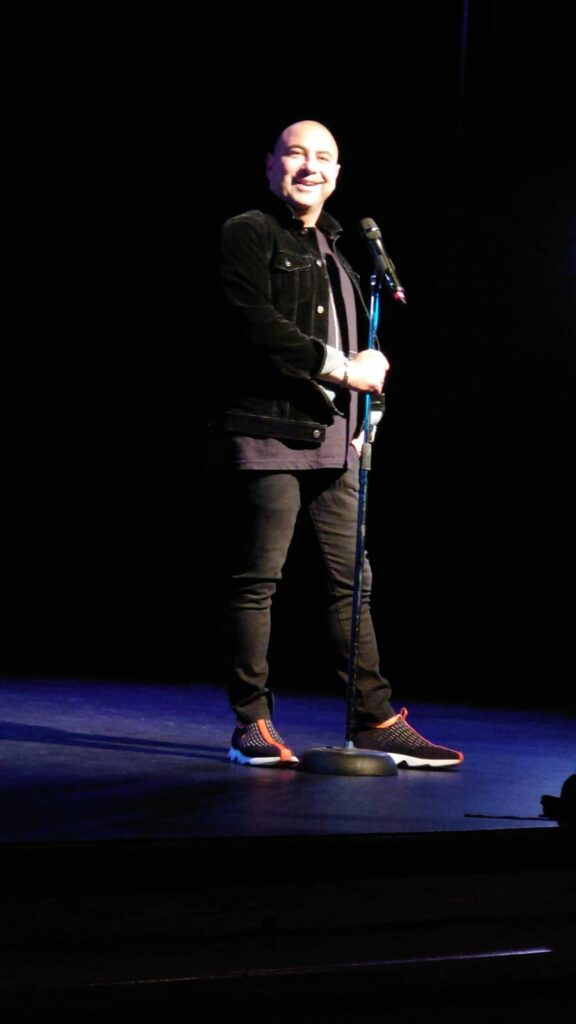 How were you welcomed by the American public?
The American public was curious when I first started, nobody was doing this here. They'd never heard anything like this before because it was not common to make fun of yourself in terms of comedy, while it's quite a big deal in Australia.
Who was the very first comedian to inspire you?
The first one to inspire me was a Calabrese comedian that my dad used to listen to all the time, Micu U Pulici.
What do fans like about your show?
The thing that probably stands out the most is that there were a lot of Italians who were embarrassed about growing up Italian because they thought their family was the only one who did those things. Then they came to the show, and they realized that it was not just them, but there were other people and other families all over the world just like theirs. They would actually say: "You made me feel like I belong now. And whereas before I tried to move away from my Italian heritage because I was embarrassed, I now embrace it."
Do you visit Italy?
Yes, I go there at least once a year, to visit my relatives in Calabria and to travel around. Do you know what fascinates me about Italy? It's a little country but you've got some of the most amazing places in the world in that tiny bit of land. It's all concentrated there: the Vatican, Venice, the Amalfi Coast… it's so hard to describe the feeling I get when I am there. You don't get so many beautiful places in one little bit of land anywhere else. That's what fascinates me.