When temperatures reach astronomical highs as they have done lately, I often turn to salads for sustenance. To me, they're the ideal hot weather food. Not only do you generally serve them chilled or at room temperature, but they're quickly thrown together and don't involve turning on an oven or stove. And let's not forget they're light eating too.
Insalata pantesca, a lovely salad from the island of Pantelleria off the coast of Sicily, fits the bill perfectly. It combines potatoes with seasonal tomatoes, red onions, olives and, of course, the capers for which the island is justly famous, all napped with an oregano scented oil and vinegar dressing. It's light yet substantial enough to be a light lunch or dinner, especially if you add, as many do, some tuna or mackerel to the mix. And while it's not entirely no-cook, it is lo-cook: the only cooking involved is boiling or steaming the potatoes.
You may see a vague resemblance between this icon of Sicilian cuisine and its better-known French cousin, the salade niçoise. I can't actually say whether there's any common parentage, but the insalata pantesca is one of the relatively rare examples of a composed salad in Italian cookery—a salad where you arrange the ingredients on a platter and nap them in their dressing, rather than tossing everything together. It's a feast for the eyes as well as the stomach.
Ingredients
Serves 3 as a light main course or 4-6 as a side dish
300g (10-1/2 oz) medium-sized yellow fleshed potatoes
150g (5 oz) small or medium-sized tomatoes, cut into wedges or halves depending on size
1/2 small red onion, peeled and thinly sliced
A handful of green or black olives
A handful of capers
A few basil leaves (optional)
For the dressing:
75ml (2-1/2 fl oz) best quality extra virgin olive oil
25ml (1-2 tbs) white wine vinegar, or to taste
A pinch of oregano
Salt and pepper, to taste
Directions
Steam or boil the potatoes in well-salted water until fully tender but not mushy. Remove from the pot and let them cool off. At this point peel them or, if their skins are thin, leave them on if you like. Cut the potatoes into wedges and lay them out on a serving dish.
While the potatoes are cooking, soak the onion slices in water, to which you can add a pinch of salt and a drizzle of white wine vinegar. Soak the capers, too, in water only. Drain and pat both dry when you're ready for the next step.
Arrange the tomatoes, olives, capers, and onion slices in a decorative pattern over and between the potatoes.
Whisk or process together the dressing ingredients until emulsified. Drizzle over the vegetables and let the salad macerate for about 30 minutes (or longer in the fridge).
Drizzle some more olive oil over the salad, top with the basil leaves if using, and serve at room temperature.
Notes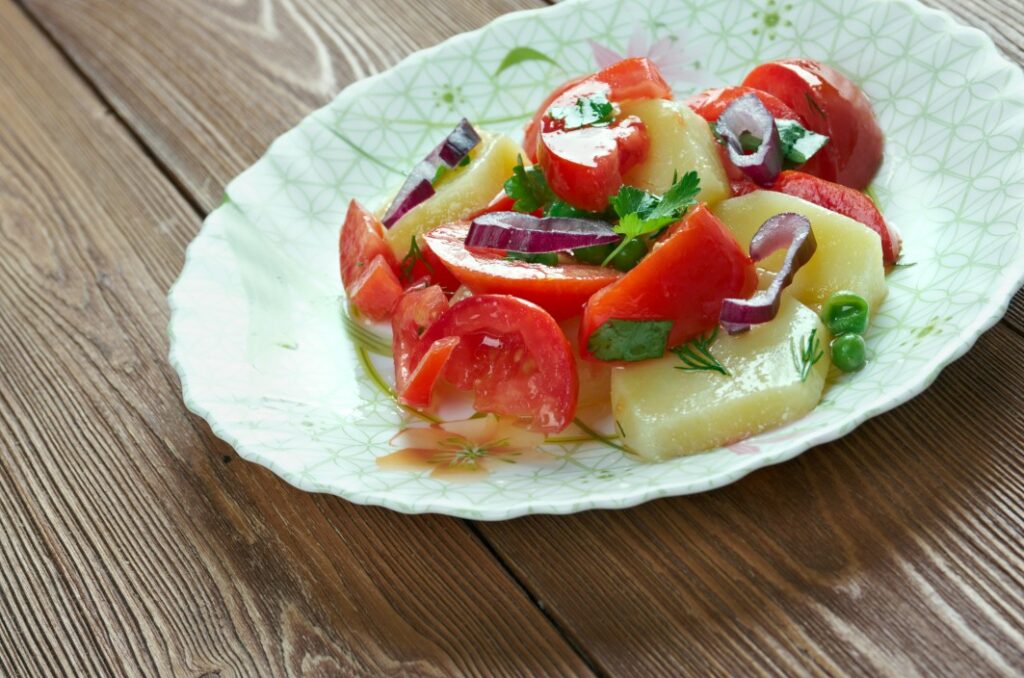 Insalata pantesca is a salad from Pantelleria, a volcanic island lying between the western tip of Sicily and Tunisia. As mentioned above, Pantelleria is perhaps best known as the source of the marvelous capers that bear the island's name. If you want a truly DOC version of the salad, you can buy Pantelleria capers online—but they don't come cheap, around $40 a pound. If that's too dear for your pocketbook, any good quality capers will do, if possible packed in salt. But again, if all you can find are brined capers, don't let that stop you from enjoying this lovely dish.
A wide variety of tomatoes can go into an insalata pantesca. Some, like datterini (similar to our grape tomatoes) and pachini (a kind of cherry tomato from Sicily) have equivalents abroad. Another, the San Marzano, is quintessentially Italian but now being cultivated outside Italy. Other options, such as the Camone, Piccadilly and perini, are only grown in the Belpaese. So I'd simply opt for whatever looks best to you at the market.
Besides cherry or grape tomatoes, you could opt for other small or medium-sized varieties like plums or a reliable hydroponic like Camparis. Avoid larger tomatoes like beefsteaks. Whichever kind of tomato you opt for, although atypical for Italian salads, they should be fully ripe. Many recipes recommend a mix of two or more types.
There is less fuss about the potatoes, although recipes vary as to whether to use large or medium-sized ones. They should be firm-fleshed, however, not the floury kind you'd use for gnocchi or mashed potatoes. In traditional recipes, you always peel the potatoes, but if you're using a thin-skinned variety you can always skip that step if you prefer.
Frank is a lawyer with a true passion for cooking and sharing food with the people he loves. He inherited his love for Italian cuisine and culinary tradition from his grandmother, nonna Angelina, to whom he dedicated his culinary blog, Memorie di Angelina: www.memoriediangelina.com