Gucci. Even if the name doesn't immediately conjure up images of iconic green and red wide stripe motifs on everything from watches to leggings to luggage, unquestionably the name is instantly recognized by most anyone tuned into high end fashion.
There are a select few Italian fashion houses that rule the world – at least the world of high couture. Based on top global sales (over 9 billion euro) for 2019, the Gucci brand would seem to be the current overlord for this particular world. Tuscan-born Guccio Gucci (1881-1953), the son of a Florentine leather craftsman and founder of Gucci products, would be proud.
After time away from home and a healthy dose of real-world experience, Guccio returned to Florence with a vision for creating high quality, long-lasting leather goods. In 1921, the House of Gucci was established and quickly built a reputation for high quality leather bags constructed with the finest of craftsmanship. Eventually, the line expanded as demand grew. Gucci's interest in horse racing led to the inclusion of embellishments such as snaffles bits and horseshoes adorning handbags, luggage, and shoes…iconic motifs still appearing on Gucci products today.
A brand suited to those with very healthy bank accounts, Gucci today is obviously a luxury line that many can only imagine owning. Delving beyond Gucci's upper crust reputation, however, brings discovery of a forward-thinking initiative by the company to give back to the public and the world. To this end, a vibrant movement christened Gucci Equilibrium was launched on June 5, 2018…Earth Day, fittingly so.
Terms like sustainability and social responsibility are catch phrases in today's world of commerce. While many labels pay lip service to upholding these tenets, the reality is often a bit disappointing. To its credit, Gucci Equilibrium puts quantifiable action to these phrases in a very real way.
With the pledge of a "…commitment to generate positive change for people and our planet," a variety of initiatives created by or supported by Gucci have been designed, which involve their personnel, resources, and/or suppliers. A premise of three separate divisions, or pillars, was devised – Environment, People, and New Models – as a way to organize the considerable number of outreaches. An in-depth look at programs found under each of these divisions would fill a small book; however, taking a peek at several certainly highlights the genuine attempts at positive change taking place through Gucci Equilibrium.
"We know that our brand and our people are committed agents of social change and environmental change, and we take that seriously," states Gucci President and CEO Marco Bizzarri. What better way to bring fruition to those words than starting from within, just as Bizzarri has done with the company's workforce. Gucci employees around the globe are offered the availability of four paid days of leave each year to volunteer for nonprofit organizations within their communities. Employee volunteers have free choice of where to gift their time as long as the not-for-profit is local. With almost 13,000 employees under the collective Gucci roof, that adds up to a lot of earnest giving back.
Gucci Equilibrium's vision to better the planet and its inhabitants extends impressively beyond its employee roster, however. An inspiring collection of initiatives and collaborations are in place around the world…with verifiable results to impress even the stodgiest skeptic. One such example is Gucci's collaboration with "I Was a Sari," an initiative begun in 2013 by Stefano Funari. Based in Mumbai, India, women in underprivileged communities are tutored and instructed in the art of design and production using "pre-loved" saris. Items including clothing, shoes, scarves, and bags are crafted into new life, which in turns brings the means to make a living, as well as create a source of pride and belonging, to the women artisans. Gucci Equilibrium partnered with "I Was a Sari" in 2018 and has initiated an embroidery training program, as well as making available workshops sharing resources and creative guidance for excelling in the world of fashion.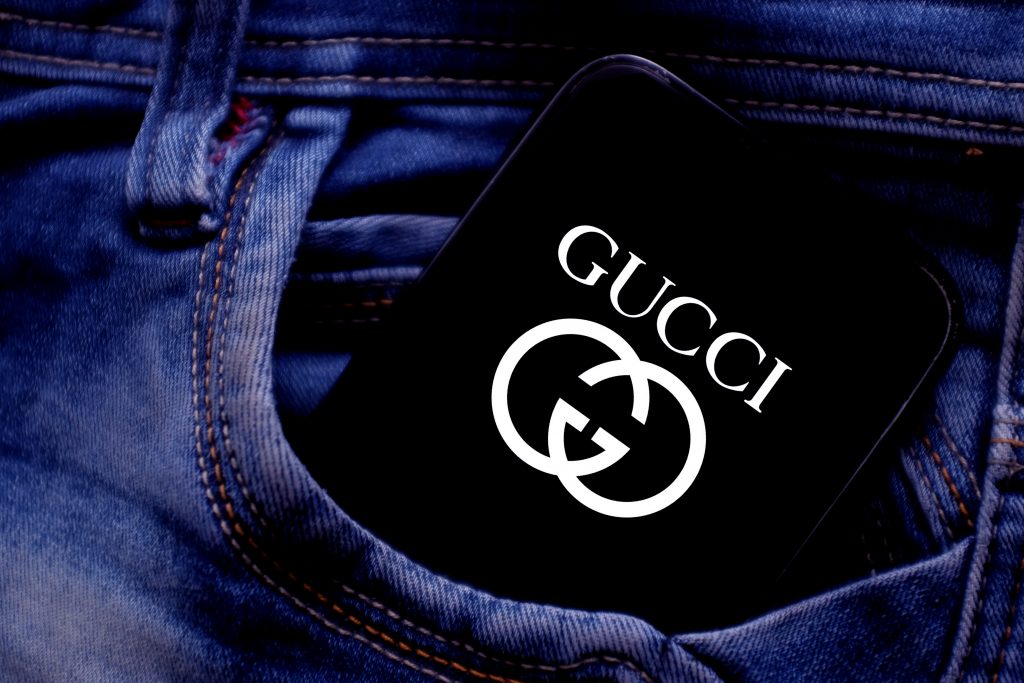 "Gucci Design Fellowship Program" is another example of global outreach to foster opportunities for those who might not otherwise have them. Launched in 2019, the program established relationships with 10 fashion schools from around the world. With a focus on underrepresented groups and setting up the opportunity for creative and cultural exchange, each school was tasked with selecting 5 deserving students. The initial group of 50 young, talented designers from widely diverse backgrounds were brought to Rome and Florence and immersed in the world of high fashion for several weeks. From this group, a sub-set of 11 were selected and granted one-year internships within Gucci. Intentions are for this program to bring in a new set of students and interns each year.
Mother Earth is assuredly not ignored within Gucci Equilibrium's innovative directives. All Gucci campuses are actively incorporating earth-friendly practices such as green energy, as well as realistic methods for reducing single-use products and plastic waste. Bizzarri's belief that businesses have the responsibility to manage impacts on the environment is put to practice, as well, by way of an analytical accounting system unique to Gucci. Yearly data-driven analysis "measures greenhouse gas emissions, air and water pollution, water consumption, land use, and waste production along the entire supply chain and then calculates what the approximate cost to society is in monetary terms and based on the changes in the environment…" With results thus far of a 39% reduction in combined environmental impacts and a 37% reduction in greenhouse gas emissions (2019), the data certainly backs up Gucci's commitment to look out for the planet. Additionally, stringent requirements are placed on all suppliers to adhere to ethical practices and resourcing.
"We can't save the world alone, but we must start from small things, and there are no shortcuts…The only way to do that is by bringing people together, sharing ideas, innovation and experiences. This is the objective we have set for Gucci Equilibrium." ~ Marco Bizzarri
More information on the many Gucci Equilibrium initiatives can be found on their website at https://equilibrium.gucci.com