For centuries, in various parts of Northern Italy, working folks would fortify themselves before heading out into the bitter cold of winter. Their chosen potion usually was a local spirit distilled as a byproduct of grape residue left over from wine production. That's where and how the earthy, 90-proof alcoholic brew known as grappa originated. Though it had counterparts in France (marc), Spain (aguardiente), and Portugal (bogaceira), grappa was a regional libation indigenous to that area of Italy and made in backyard stills. Today, grappa has spilled across international borders. It showed up in the US in the 1970s, after producers started using whole grapes, slower distillation, oak barrel aging, and eye-catching packaging.
Once perceived as a rough, rustic drink for farmers and outdoorsmen, it has become mellow and elegant due to refined techniques. The updated version is definitely not your grandpa's grappa. It's no longer "like drinking fire."
Originally referred to as "poor man's brandy," grappa results from the distillation of skins, stems, and seeds remaining after grapes are pressed into wine. During the 19th century in Northern Italy, portable stills were moved from winery to winery to distill the vinaccia (pomace) of whatever wine was made. Little attention was paid to the quality of the grapes or crushed skins.
Historically, grappa was strong and rugged with enough tannin to tweak your tongue and plenty of alcohol to keep you warm during frigid weather. It was considered too fiery for most wine drinkers, but acceptable for liqueur aficionados who enjoyed finishing dinner with a sip or two.
In its simplest form, grappa is made by adding water to the pomace, fermenting, and distilling the mash in a traditional still. Distillation involves heating the fermented water and pulp, resulting in the formation of vapors. The steam is then captured and placed in another container to be cooled and condensed into a liquid with an elevated alcohol content.
More sophisticated lifestyles and tastes have called for upscale grappa, prompting winemakers to take on the challenge of squeezing every dollar out of their business by turning once-discarded grape waste into grappa. Most of Italy's leading wineries are producing the drink, but not directly because it's against the law to make wine and distillates at the same facility.
Though most of the upgraded grappa comes from the misty hills of Piedmont and rocky contours of Friuli, distilleries are scattered throughout the country. Among the top brands are Romano Levi, Morolo, Nonino, Nardini and Jacopo Poli, each of which relies on such select grapes as Muscat, Merlot, or Barolo.
Grappa has become so ingrained in Italy's culinary culture that a museum dedicated to it has been established in Bassano del Grappa, a town of 50,000 in the Vicenza area. On display are historical distilling equipment, documents of production, and decorative glass bottles.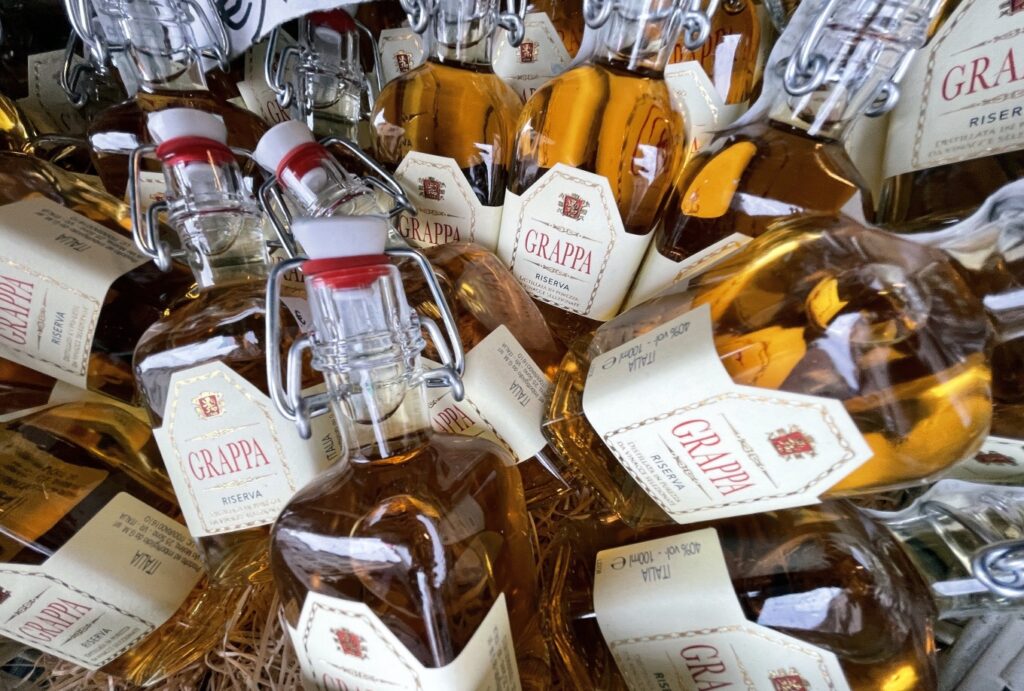 Just as wine has become an integral component in countless Italian recipes, grappa has found its way into a variety of dishes. It often is added to espresso and desserts like sbrisolona crumb cake made in Verona and Mantova. It also puts a kick in biscotti and gelato, plus is mixed with crème de cassis and cranberry juice in a Grappatini cocktail.
Italian restaurants throughout the US have jumped on the grappa bandwagon big-time. One chain group offers an impressive 58 labels with prices ranging from $7.50 to $27 per glass. The owner says, "Cheap grappa used to burn your throat. But progressive producers have learned to smooth it out like a fine brandy."
Retailers such as Binny's, with 45 stores throughout the Chicago area, keep up with the demand by stocking 36 brands, ranging from Pisoni di Chardonnay grappa for $ 16.99 to Marolo Barolo Decanter for $ 79.99.
If this acceptance of grappa continues, especially in the cold weather, the title and lyrics of the former hit Dean Martin tune "I've Got My Love to Keep Me Warm" could easily be revised to "I've Got My Grappa to Keep Me Warm."
Among the many ways to spike a dessert with grappa, we find grappa sweetbread. Here's the recipe:
Ingredients (Serves 6)
3 slices of gubana or one slice of panettone or pandoro, all 1 ½ in thick
3/4 cup of grappa
3/4 cup of sugar
1 tablespoon of butter
Directions
Drizzle the bread slices with half of the grappa, sprinkle with half of the sugar, and place in a cast-iron skillet over high heat
Cook for a few minutes to caramelize the sugar and heat the bread
Drizzle with the remaining grappa, then sprinkle with the remaining sugar
Turn the slices over with a plastic spatula and cook for 1 minute
Cut the bread slices in half and serve immediately.