CADRE is a project that started in 2020 and is currently developing a trio of miniature rovers – each about the size of a carry-on suitcase – that will explore the Moon by taking simultaneous measurements from multiple points. Their peculiarity? These robots are programmed to work as an autonomous team to explore the lunar surface, collect data, and map different areas of our satellite in 3D. Not only that, they will also be able to cooperate with one another without direct input from mission controllers back on Earth.
Joining the team working on this mission, which is scheduled to arrive on the Moon in the spring of 2024 as part of NASA's Commercial Lunar Payload Services (CLPS) initiative, is Italian engineer Federico Rossi, who has been a robotics technologist at the Maritime and Multi-Agent Autonomy Group of the Robotics Section of NASA's Jet Propulsion Laboratory in Pasadena since 2018.
Born in 1988 in Cardano al Campo, Varese, Italy, Federico earned a bachelor's degree in Aerospace Engineering from the Politecnico in Milan, a master's degree in Aerospace Engineering from the Politecnico in Turin and a Ph.D. in Aeronautics and Astronautics from Stanford University before joining the US government space agency.
L'Italo-Americano had the pleasure to chat with Federico and ask him about the project, AI technology, NASA, and how his love for robotics began…
CADRE is a technology demonstration. What does it mean?
Basically, we are going to send three small robots to the moon, among the smallest lunar robots NASA has ever built (they weigh 10kg) and their special feature is that they are highly autonomous. Normally, when we send Rovers to Mars, there is a team of humans following everything, we are the ones telling the Rover to go to a certain spot. Instead with CADRE, we want to do something different, we want to tell these three robots: "Here is an area, explore it and send us a map." And we want the robots to do it by themselves. If this technology works it could be used in future science missions and for larger Rovers. Before we try it on a full-size Rover, we better try it on a smaller mission.
What orders do you want to give these three Rovers?
We are going to do two experiments in particular: the first is about exploration: we want the Rovers to capture images of an area with our cameras to reconstruct it in 3D. The second involves using a multi-static radar where all the robots transmit and receive images. This will allow us to reconstruct the 3D map of the subsurface.
Besides the autonomy, what other differences can we find with other active Rover missions?
First of all, we command one Rover at a time. Right now on Mars, we have two Rovers, Curiosity and Perseverance, that don't communicate with each other and are about 2,300 miles apart. So having multiple vehicles working with each other is a new aspect.
What are the advantages of having such autonomy?
There are two classes of advantages. The first is that autonomy allows you to achieve scientific aims you may not necessarily be able to achieve with humans. This is because of distance: For example, Saturn and Uranus can be reached in tens of hours, and the further you go the more energy you need. If we want to observe a transient phenomenon, one that lasts less than twenty hours, there is no way for a human to observe it. Moreover, the further we go, the larger the antennas we need to communicate should be. Even the current 70-meter antennas do what they can. So we can achieve more by trying to get around and break through the speed of light and the little bandwidth available. The second aspect is that, with autonomy, we need fewer people in mission control, which means we can deploy those people on more missions, and use federal money to do other things.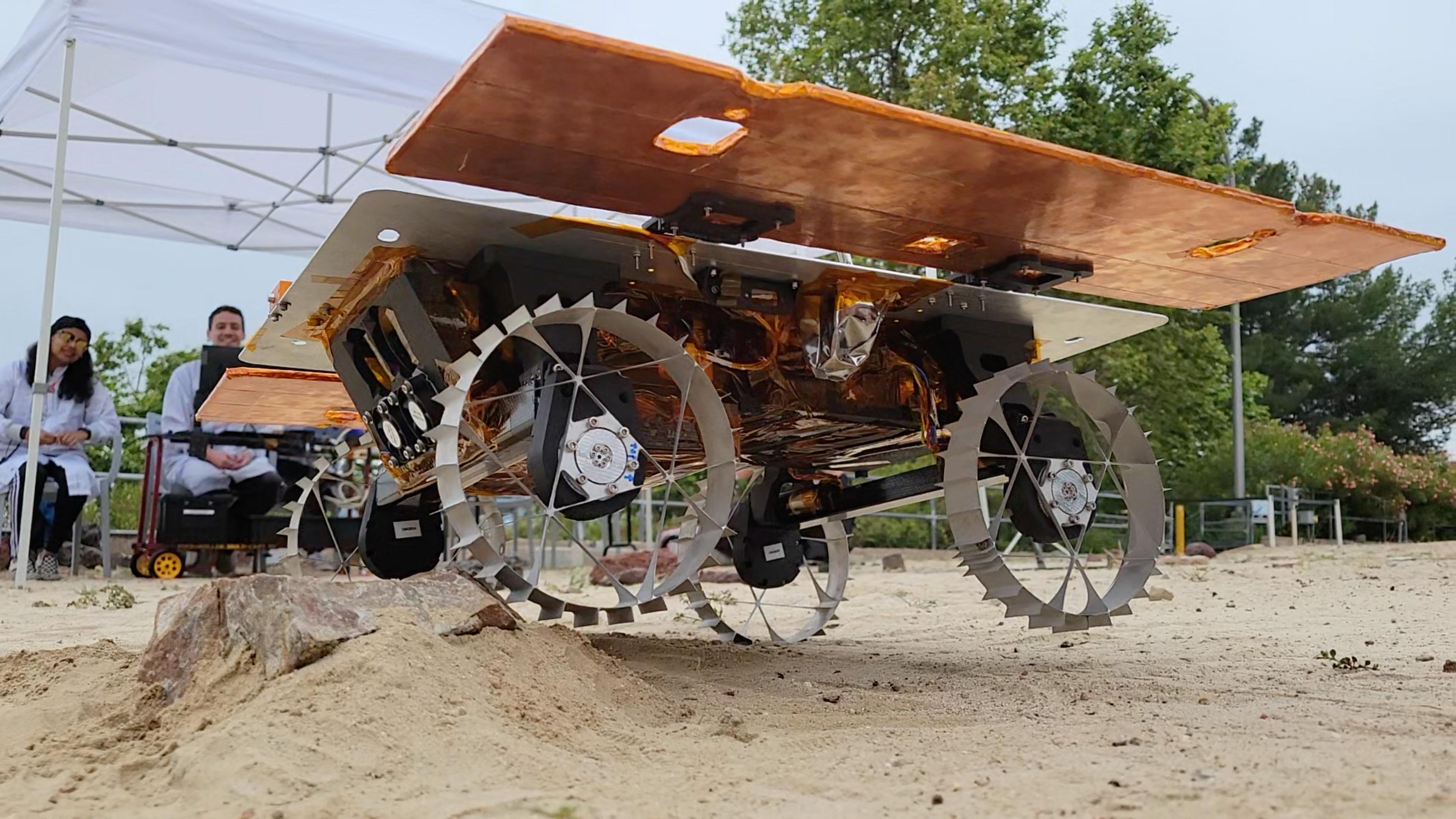 What do you think about AI, and is it a technology you use?
AI is a set of technologies that we also use here. For example, planning and scheduling, which in the industry is considered classic AI, is a technology developed in the 1980s; there is also a machine learning and reinforcement learning technology. On CADRE we are not using the latter type, but we are using it aboard Curiosity and Perseverance. It's called AEGIS, a software that can recognize interesting rocks. Thanks to it scientists can tell the Rover to take samples and pictures.
What has surprised you most about these years at NASA?
JPL is a unique place in the world. If you want to go to Mars, the majority of people who landed on Mars are all here. The thing that amazed me the most is how open the culture at JPL is; when I arrived I was greeted by people very high up, who made themselves available for me. So I was amazed more than anything else by this willingness to tell people about what you do here, to share it.
What is your greatest satisfaction so far?
This is more than a job. Technical work is nice however sometimes it is also tiring. In those cases, I remind myself that we are helping scientists answer fundamental questions and that motivates me a lot. You work a lot but then when you manage to send three fully autonomous Rovers to the moon, which has never been done before, it's a great feeling.
Your wife, Valentina Ricchiuti, also works at JPL. What does she do?
She is also an engineer and she does contamination control, so she makes sure that, when we send a spacecraft or a Rover around the Solar System, there are no contaminants. For example, if we want to send a spectrometer to study the properties of the surface of a moon in the solar system, we want to make sure that the sensor is extremely clean otherwise we're measuring the properties of the contamination we got in Pasadena or Florida.
After CADRE, what will you be in charge of?
I don't know yet. We have some great projects going on, among other things we're working on the sample return, which if approved will help take samples on Mars and bring them back to Earth. Then there's an internal project called EELS, a snake robot designed to go exploring the crevasses on Enceladus, a moon of Saturn. Then there is Endurance, a Rover that, if approved, will travel thousands of kilometers on the surface of the Moon collecting samples and then bringing them back to the astronauts who will land on the south pole of the Moon.
When did your passion for robotics start?
I've always had a passion for space, I've always kept my nose up, to look at stars, planes or launches. My love for robotics was born during my undergraduate studies. I did a semester at the University of Toulouse in France and I fell in love with it there. Finding a place like JPL where you can do robotics for space was great.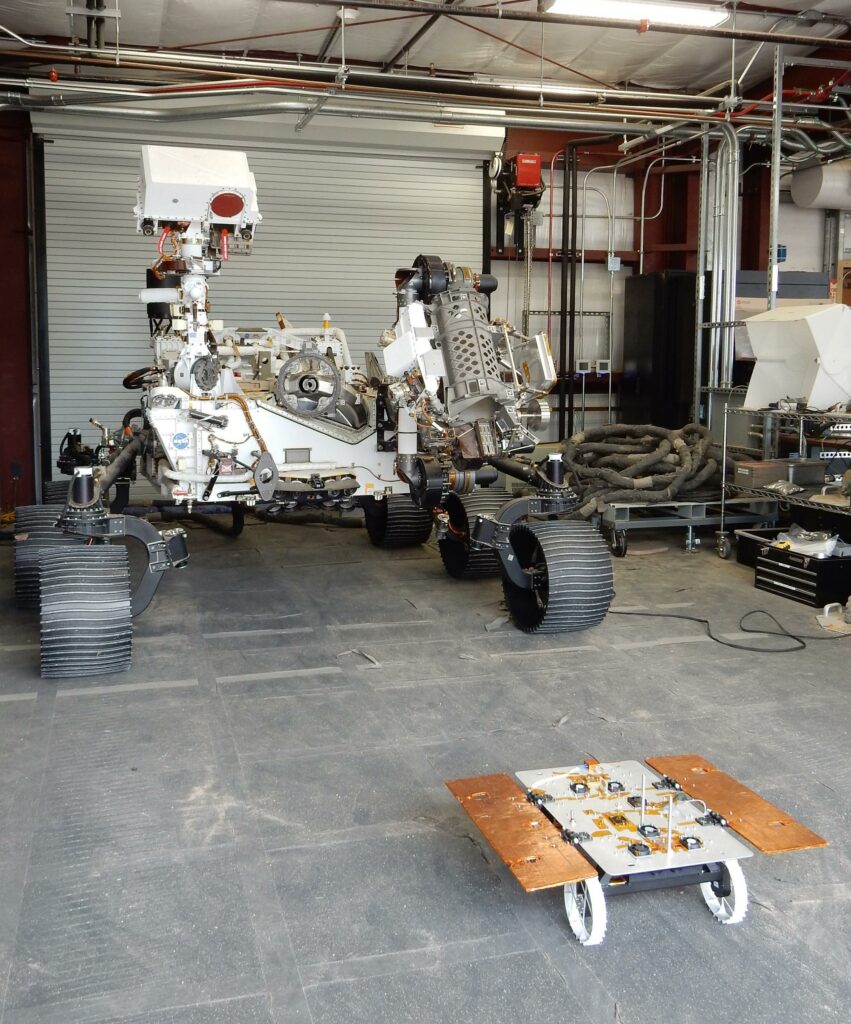 What made you fall in love? 
The beauty of robotics is that you live in this rarefied world that is in your head, made of 0s and 1s, made of coding. Then you put those things on a robot and it moves in a real space. It's like holding a foot in two spaces, a mathematical, theoretical space and a real space.