If offerings of Italy's best attributes enjoyed without the hustle-bustle fervor of too many crowds appeal to you, Le Marche may be just what the travel agent ordered. A diverse region encompassing about 3,700 square miles, Le Marche (or Marche) has traditionally played a bit part on the Italian tourism stage. Overshadowed by Tuscany to the west, Emilia-Romagna to the north, and Lazio (Rome) to the south, this region has only recently begun to qualify as a sought-after tourist destination. Full of Italian dolce vita, Le Marche pretty much has it all!
A country of two halves, Marche's gentle hills and miles of coastline fill the eastern half, while the Apennine Mountains dominate the west. Although their highest peaks aren't too impressive, the barrier has historically made access challenging, thus keeping out the hordes of day trippers and tour busses. But like the slow food movement, travel with a focus of being present in the moment has gained momentum; mindful travelers are drawn to Le Marche's untarnished authenticity.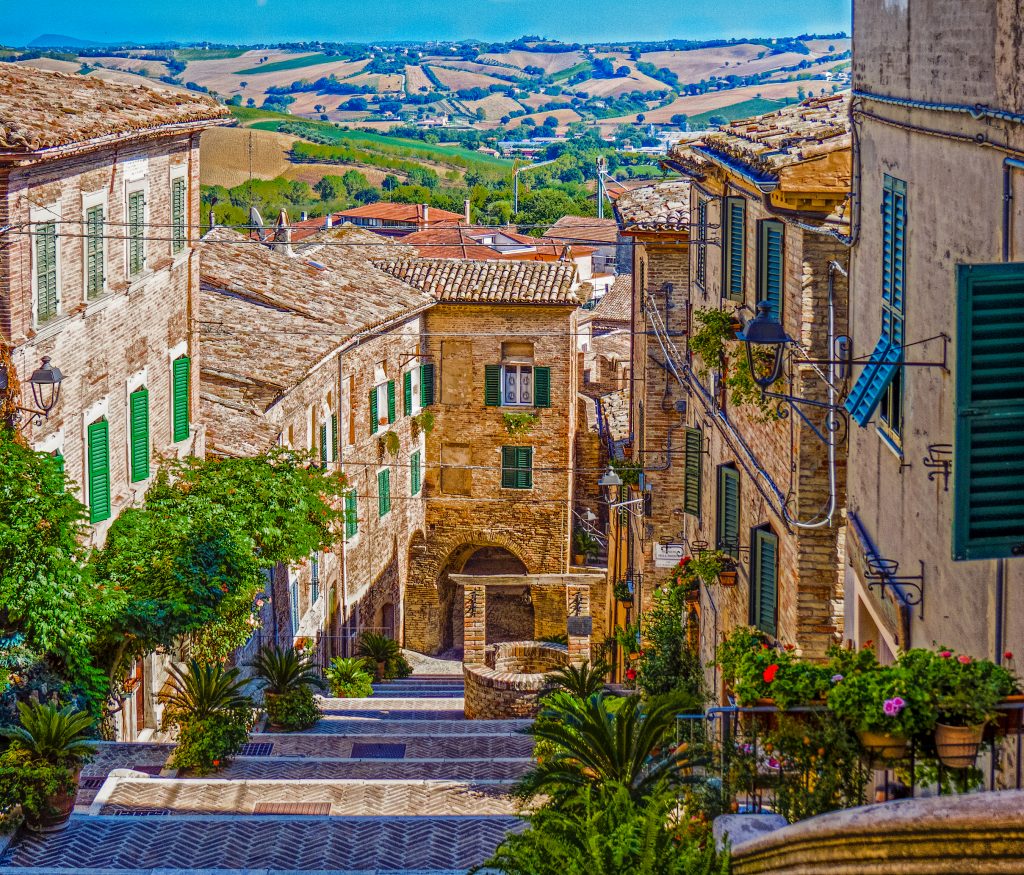 It's not hard to understand why. Pebbled beaches, picturesque hill towns, amazing provincial cuisine and wine, rolling hillsides of vineyards and olives, plenty of history, and even a handful of emerald green lakes and rivers are found within Le Marche's zig-zag borders. And nicely so…a lot fewer crowds to share them with!
Although Le Marche's charms are abundant, a short-list look will allow an enticing peek into some of what makes this region so captivating.
The Beaches
With her entire eastern border hugging the Adriatic Sea, Le Marche is a haven of stunning beaches. The coastline is home to 15 Blue Flag beaches, those prestigious destinations that have met stringent environmental criteria. The northern-most shores such as those in Fano or Senigallia offer abundant stretches of white sand beaches alongside turquoise waters. Plentiful amenities and easy access draw families from across the region. Further south, Conero Natural Park is a paradise of unspoiled beauty, rocky shores, and hidden beaches ideal for windsurfing or kayaking. Marche's shoreline has a number of difficult to reach beaches accessible only by footpath or by sea such as these in Conero. A by-product of the ancestral fishing culture, these secluded spots once known only to the pescatori (fishermen) now blend nicely with leisure seeking activities. If a more happening scene is your preferred style, the "Palm Riviera" of San Bendetto del Tronto may appeal. The festive, palm lined main avenue offers restaurants, shops, and hotels skirting an equally long and lively pebbly beach.
Cuisine
Le Marche's typical cuisine is virtually unknown outside of her borders. Afterall, with neighbors such as Emilia-Romagna and Tuscany, the competition is tough! Local specialties abound in Marche – memory-makers for the palate.
Seafood is a star, naturally. The unique flavor of the mosciolo – a mussel found only along Le Marche's coast – or brodetto, a hearty fish stew whose purpose was to not waste a thing from the day's catch, are worthy of special mention. Deep-frying thrives in Marche. Ample platters of just about anything friable are frequently shared amongst diners. However, the star delicacy has to be olive all'Ascolana – king-sized green olives stuffed with seasoned ground meat, battered in breadcrumbs, and deep fried. These alone are worth the trip! Grilled meats, often small game, are plentiful. In fact, the people of Marche devour more meat per-person than any other region in Italy! Proscuitto di Carpegna DOP, sausages, and various sheep and cow milk cheeses are readily found, including the protected Casciotta d'Urbino cheese, said to have been Michelangelo's favorite. Pasta is a star player, as well. Maccheroncini di Campofilone, Le Marche's famous thin-cut egg pasta, is the only pasta in all of Italy to be awarded EU protected status. Traditionally served with a smothering of ragù Marchiagiano, a sauce derived from a combination of available meats, this pasta has held royal status since the 15th century. A fan of truffles? Add Acqualagna to your itinerary – known nationally as the Capital of Truffles. Autumn in Le Marche brings on the hunt for these pricey blobs of distinctive flavor, along with festivals and memory making meals of gossamer thin truffle shavings enjoyed over buttery pasta or fried eggs.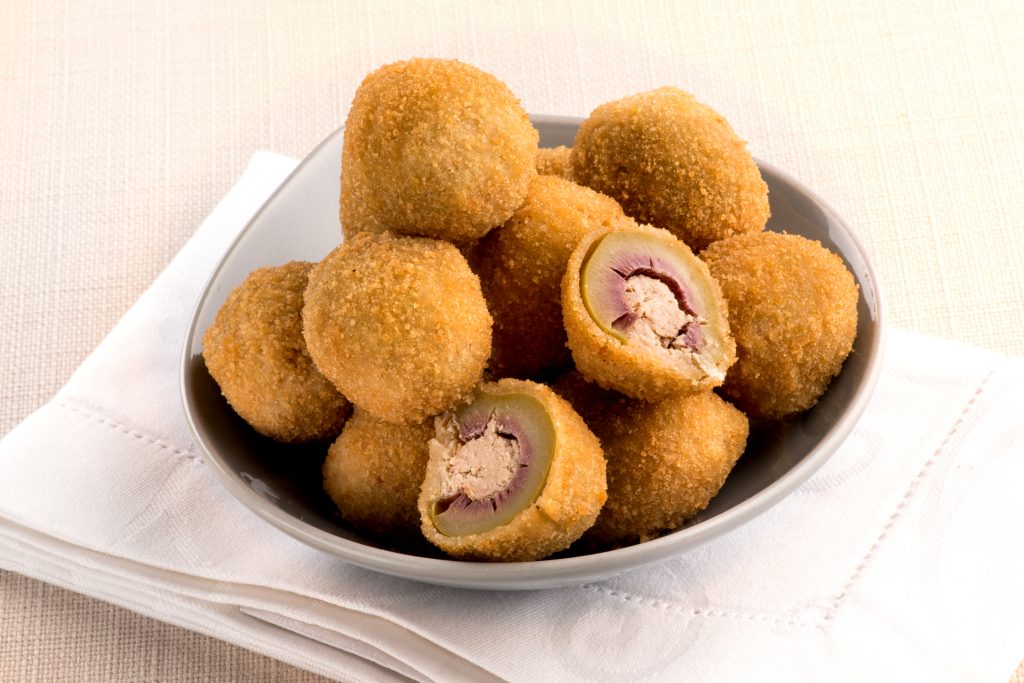 The Towns and Culture
Le Marche is home to 22 small towns found on the national I Borghi più belli d'Italia list – Italy's most beautiful villages. Nestled in a river valley, perched atop an emerald hill, or hovering over a blue water shore, Marche's villages are beautifully preserved portals to another time. Not year marred by crowds, their narrow medieval streets lace together ages old structures and piazzas where life continues as it has for centuries. Festivals, museums, cafes, and the beautiful ordinary abound, ready to be enjoyed.
Larger towns are worthy of a visit, even if a bit more populated. Ascoli Piceno to the far south is home to perhaps one of Italy's most beautiful squares, Piazza del Popolo. Its glossy travertine floor is surrounded by elegant buildings, watched over by the 13th century Church of San Francesco. Stopping to sip an iconic Anisette liquor at the historic Caffè Meletti is a must. Another don't-miss is a stroll across Ascoli's still functioning Roman bridge. Virtually untouched since its construction in the 1st century BC, the bridge still serves foot, bike, and road traffic in and out of the town.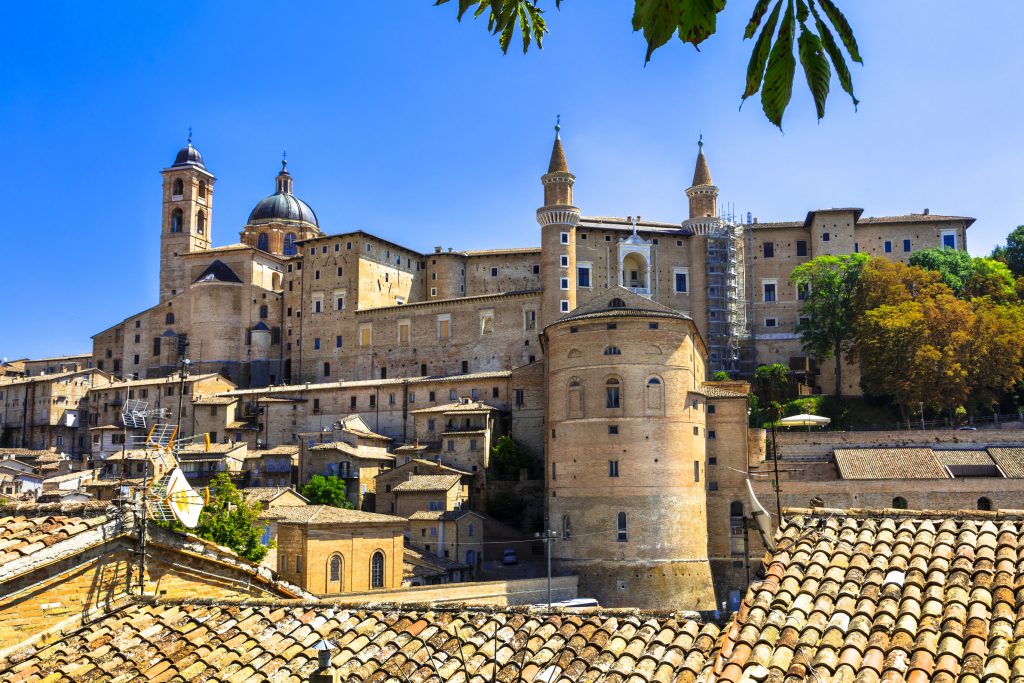 Urbino, although a relatively small city, is a cultural giant. Its steep, winding streets lead to the University of Urbino, founded in 1506 and still vibrant today. Home to Raphael, creators and thinkers were drawn here in the 15th century due to the stewardship of Duke Federico da Montefeltro. Tours are offered of the Palazzo Ducale, a Renaissance masterpiece built by the influential Duke and currently home to the Galleria Nazionale delle Marche. Views from atop Urbino's impressive crest are spectacular, as well. Many other vibrant and notable towns such as Ancona and Pescara are also certainly worth a visit.
The Natural Landscape
The Marchiagiani take their natural treasures seriously. Protected status covers eight natural regions, including such gems as the ancient Furlo Pass. Emerald green waters of the Candigliano River cut between craggy peaks creating stunning beauty here. If there's no time to stop alongside the river for a swim, travelers continue on via the tunnel dug during Emperor Vespasian's rule in 77 B.C.
Did you know Marche has a "Grand Canyon"? The Lame Rosse, nicknamed Italy's Grand Canyon, is a wonderland of distinct ruddy-hued stratifications of peaks, towers and formations. Hiking is rewarded with other-worldly views and plenty of photo ops! If cooler, darker environments are more to your liking, find your way to one of Italy's top caverns, the Grotte di Frasassi. Tours from easy to challenging provide spectacular experiences in one of Europe's largest cave systems.
With so much to offer, Le Marche is a perfect blend of culture and history, unsurpassed natural beauty, charming towns, hearty cuisine, and well-preserved traditions…the best of the authentic Italian experience all within one region. And yet so undiscovered and relatively unknown…at least for now.