Every time I make meatloaf I have to think of my friend, AnnMarie. A sophisticated American-Italian journalist from New York, she told me that her mum would serve meatloaf only to close family.
Apparently, she did not consider it presentable to guests due to its lack of elegance. This remark caused me a certain level of worry, as the dish had been endlessly celebrated in our house, and with pride, as one of the best inventions to be placed on a dinner table.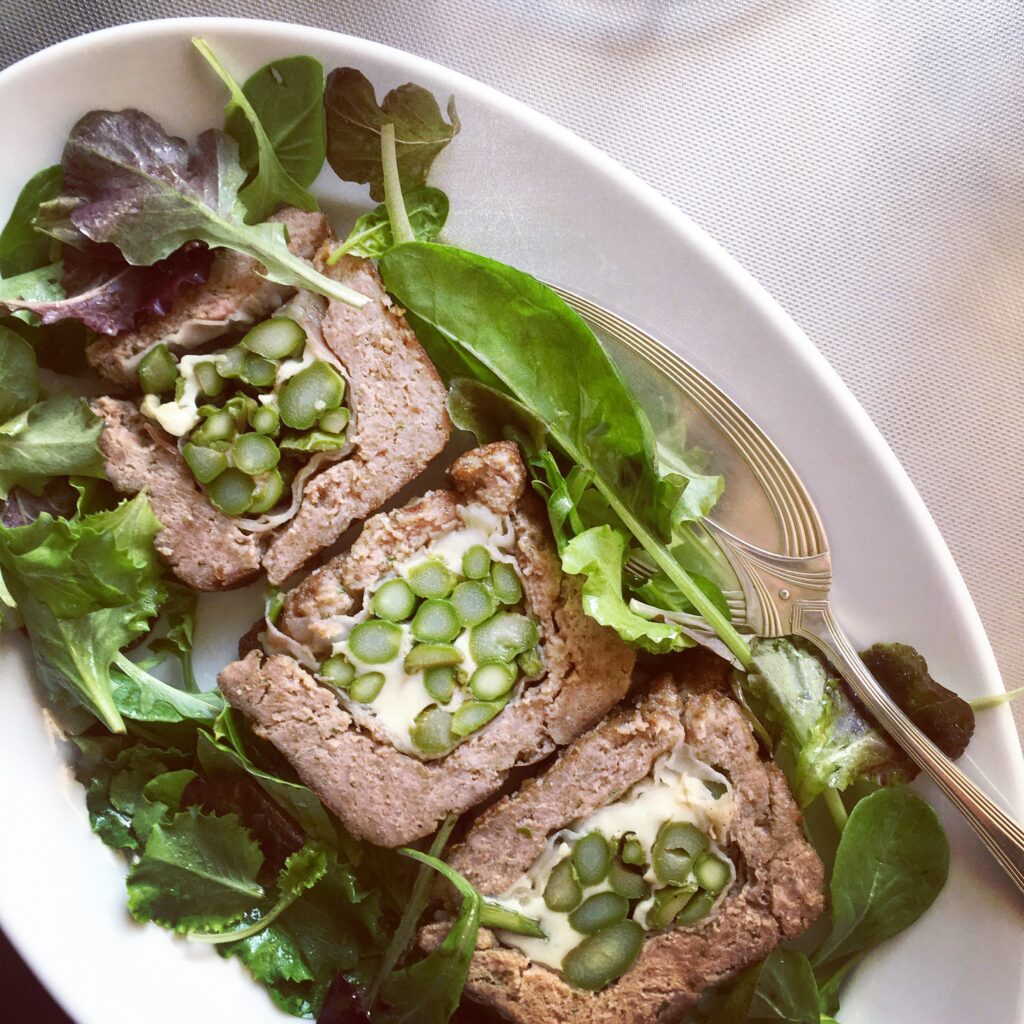 This was a long time ago, more than 20 years ago. in fact. Things have changed in the food world, isn't it? In our collective mind, fashionable food comes and goes, fancy food lasts for a couple of pages on Instagram, but proper, comforting home food stays with us forever. A delicious, wholesome meatloaf should be a staple in any food-loving home. Please try this one and you will agree.
For the meatloaf (Serves 4-6):
600 g ( 1.3 lb) minced pork, beef or a mixture of both
120 g (1/2 cup) seasoned bread crumbs
1 egg
3-4 tablespoon milk
1/2 teaspoon salt
a pinch of black pepper
100 g (3.5 oz) mild cheese like caciotta, provola or other young cheese, diced
60 g (2 oz) guanciale (or pancetta if not available)
300 g broccoli (about 1 small head) cleaned and divided into florets
1 garlic clove, finely minced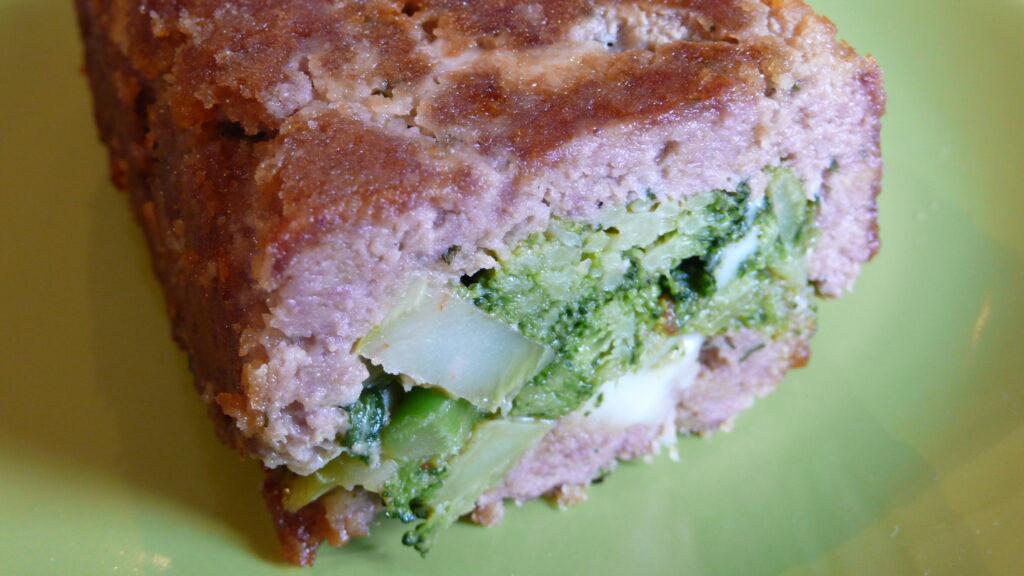 For the seasoned breadcrumbs:
2 cups (300 g) bread crumbs (or GF substitute)
3 tablespoons grated Parmesan cheese
1 teaspoon salt
2-3 tablespoon flat-leaf parsley, finely chopped
1 large garlic clove, very finely chopped
a sprinkle of black pepper and salt
This is our official family meatloaf, stuffed with broccoli and guanciale (cured pork jowl). Earlier in the year, I use other vegetables like asparagus or green beans. It's built a bit like a French terrine except that the fat is used inside the meat case to give flavor to the filling instead of being used to line the mold.
It is a fabulous dish for entertaining as you can prepare and cook it a day ahead. If you make it in advance, slice it one hour before serving and warm it briefly in the microwave just to soften it. Don't over-warm it though. It will fall apart and lose its good looks.
Blanch the broccoli in plenty of boiling water for 5 minutes. Drain and sauté in 1 tablespoon of olive oil and garlic for 1 minute or until just fragrant. Season lightly with salt.
Preheat the oven to 200C (390F).
Combine the meat, egg, milk, garlic, black pepper, and salt with 1 cup of seasoned breadcrumbs. Mix with your hands until the mixture comes together. Freeze the rest of the breadcrumbs for later use. They will make a great complement to any dish au gratin.
Generously butter a 1.2 lt (5 cups) terrine or loaf mold. Reserve about 1/4 of the ground meat and use the rest to fill the bottom and sides of the mold, making a 1 cm (1/2 inch) thick compact layer. Line the ground meat case with slices of guanciale (or pancetta) overlapping edges slightly and leaving a 2 cm (1 inch) overhang on the sides.
Now fill the rest of the space with broccoli and diced cheese. Press down the filling to avoid gaps. Cover the filling with the overhanging pancetta followed by the rest of the ground meat. Brush the top layer with a small amount of melted butter and bake uncovered for 40 minutes or until the meatloaf starts to brown around the sides.
Cool off completely and unmould. Slice and serve with mashed potatoes and a fennel or carrot salad dressed with fruity olive oil and a dash of lemon juice.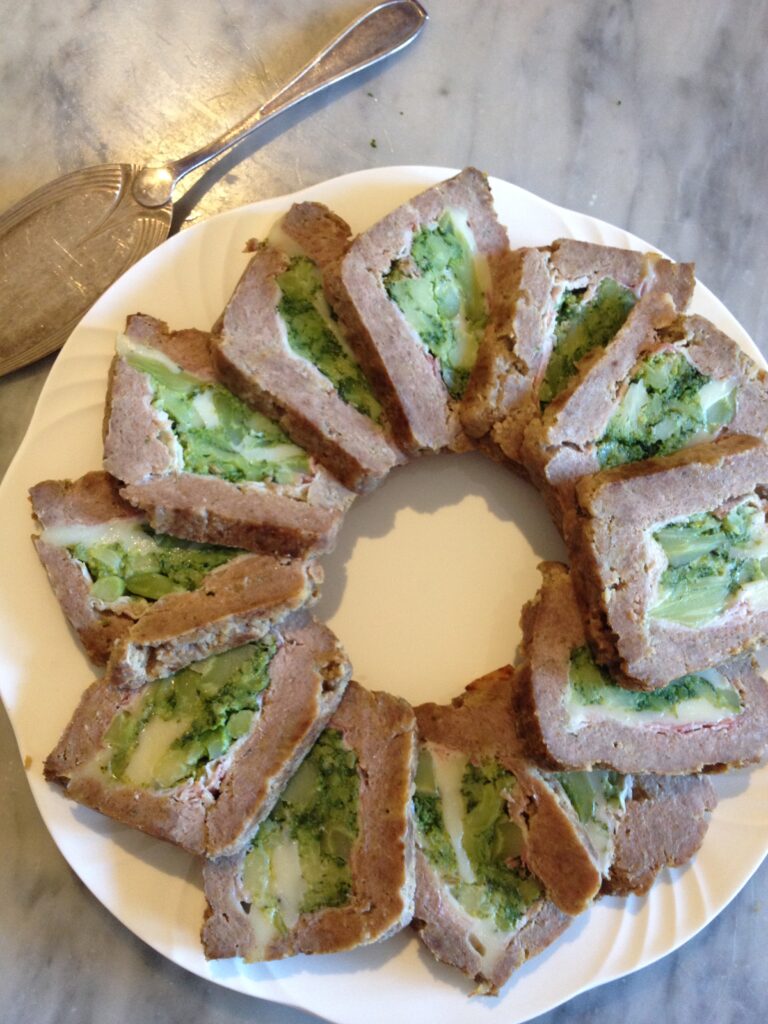 Letizia Mattiacci is a cookbook author and owner of Alla Madonna del Piatto Cooking School and Agriturismo in Assisi, Umbria, https://incampagna.com. This recipe has been previously published in Mrs. Mattiacci cookbook entitled "A Kitchen with a view."