For centuries, Umbrians have considered game a great delicacy. Besides the more famous wild boar, you might find pheasant, pigeon, or guinea fowl taking the center stage in the menu of an exclusive dinner.
On the other hand, visitors are often surprised that chicken is quite uncommon in restaurants in Umbria unless they cater specifically to tourists. In our tradition, chicken is home food and there is no need to bother to go out to eat it. Grandma's Sunday chicken is unbeatable anyway.
As a teenager, I went daily with my mother to Perugia's central market to help her shop before she went to her office, and I to school. This way we had our daily supply of fresh bread, eggs, meat, and vegetables. In the mid-70s, pre-cooked or frozen food was hardly available. My mother was especially particular about the quality of meat and poultry. To this day, I can hardly bring myself to buy meat from the supermarket because I do not know the butcher.
She had befriended one of those rosy-cheeked guys who would tell her: "Madam, today you don't want chicken, you want guinea fowl." And she would oblige, knowing that what was on offer would not shrink to half its size in the pan, releasing excess water and fat. On the contrary, it would be fresh, tasty, and easy to prepare with a handful of herbs and a little patience.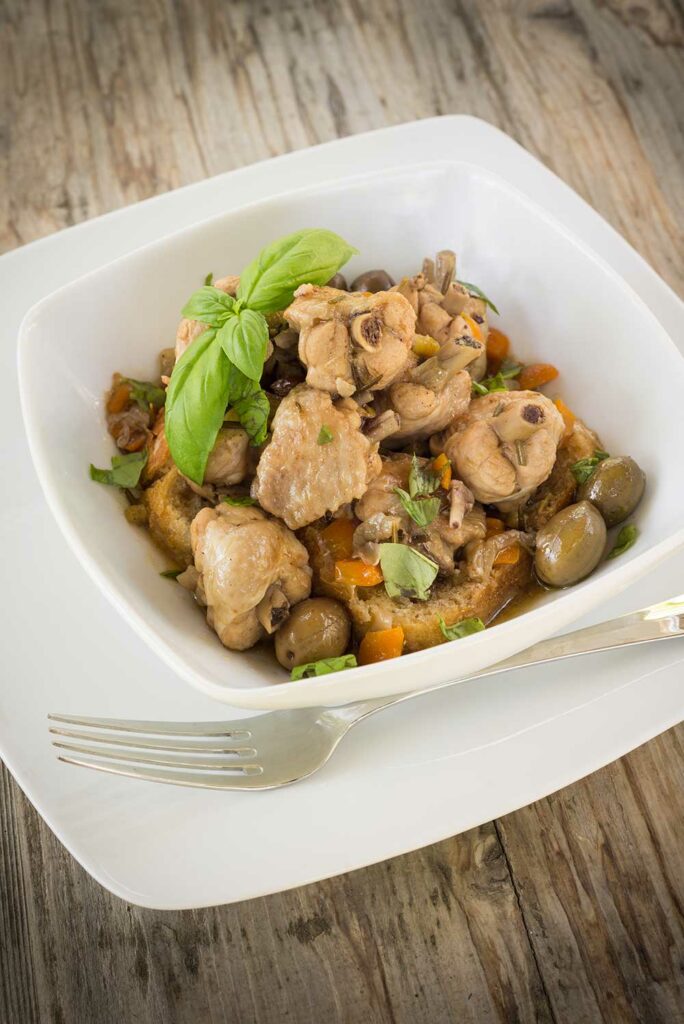 This was her recipe for game birds, which works beautifully with chicken provided that you chose a bird of excellent quality, with both white and dark meat on the bone and organic.
Ingredients (Serves 3-4):
• 1/2 free-range chicken (about 1 kg / 2 lb) cut into serving pieces
• 1 onion, sliced
• 2-3 cloves of garlic, very finely minced
• 1 tablespoon of capers
• 4 tablespoons of good quality olives with pit
• 1 sprig of rosemary
• 1 handful of sage leaves
• 1 cup of dry white wine
• zest and juice of 1/4 lemon
• 1 tablespoon of balsamic vinegar
• extra-virgin olive oil, salt, black pepper
Using a large non-stick pan, sear the chicken pieces on medium heat in one tablespoon of olive oil until golden on all sides. Transfer to a plate and wipe the pan clean before proceeding.
Turn the heat to low, add one teaspoon of oil, return the chicken to the pan, add the onions, and stir frequently until caramelized. Add the minced garlic, capers, olives, rosemary, and sage leaves. Season with just a sprinkle of salt and black pepper.
After a couple of minutes, when everything smells fragrant, add one cup of wine, cover, and simmer very slowly until the chicken is tender. Add some water if the sauce gets too dry while simmering.
It's difficult to provide an accurate cooking time as it depends on the size and quality of the bird. If you are cooking for guests, it would be better to make the dish well in advance as it might take 45 min. to 1 and 1/2 hours to cook.
When ready to serve, reheat if necessary, then add the lemon juice and zest and the balsamic vinegar. Taste and add more lemon if desired, as it brings out the flavor of all the other ingredients.
This recipe is lovely served with a side of steamed greens dressed with a fruity olive oil and a splash of lemon juice, and homemade mash potatoes or polenta. Italians would never serve it on pasta or rice.
Letizia Mattiacci is a cookbook author and owner of Alla Madonna del Piatto Cooking School and Agriturismo in Assisi, Umbria, https://incampagna.com. This recipe has been previously published in Mrs. Mattiacci cookbook entitled "A Kitchen with a view."