The late Anthony Bourdain notoriously said once that pasta cacio e pepe "could be the greatest thing in the history of the world." And how could you say he was wrong?
I still remember the first time I had a plate of cacio e pepe: it was manicotti, I was 25 and I wondered why I waited a quarter of a century to try it. Truth is, that wasn't a dish we'd eat normally in my family, where spaghetti aglio e olio, or plain and simple pasta al pomodoro fresco were the most common options when there wasn't time to potter around in the kitchen too much.
Yes, because the first thing that strikes about cacio e pepe is its simplicity: three ingredients, nothing more, and they are all there in the name, in plain view. If you're familiar with Rome and its people, you'll know that cacio is cheese; then there is pepe, black pepper, aromatic and spicy, to give just the right kick to the dish. Last, but not least, some of the starchy water you cooked your pasta in.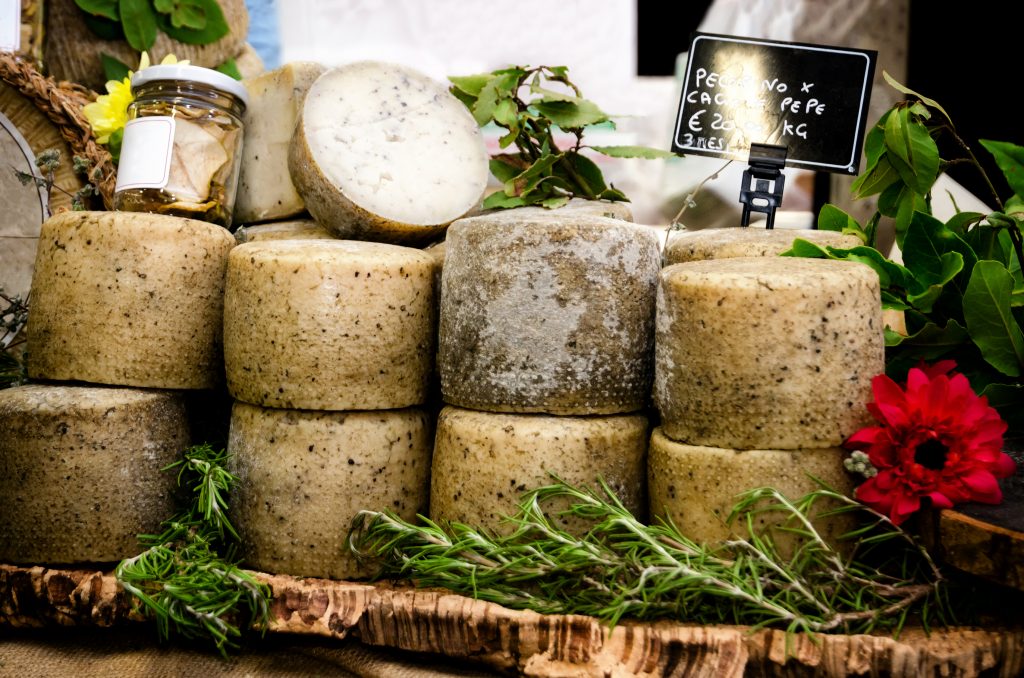 To be fair, cacio e pepe has been enjoying some gourmet popularity in recent years, probably because of the ongoing trend, also among famous chefs, to offer traditional, cucina povera dishes in their high end, Michelin-starred restaurants — it is a staple at three-starred La Pergola, in Rome, for instance.
But what do we know about pasta cacio e pepe?
Well, personally, I know it's really good: tangy pecorino Romano (the cheese most commonly used for it) gets creamy thanks to the addition of some of the pasta's cooking water, while the pepper just gives it the right va-va-voom. Add good, al dente pasta and you'll get a dish that is satisfying, hearty and comforting: a success every time. It's incredible, when you think of it, that all that creaminess comes from a ladleful of water, but that's the truth: and don't you dare add any butter or, god forbid, cream — a known villain in another famous Italian recipe, that for carbonara — because you'd be immediately stripped of all of your Italian brownie points by relatives and friends.
When it comes to the right pasta shape, however, you may have some more freedom: popular belief is that cacio e pepe goes hand in hand with spaghetti, but actually that isn't entirely right. Lidia Bastianich explained to Alyssa Jung of Chowhound that the original cacio e pepe pasta was tonnarelli, a type of long, slightly flattened egg noodle, sort of a mix between spaghetti and tagliatelle.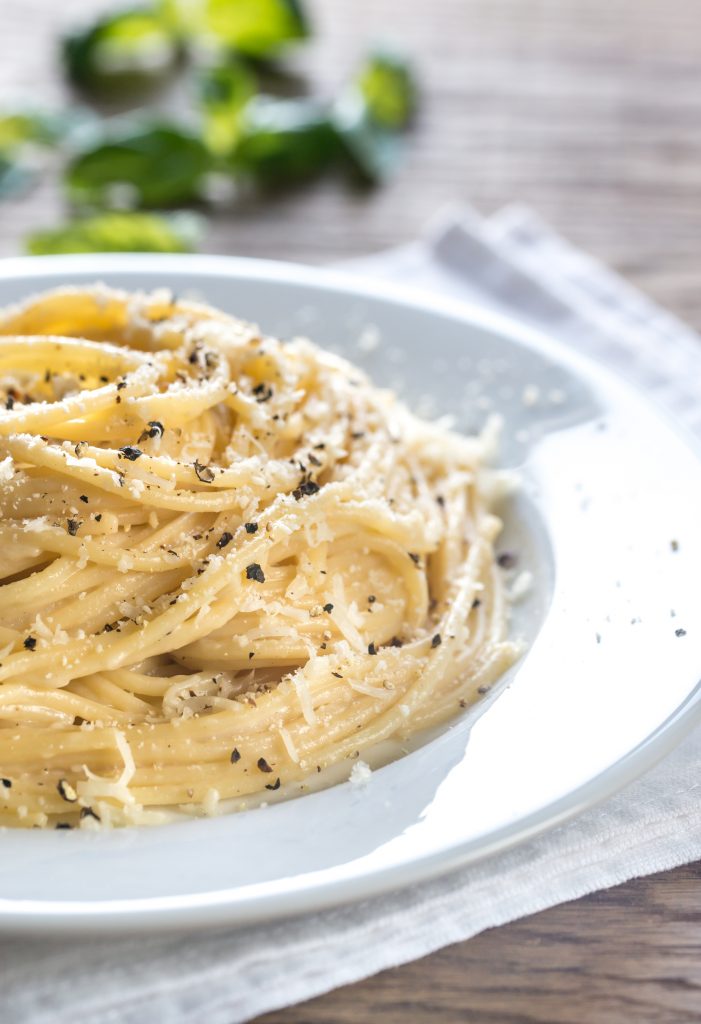 But cacio e pepe isn't only good to eat, it also has a pretty interesting history, which someone, however, contests. Let's see why.
Legends say that, once upon a time, the shepherds of the Apennines, who'd spend considerable lengths of time on mountain pastures with their flock, always had with them dried pasta and pepper, making them the staple of their daily nutrition: they were cheap, easy to carry and didn't go off. With all those sheep, cheese was abundant and free, too, so it comes as no surprise it became the third key ingredient in this simple, well balanced culinary creation. Alessandra Argiolas, marketing manager for Argiolas Formaggi explained to BBC Travel's Emily Monaco that the dish was perfect for people who had a job as tiresome and hard as the shepherds: "black pepper directly stimulates the heat receptors and helped the shepherds to protect themselves from the cold, and the pasta guaranteed a lot of energy." The proteins and minerals of the pecorino would also have helped.
While the romantic idea of shepherds gathering around the fire in the evening eating cacio e pepe is worthy of a Verismo novel, some are convinced it doesn't correspond to the truth at all. Livitaly Tours' manager Angelo Carotenuto, who also spoke to the people of BBC Travel, maintains that cacio e pepe, just like other famous pasta dishes like carbonara and amatriciana didn't originate in a pastoral milieu, but rather among the miners and factory workers of Rome and its surroundings, making of it a quintessential low-income people's dish. And honestly, there wouldn't be nothing wrong with that, either.
When you think of it, however, very little changes in the genesis of the dish, beside the actual location: key to it remains the fact all ingredients are easily accessible, cheap and can last long. Carotenuto further explains that, likely, cacio e pepe is not that old of a recipe, either, because pasta didn't really become a thing outside of the South of Italy until the Unification, which took place in 1861. Granted, it may be that, in Rome, people knew spaghetti a tad earlier than that, thanks to the proximity to southern culinary hot spots like Naples, yet, we are not looking at a dish known in the hills and mountains of central Italy — nor in the country's capital — during the Middle Ages or the Renaissance.
Truth is, when it comes to cacio e pepe, origins don't matter: thanks to its flavor, it became the stuff of legends anyway. While there have been some variations on the theme — La Fucina in London adds shaved truffle on top, while Cacio e Pepe restaurant in New York likes to serve it in a pecorino wheel — cacio e pepe became and remains iconic for its simplicity: it's just a case of something that turned out perfect the first time around.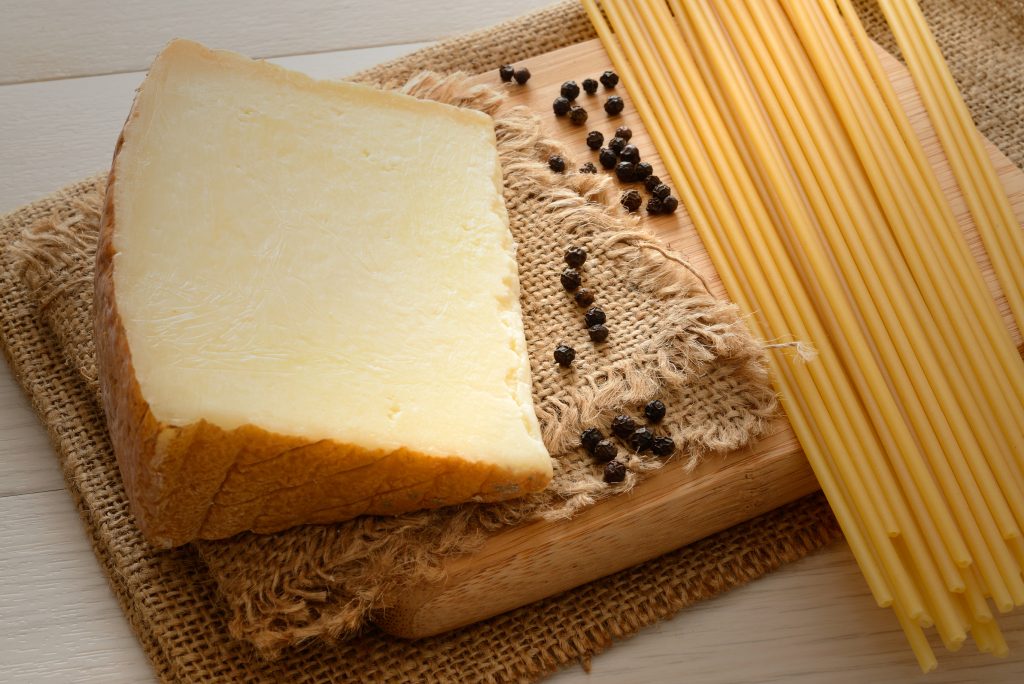 So, let's see how to prepare a perfect cacio e pepe!
Ingredients for four people:
320 gr (about 0.70 lbs) of spaghetti (we'll stick with spaghetti here, but if you come across tonnarelli, go ahead!)
200 gr (7 oz) of grated pecorino Romano
Two ground tbsp of black peppercorns
Salt
Don't throw away the water you cooked your pasta into!
Bring water to the boil for your pasta. Some advise to use a bit less water than you would usually, so it is richer in starch, but it's really up to you. Of course, don't forget to add salt when the water begins to boil.
Add the pasta and cook until it is very al dente: as part of the cooking process will take place in the saucepan with the pecorino, don't worry if your spaghetti seem harder than you'd like.
In a saucepan, put half of the ground peppercorns and toast it on low heat, stirring with a wooden spoon, then add a couple of ladlefuls of the pasta water.
Drain your pasta, making sure you keep the water aside, and add it to the peppercorns in the saucepan. As mentioned, make sure the pasta is really al dente, even a tad harder than your usual al dente is: it'll keep cooking in the sauce, and you don't want to end up with mushy cacio e pepe!
Using a spoon or, even better, a pair of kitchen tongs, move the pasta around the saucepan, adding some cooking water while you go: basically you want to "risottare" the pasta, that is, adding water when it dries as you'd do with risotto, until it's ready.
In the meanwhile, put half of the pecorino in a bowl and add a ladleful of cooking water, then mix well with a whisk, adding, little by little, the rest of the pecorino and more water, to reach a consistency similar to that of double cream. It's important to add both pecorino and water carefully to obtain the right texture, and also to whisk energetically, as you don't want to end up with a lumpy sauce.
When the pasta is ready in the saucepan, turn off the heat and add the pecorino cream. If it's been sitting there for a while and got too thick, you can add a tad more water to make it creamy again. The water will also warm up the sauce, in case it got cold.
Mix well the pasta and the pecorino cream with the kitchen tongs or with two forks.
Add some extra pecorino and the rest of the ground peppercorn
Serve and enjoy!