Umbrian stringozzi, also named strangozzi, umbricelli, or ciriole are rustic noodles similar to Tuscan pici, but thinner. They are suitable for pasta sauces that pair well with spaghetti, for example norcina, carbonara or cacio e pepe. Stringozzi are delicate and chewy at the same time because they have little or no egg. They were usually made in the winter when hens had their rest. As they tend to overcook easily, I use a small proportion of egg to reinforce the pasta and prevent disaster.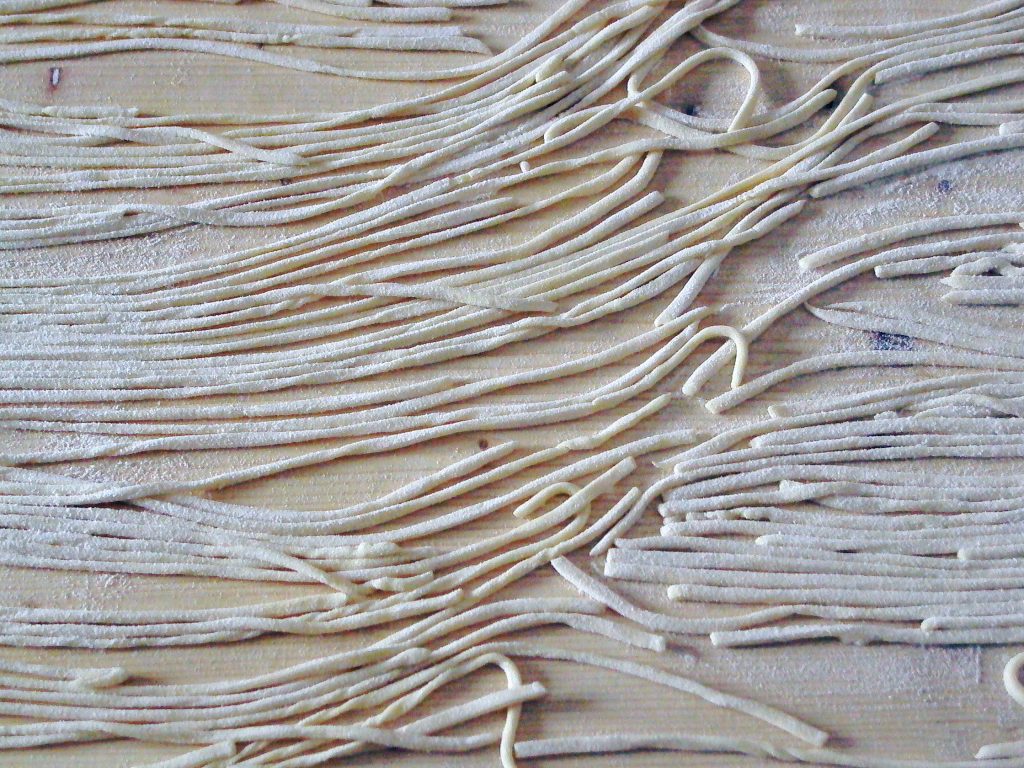 These noodles are easy to make completely by hand, if you have no equipment. However, if I am in a hurry or I need to produce a large amount, I roll the dough with a pasta machine and then cut it into stringozzi with a linguine cutter.
This intensely fragrant sauce is my comfort recipe, one to enjoy in the fall, at the end of a hurried day. While it is slowly simmering, you can relax on the sofa with a glass of wine. You only really need to stand by the stove when cooking and saucing which is quickly done if you use fresh pasta – I often have a few portions of handmade pasta in my freezer. However, should you be unable to make or to buy stringozzi, store-bought fettuccine of good quality make a worthy substitute.
Ingredients (Serves 2):
For the stringozzi
180 g (1 1/2 cups) 00 Italian flour plus additional for kneading
1 small egg or one egg white
1/4 to 1/2 cup water
1/2 tablespoon olive oil
1 pinch of salt
For the sauce:
40 g (1.5 oz) dried porcini mushrooms
15 g (1 tablespoon) butter
2 tablespoon extra-virgin olive oil
1 large garlic clove, finely minced
1/2 cup red wine
2 tablespoon cream, ricotta or mascarpone
1 tablespoon grated Parmesan or Pecorino cheese
1/2 tablespoon chopped parsley
a small fresh chili pepper (optional)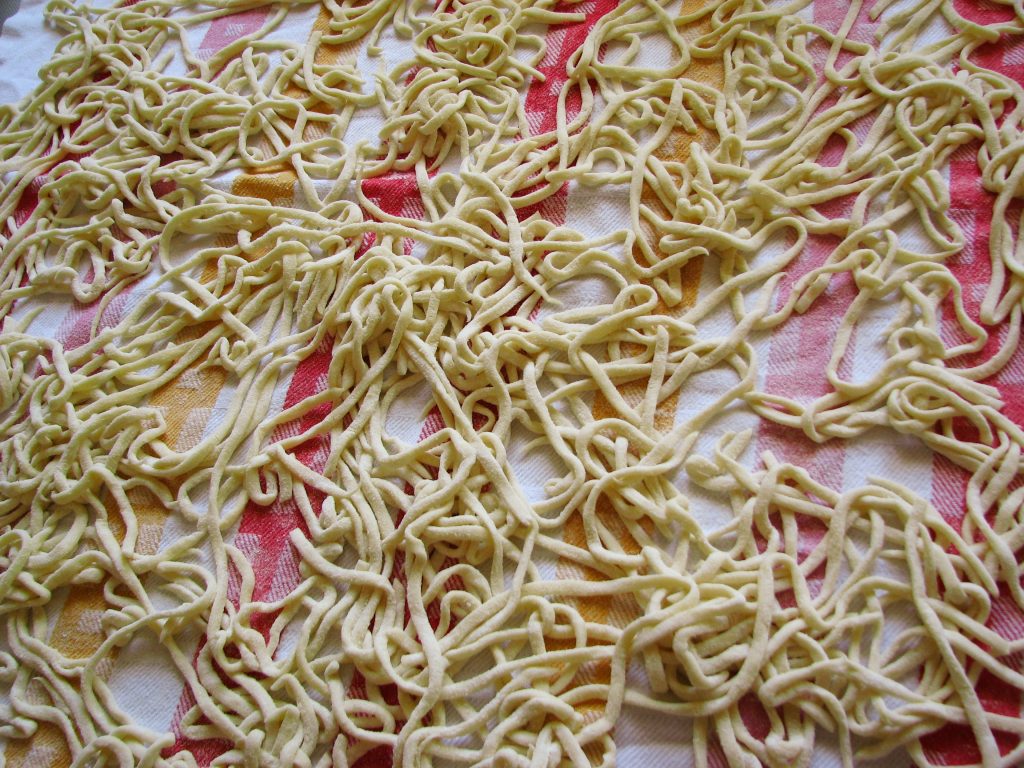 To make the stringozzi dough knead all ingredients on a floured wooden board until smooth and elastic. You can also mix them in a food processor.
Set the smooth rollers of the pasta machine on the widest setting. Cut the dough into four or five pieces. Flatten one piece of dough into a rectangle and feed through the rollers. Fold the rectangle in half and feed through the rollers three or four more times, dusting with flour as necessary to prevent sticking. Turn the machine's dial down to the next (narrower) setting. Feed the dough one last time through the rollers without folding.
Continue to roll out each piece of dough in the same manner. Cut the dough into small ribbons while the pasta is still soft. I use the linguine cutter of my pasta machine. Keep flouring the pasta to avoid sticking. Rest the noodles on a floured cotton towel until ready to cook.
To make the sauce, soak the porcini in warm water for about 20 minutes. Once they are soft, chop them into small pieces using the tips of cooking scissors inside the bowl they are soaking in. Do not discard the soaking liquid as you will need it for the sauce.
Put the garlic, butter, and olive oil in a saucepan which should be large enough to hold the pasta. Saute until just fragrant, then add the mushrooms with their soaking liquid, cover and let them simmer. Strain the liquid before adding to the sauce if it's gritty.
After 5 minutes, start adding the wine, one tablespoon at a time, and continue simmering. Cook until all the liquid is reduced to about 1/3 of the total volume and the mushrooms are tender. Add the cream and set aside. If you have no cream, whisk in a teaspoon or two of additional butter, mascarpone or ricotta.
To finish, cook the pasta in a large pot of boiling salted water until tender but still firm to the bite. If you are using fresh stringozzi or fettuccine, this should take 1-2 minutes. Do not use dry eggless pasta like penne. You need fresh pasta to soak up the extra moisture in the sauce.
Drain and transfer the pasta to the pan that holds the sauce. Turn the heat to high and quickly stir so that the sauce is absorbed by the pasta. Add the grated cheese and 1/2 ladle of pasta water. Stir some more until the additional liquid is absorbed and serve immediately.
Sprinkle with fresh parsley and with thinly sliced fresh chili pepper, if desired.
Letizia Mattiacci is a cookbook author and owner of Alla Madonna del Piatto Cooking School and Agriturismo in Assisi, Umbria, https://incampagna.com. This recipe has been previously published in Mrs. Mattiacci cookbook entitled A Kitchen with a view.