When planning a trip to Liguria, the five villages of Cinque Terre most famously spring to mind. But with nearly 2.4 million people wandering through these towns every year, it can make the scenery a little less enjoyable. Liguria's long stretch of coastline from the French border to Tuscany encompasses so much more than just these five hot spots, and with towns ranging from 1,000 to 30,000 residents, there is a wealth of history, charm, delicious cuisine, and sea views waiting to be discovered that is also free of intense crowds.
The Riviera di Ponente extends from Ventimiglia heading east to Genoa, home to medieval villages that deserve to be explored. Cervo is one such stop in the Imperia province. The town's original inhabitants were the Ingauni, a prehistoric people who lived in the region from the Iron Age and during the Roman era. Later in the 16th and 17th centuries, Cervo became known as the home to coral fishermen who explored the Corsican and Sardinian waters. Unfortunately, pirating also became a problem due to this lucrative trade. Today, the old town is largely unchanged from its medieval structure, so narrow streets must be climbed by foot to reach the top. Once there, the reward is in the incredible views overlooking the sea. San Giovanni church is one of the town's crowning achievements, also known as dei Corallini because it was built thanks to the contributions of the coral fisherman.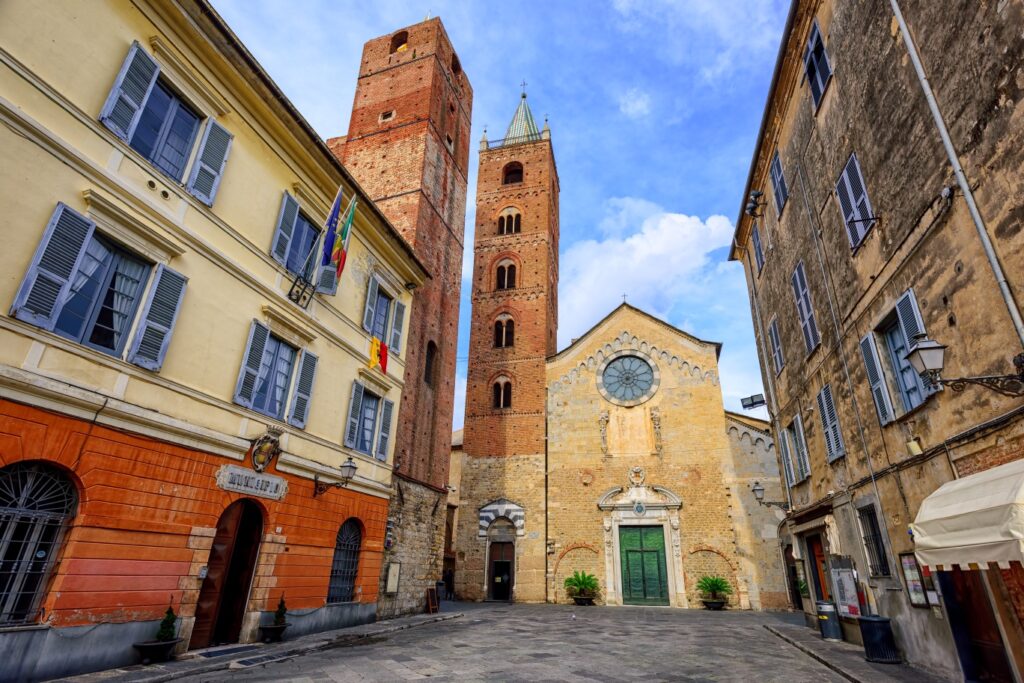 Albenga is the modern-day name for what was once Albingaunum, a charming town in the Savona province that was also founded by the Ingauni. It's home to Liguria's oldest, intact building, a baptistry built by the Romans in the 5th century, as well as several medieval cathedrals and churches. Albenga's beaches are within walking distance of the old town, making it a good place for a light dip in the sea. When it comes to food, stop in at a local panificio to try a slice of Liguria's famed olive oil-drenched focaccia for breakfast or as an afternoon snack. Locals are also proud of their produce, including the violet asparagus, little trumpet zucchini, spiny artichoke and cuore di bue tomato. An absolute must-try is the farinata, a Ligurian chickpea flour and olive oil pancake baked in a cast iron pan. In Piazza delle Erbe, Fa Fümme serves up a traditional version of this olive oil-rich delight.
The small but well-preserved village of Noli offers a beautiful view, beach, and nice day's stroll for those looking to avoid larger towns and crowds. The area is known for its production of Lumassina white wine and olive oil. It's also home to a rare fishing tradition—the catching of lussi, a small silver fish that swims close to shore and burrows in the sand. Fishermen catch these by trawl, delivering them to the mostly older locals who still love to prepare them as a frittura di pesce—a fried fish dish—called i cicciarelli di Noli in carpione. In this traditional preparation, the lussi are lightly coated in flour, fried in extra-virgin olive oil, and then covered with an oil and vinegar emulsion.
The Riviera di Levante encompasses the Ligurian coast from Genoa down to the border of Tuscany. Recco sits just west of the Portofino peninsula, and while known for its famous PGI status-protected focaccia—two thin, crispy layers of bread sandwiching the local cheese—it is known for other Ligurian classics as well, like le troffiette, the semi spiral-like pasta traditionally prepared with basil pesto. These were devised as a version of gnocchi that could be made without potato. Recco's troffiette are made with hard wheat and semolina flours, which give them an extra chewy bite. The name is believed to originate from the word strufuggià, which in local dialect explains the hand-rolling motion needed to form these little pasta creations. Another famous Ligurian dish, i pansoti in salsa di noci (local greens-filled pasta in walnut sauce) can be enjoyed here at Ristorante da Lino, where the pasta is made from scratch.
Chiavari, with around 27,000 residents, offers up just enough shops and restaurants along with beaches and easy access to other towns along the Riviera di Levante to make it a worthwhile stop. With its arcade walkways, it offers a little piece of Genoa with a more manageable small-town feel. Wander around the avenue Enrico Millo just outside the city center and take in the old noble palaces, some of which have since been turned into hotels. Chiavari is also known for macramé, a method of making intricate patterns by weaving and knotting threads and fabrics. The tradition originated here in the 14th century when sailors brought the art of the merletto del mare—lace of the sea—to town. Eventually, Chiavari's women took over the craft and opened a school dedicated to its teaching from 1960 to 1989. The town's name is also assigned to a dessert, la torta di Chiavari, a sponge cake topped with zabaione, whipped cream, and crushed amaretti, and bordered by langue de chat cookies. But whether its namesake comes from the town itself, or was simply enjoyed by the powerful noble Fieschi family who ruled the region during the Middle Ages remains unclear.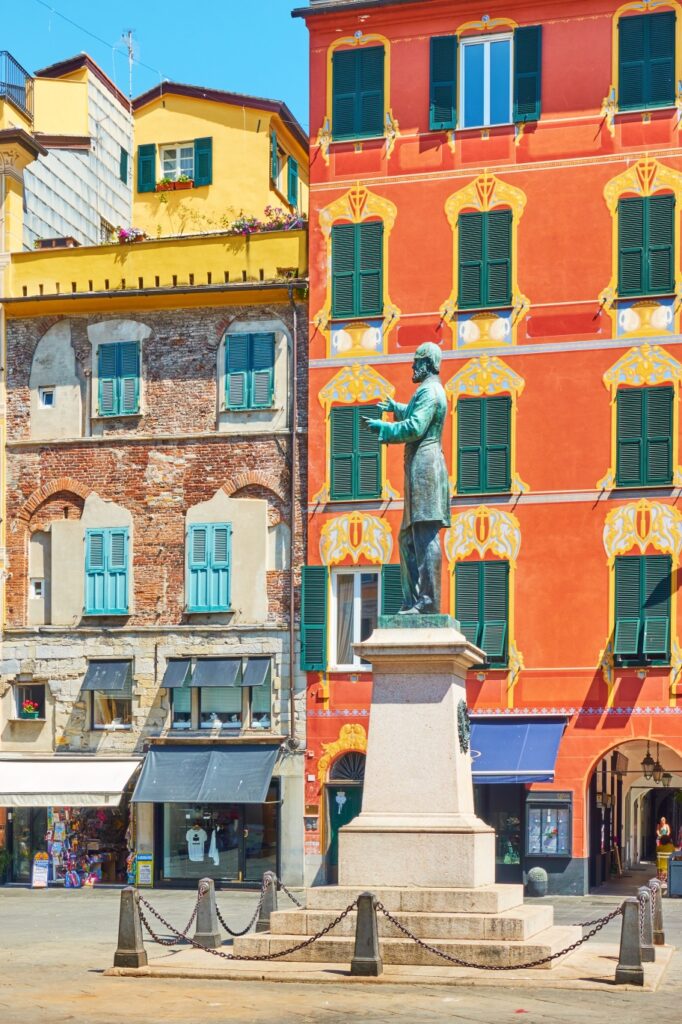 For a taste of a different Ligurian dolce, head east from La Spezia, closing in on the way to the Tuscan border, and you'll end up in Sarzana, a town nestled in the heart of the Magra Valley. Those who want to try the local pastry should look for Pasticceria Gemmi to sample the spongata (or spungata) and the focaccia sarzanese. The former consists of two layers of shortcrust pastry sandwiching an apple or fig jam filling with dried fruit, nuts, and spices. Some believe the recipe has Roman origins, while newer ideas suggest that it was brought in by the Jewish community. The focaccia sarzanese is a sweet hazelnut and walnut bread usually eaten around Christmas. Enriched with olive oil and white wine, the bread is punched up with the Mediterranean flavors of Zibibbo and anise seed.
Travel to Cinque Terre to get your fix of photo ops—as well as a dose of elbowing your way through the masses of travelers. But you'll probably be happy to have stopped first in these often-overlooked Ligurian towns to experience culture, sea, and sun-drenched Ligurian cooking—at a more relaxed pace and without the crowds.