Valtellina is a beautiful alpine area in the Sondrio province of Lombardia. You may think not to know it, but you're certainly familiar with places like Bormio and Livigno, famous for their ski resorts and picturesque views; truth is, Valtellina is all beautiful and rich in traditions, history and, as you'd expect in a valley of the Alps, gorgeously rich food.
Pizzoccheri are, along with flavorsome cold cut bresaola, the most well known culinary product coming from Valtellina, and rightly so: it's a very unique, very traditional pasta, prepared with local ingredients and enriched with flavorsome, seasonal cheese, butter and vegetables like potatoes and savoy cabbage, a perfect concoction to enjoy with a nice glass of full bodied red, maybe after a day spent on the slopes. In name of their authentic and deeply rooted bond with the valley, pizzoccheri have an IGP denomination, which means real pizzoccheri are only made in Valtellina, using specific ingredients and following specific rules: they have to be one centimeter wide, 7 centimeters long and 2 or 3 millimeters thick. If different, they are not real pizzoccheri!
But what makes this type of pasta so special, you may ask: well, it's what it's made of, buckwheat. This ancient cereal, which we call grano saraceno (saracen wheat) in Italian, has been long cultivated in the province of Sondrio, where it is used in many traditional recipes. The first document attesting the presence and use of buckwheat in Valtellina dates back to 1616 and was penned by the governor of the Adda Valley. By the 1800s, thanks to its strength and ease of growth on hard terrain, its cultivation was extended to areas once considered unsuitable for agriculture. It was — and still is — called furmentùn or fraina, while its flour, darker than common wheat's, is known as farina negra, or "black flour."
Buckwheat used to be common in other parts of Italy, too, but in Valtellina it became a true symbol of local tradition and farming culture, in a way unknown in other places. Even if its cultivation is no longer as widespread as it used to be, its flour remains the key ingredient not only in pizzoccheri but also in other dishes like sciàt, polenta taragna and chisciöi.
A bit of history
We don't really know exactly when pizzoccheri were first made, but part of their history was recorded by H.L. Lehmann in his work about the Canton of Grisons, Die Republik Graubünden, of which Valtellina used to be part of. In it, he mentions perzockel, a type of pasta similar to tagliatelle, made with buckwheat flour and two eggs, which was cooked in a little water and eaten with butter and grated cheese. Farmers, Lehman continued, would usually make gnocchi using the same ingredients, because the preparation of the "sfoglia" required large tables they often did not have in their frugal kitchens. In 1834, pizzoccheri are mentioned in Giuseppe Filippo Massara's Prodromo della Flora Valtellinese, where he catalogues the varied flora of Valtellina and mentions also fagopiro (buckwheat), the flour of which is used to make "many dishes like gnocchi and tagliatelle, both called pizzoccheri."
Pizzoccheri as we know them today are a thing of the early 19th century: thick tagliatelle made with buckwheat and white flour — their proportion varying from village to village — were boiled in salted water along with sliced potatoes, savoy cabbage or green beans. They were then drained using a skimmer called cazafuràda and layered in a dish with two types of cheese, one lighter and fresher, the other more mature and full flavored. Some butter, or even lard, was added, along with garlic or onion and sage.
And what about their name? Some think it comes from the lexical root "pit" or "piz," both meaning "small piece;" others believe "pizzoccheri" comes from the term "pinzare," to press or to flatten, a reference to the shape of the pasta itself.
Pizzoccheri are sold both as fresh and dry pasta, and are very popular all over Italy, although I think they are more commonly appreciated in the North, where the cold of winter months calls for rich, filling and comforting food.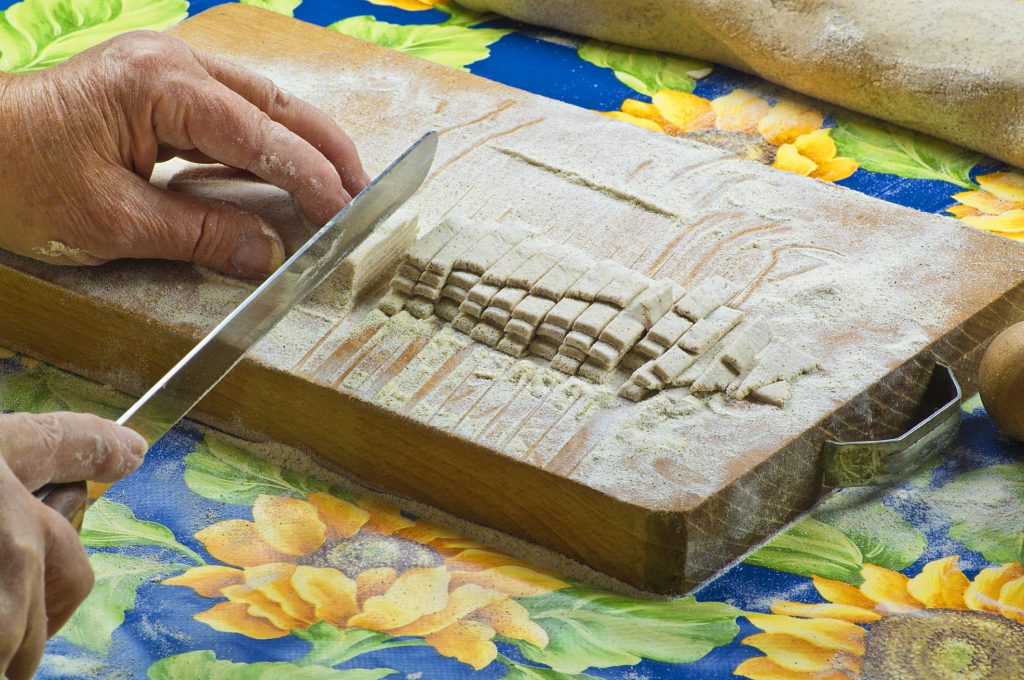 The recipe below is for traditional pizzoccheri with potatoes, cheese and savoy cabbage. The suggested cheeses are casera and bitto, both holding a DOP (protected denomination origin) certification. If you can't find them at your local deli, you can opt for another delicious Alpine cheese, fontina, which may be easier to get, or Asiago. In any case, make sure the cheese you choose is soft and flavorsome: nor mild like mozzarella neither strong like gorgonzola.
Pizzoccheri recipe (from La Cucina Italiana)
For 4 people:
Ingredients for the pizzoccheri
3 cups of buckwheat flour
3/4 cups of plain flour
salt
250 ml of water
Ingredients for the dressing
1/2 lbs of potatoes
1/2 lbs of savoy cabbage leaves
1/2 cup of butter
1/2 cup of casera cheese
1/2 cup of Grana Padano DOP
1/2 cup of bitto cheese
salt
2 cloves of garlic
Mix the buckwheat and the plain flour together, then add a pinch of salt, and water sufficient to make a smooth, homogeneous dough ball, of a consistency similar to pie crust.
Cover the dough and let it rest for 30 minutes.
Once the time has passed, roll the dough in a thin sheet of about 2 or 3 mm (0.08 to 0.11 in), then cut stripes of about 1 cm in width (0.39 in) and 7 or 8 cm (2.75 to 3.15 in) in length. And voilà, your pizzoccheri are ready. To avoid they stick to one another, lightly sprinkle them with some flour.
Set the pizzoccheri aside and prep all the ingredients for the dressing.
First of all, slice the cheese very thinly, then peel the potatoes and cut them in small chunks.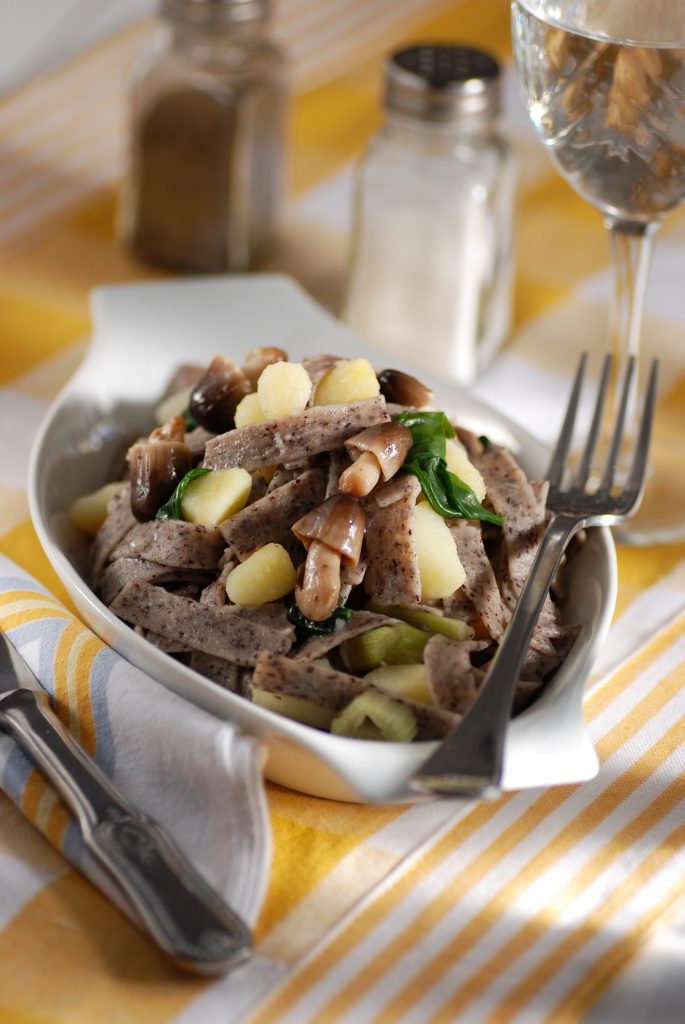 Clean the savoy cabbage, making sure you only use its leaves, which you need to cut in small pieces.
Bring water to the boil and add salt, as you usually do when making pasta. Add the potatoes first, let them cook for five minutes, then add the savoy cabbage and the pizzoccheri.
Cook for about 10 minutes.
While the pasta cooks, melt the butter in a small saucepan, then add the garlic and sauté it until it turns golden.
Drain the pizzoccheri, potatoes and savoy cabbage with a skimmer and layer them in an oven dish with the sliced cheese and grated grana, until you finish all the ingredients (pretty much the way you'd do when you make lasagne!).
Pour the butter on top of the pasta and serve immediately.