Don't ask an Umbrian to be on a diet after the holidays. We rural folks don't do diets, especially if they don't include pork and a glass of red wine. And besides, the Umbrian winter is too boring for salads. It's been cold and wet for weeks and there have been no events because of the pandemia.
So, shouldn't we have a little extra comfort?
For us, norcina pasta is the quintessential comfort food, always present in local trattoria menus as well as a staple of most impromptu dinner parties in the winter.
The name stems from Norcia, a quaint medieval town and also a veritable culinary Mecca in Umbria. Norcia is famous all over Italy for the breeding of pigs. For many centuries, this delicious animal has been one of the main sources of income for the locals, together with truffles, lentils and a magnificent pecorino cheese.
The town is also famous for its extravagant butcher shops with window displays lavishly decorated with stuffed wild boar heads and every form of sausage known to man.
It is therefore no surprise that this simple and hearty sauce originates from Norcia and that it is so loved its popularity has spread far beyond Norcia's ancient walls.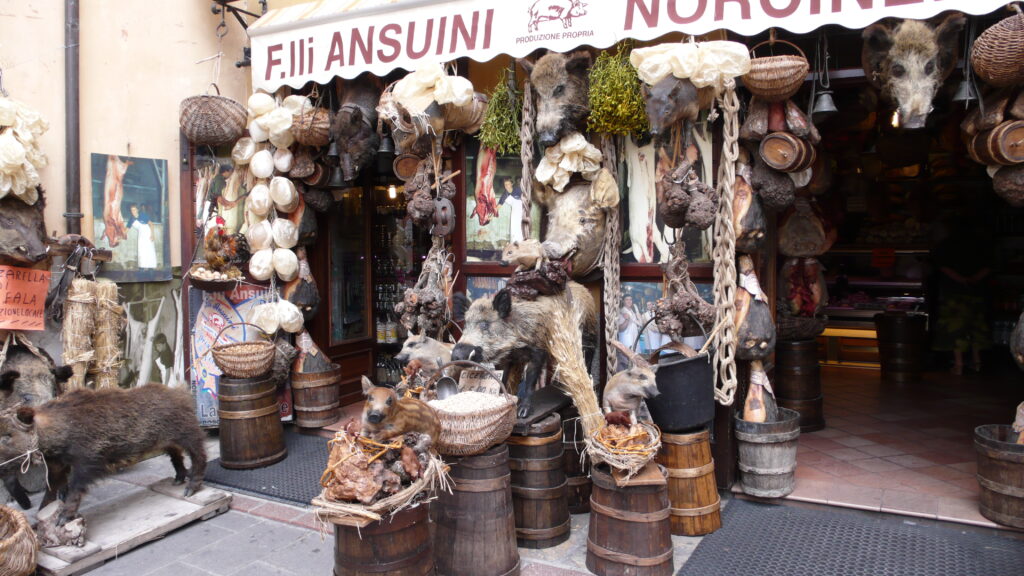 Ingredients (serves 4)
1/2 kg (1 lb) sweet Italian sausages, with the casings removed
1 small onion, finely sliced
4 tablespoons heavy cream or ricotta
1/2 cup white wine
1/2 kg (1 lb) short pasta, like fusilli, penne, homemade strozzapreti or stringozzi
4 tablespoon grated Pecorino or Parmesan cheese
1 tablespoon grated truffle or preserved truffle paste (optional)
Sauté the onion and sausage in a large saucepan over a medium to high heat until cooked through, breaking up any large pieces with a fork. This will take about 10 minutes. Deglaze with 1/2 cup of white wine, add the cream and set aside. Umbrian fresh sausages are seasoned with black pepper and garlic. If you can't find similar sausages, add 2 cloves of minced garlic and a sprinkle of black pepper just before deglazing.
Cook the pasta in a large pot of salted boiling water until tender but still firm to bite. Drain the pasta, reserving 1/2 cup of the cooking water.
Transfer the pasta into the saucepan containing the sausage and cream mixture, stir quickly, then add the reserved cooking water and the grated cheese. Stir again to coat the pasta thoroughly and to absorb any excess liquid. Add the truffle, if using, and serve immediately with more grated cheese and freshly ground black pepper, to taste.
Pour some red wine and enjoy on a cold winter evening.
Letizia Mattiacci is a cookbook author and owner of Alla Madonna del Piatto Cooking School and Agriturismo in Assisi, Umbria, https://incampagna.com. This recipe has been previously published in Mrs. Mattiacci cookbook entitled "A Kitchen with a view."