Here in Umbria spring does not want to arrive this year: it's cold and wet. The countryside however, is dotted with marvelous flowers. Wisterias and lilac adorn edges and walls, cherry and almond trees look like heavenly clouds. Poppies make their first appearance on the side of the road. It's magnificent even under the rain.
And, of course, one can't forget one of Italy's favorite spring flowers. The artichokes.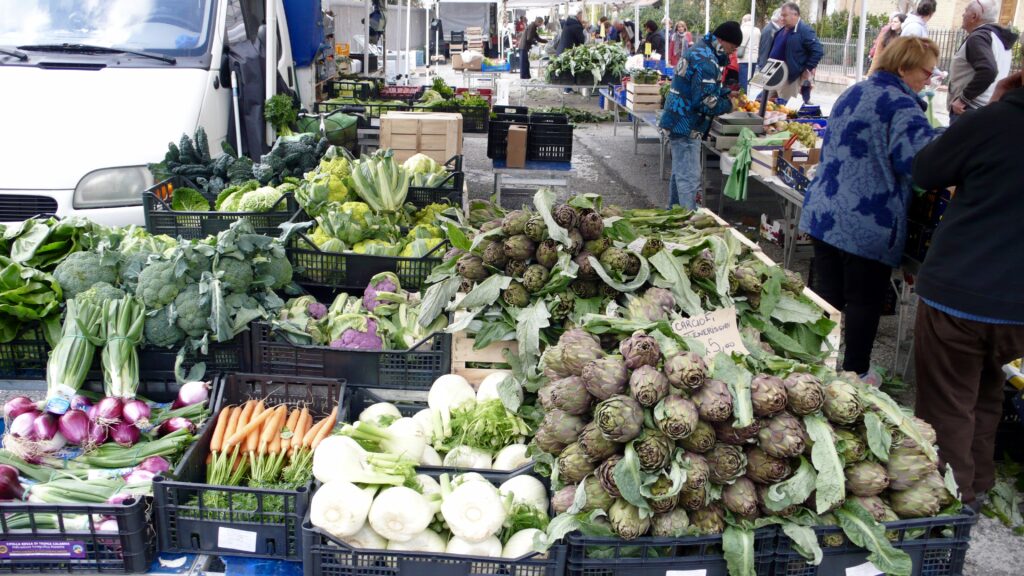 Crunchy on the outside, tender inside, homemade fried artichokes are a unique delicacy. Italians love artichokes and only ever eat them young and tender. A fresh artichoke should be bright and unblemished, with the leaves tightly packed. Eating mature artichokes dipped in a sauce is quite unusual in Italy. Here, young artichokes are fried, braised, roasted and added to pasta, risotto, frittata, sformato and meat dishes. Lamb with artichokes is a traditional Easter dish which is popular all over Central Italy. It's to die for. Cleaning artichokes requires a little practice but young flowers are easier to handle. If the flower starts to open, the artichoke will be full of choke and the leaves will be stringy and tough. Please, don't even try to cook them, they will be disappointing.
I like to fry artichokes using rice flour which makes them incredibly light and crispy, somewhat like a tempura.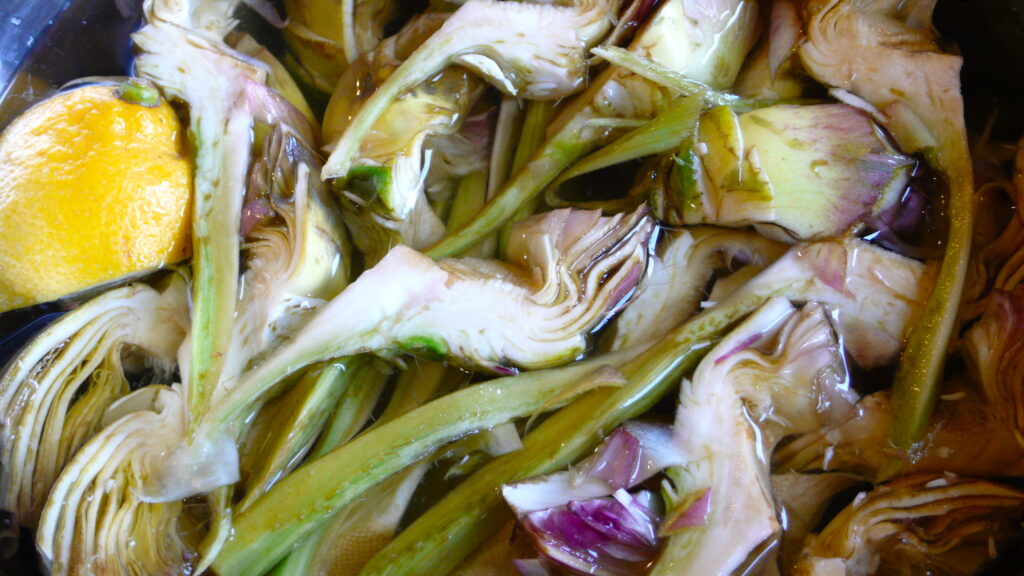 Ingredients (Serves 4 as a small appetizer)
• 4 young artichokes
• juice of 1/2 lemon
• oil for deep frying
• 2/3 cup rice flour
Prepare a bowl of water large enough to hold the artichokes and add the lemon juice to acidify.
Start cleaning by pulling off the lower petals until only the pale ones remain.
Peel and shorten the stems leaving about 5 cm (2 inches). Using a sharp knife, cut off at least 1 cm (1/2 inch) of the top of the artichoke and trim the sides in a conical shape to remove all the dark-green fibrous parts.
Cut each artichoke lengthwise into 8 wedges and remove the fuzzy choke and the fibrous tips -if present – using a small paring knife. Make sure to work quickly otherwise the artichokes will darken.
As soon as the artichoke wedges are ready, transfer them into the bowl of lemon water to preserve their color.
Drain the artichokes in a colander and pat dry. Meanwhile heat up the oil in a frying pan.
Transfer the artichokes into a re-sealable plastic bag, add the flour and shake to coat all of the wedges. I prefer rice flour not only because it is gluten-free but also because it's crispier when fried. Remove from the bag, shake off the excess flour and deep fry in plenty of hot oil until pale golden.
Drain well on paper towels and season with salt, enjoy immediately.
Letizia Mattiacci is a cookbook author and owner of Alla Madonna del Piatto Cooking School and Agriturismo in Assisi, Umbria, https://incampagna.com. This recipe has been previously published in Mrs. Mattiacci's cookbook entitled "A Kitchen with a view."