In 1983, Howard Schultz was sent by the small coffee company he worked for in Seattle to an international housewares show in Milan, Italy. He traveled alone and stayed at a hotel off the beaten path.
Schultz passed his spare time by strolling through Milan's neighborhoods, fascinated by the coffee bars on almost every corner. He marveled at the baristas' flair as they grounded beans and pulled shots of espresso and steamed milk while chatting with the customers.
One day he went with the flow and ordered a caffé latte. He expected plain coffee with milk but observed as the barista brewed espresso, steamed a frothy pitcher of milk, combined them, and topped it with a dollop of foam. To him, it was a refreshing beverage fashioned with a touch of theatrics.
Though he was in the coffee business, Schultz had never heard of caffé latte. Enthused and inspired, he returned to Seattle and recommended that his employer recreate the Italian culture in the US. The company is Starbucks, and the rest is history.
Driven by shrewd strategy and marketing, Starbucks has grown into a household name with thousands of outlets, millions of customers, and $26.5 billion in annual sales. It's another example of Italian influence on the American lifestyle.
There's a difference, however, in how the concept and coffee are perceived. In the US, more attention is paid to whether the beans are Arabica or Robusta, grown in high or low altitudes and roasted light or dark. In Italy, the beans are generally blended and the choice is up to the bar's proprietor.
Another characteristic of American coffee shops is the high-tech equipment. Chrome grinders, gold-plated drip fillers, plunger pots, frothing wands, and thermal carafes are commonplace. Bottles of syrup and tins of chocolate and cinnamon often line the shelves.
While Americans flock to Starbucks, Italians who gulp down an estimated 177 million cups of coffee daily like to sip and socialize in one of 149,000 coffee bars throughout the country. Espresso is a drink that few Italians make at home. They would rather rely on a professional barista with an experienced hand and reliable equipment to turn out near-perfect cups.
The difference between American and Italian coffee cultures can be debated, but there's little comparison between the companies that produce and distribute the product. In terms of innovation, technology and quality, nothing this side of the Atlantic measures up to Illy Caffé, a privately held, third-generation, family-owned entity whose coffee is sold in more than 80 countries.
Founded in Trieste in 1933 by namesake Francesco Illy (grandson Andrea is chairman today), the company is recognized as the industry's global coffee authority. Francesco also invented a breakthrough espresso machine that replaced steam with air. In addition, he developed innovations like a pressurized packing system for preserving coffee. Illy's advertising features an endorsement from renowned Italian tenor Andrea Boccelli.
In 1991, Illy Caffé determined that, to offer the highest quality coffee, it had to redefine its role in the marketplace. Not only would it be a buyer of beans, but also an educator and benefactor of growers. "We will pay above the market price, but only for the very best coffee," Andrea Illy declared.
With this commitment to excellence, Illy Caffé implemented a series of programs for Brazil, the world's largest coffee bean producer. As an incentive, a contest was introduced offering a grand prize of $30,000 to the Brazilian farmer who grows the finest coffee beans.
In addition, Illy formed an alliance with the University of San Paulo to conduct research and educate growers on irrigation, crop management, ecology and other factors. Plantations are tested regularly to verify that no pesticide or other harmful impurities are present. The program proved so successful that it was expanded to India, Ethiopia, Guatemala and Colombia.
With annual sales of $499.5 million, the Illy brand is a blend of beans from nine countries. Available in regular or decaffeinated, medium or dark roast, whole beans, fine or medium grind, it is sold retail and wholesale for around $10 per pound. Customers include many of the world's most prominent hotels and restaurants.
At a low-emission plant in Trieste, the coffee undergoes as many as 114 quality controls before and after roasting. The production has less impact on the environment due to reductions in energy, water use and more efficient waste disposal.
Whether you sip and savor it at a trendy Starbucks, quaint bar in Italy, restaurant or home, a steaming cup of coffee is a bracing break from the daily grind. Especially if it is Illy.
Despite its presence as an established stand-alone drink, coffee can be used in other mixtures. One of the favorites in this category is spiced coffee, a blend of seasonings that endows the coffee with a spirited tone. Here's an easy-to-make recipe for it!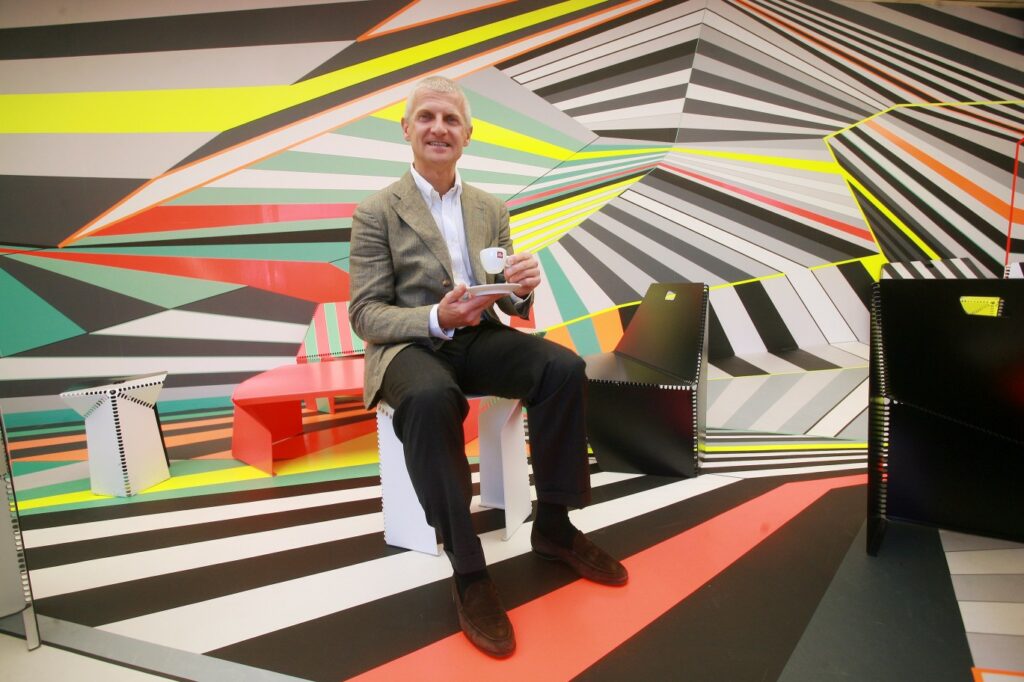 Spiced Coffee
Ingredients (Serve 3 to 4 cups)
2 cups water
1 tablespoon brown sugar
2 3-inch cinnamon sticks
2 2-inch strips of orange rind
1/4 teaspoon ground allspice
3 cups freshly brewed coffee.
Directions
Combine water, sugar, cinnamon, orange rind and allspice in
a saucepan.
Bring mixture to a boiling point over medium heat.
Let the mixture stand for 5 minutes, then pour it into a pot containing the coffee.