"I chose Los Angeles because it feels like I am picking up right where I left off!"
International artist Eros Ramazzotti opened his North American Battito Infinito World Tour in the City of Angels on October 30.
Back in 2020, the Southern Californian city was, in fact, the only date of his tour, which was canceled because of Covid-19. "For this reason, performing here was particularly exciting, " the pop singer said. Ramazzotti is, unquestionably, one of the most successful Italian artists in the world, with songs that not only made the history of Italian music but led him to sell 70 million records globally, gather 2 billion streams and have almost 2 billion views on YouTube.
Eros' last original album, Vita ce n'è, dated back to 2018 and was followed by a colossal tour of more than 90 shows in 32 countries. Four years later, the internationally acclaimed Italian singer-songwriter has returned with a tour of more than 70 shows around the world. After Los Angeles, the tour touched Houston (November 2) and will be in Miami (November 5), and New York City (November 10).
On stage Ramazzotti, who was born and raised in Rome, performed the hits that made him famous and with which he won millions of fans. This is not the first time
the Italian pop singer, musician and songwriter toured the United States during his 35-years-long career.
Eros, your connection with US fans began a long time ago, in the late 1990s. What memories do you have of your early performances, such as the one in 1998 at Radio City Music Hall for the tour of your ninth album, Eros?
I have many memories related to all the concerts played at Radio City Music Hall, but the one that inevitably comes to mind is the one in 1991 when, despite having a broken leg, I performed, and I was the first Italian to do so in that theater. It was one of the most exciting evenings of my life. In general, I think the USA is an incredible country, a small world ready to welcome anyone. Every time, it is wonderful to know your audience is so diverse, that it comes from so many different cultures but that, on the night of the concert, everyone chooses to be there to hear your music and what you have to say.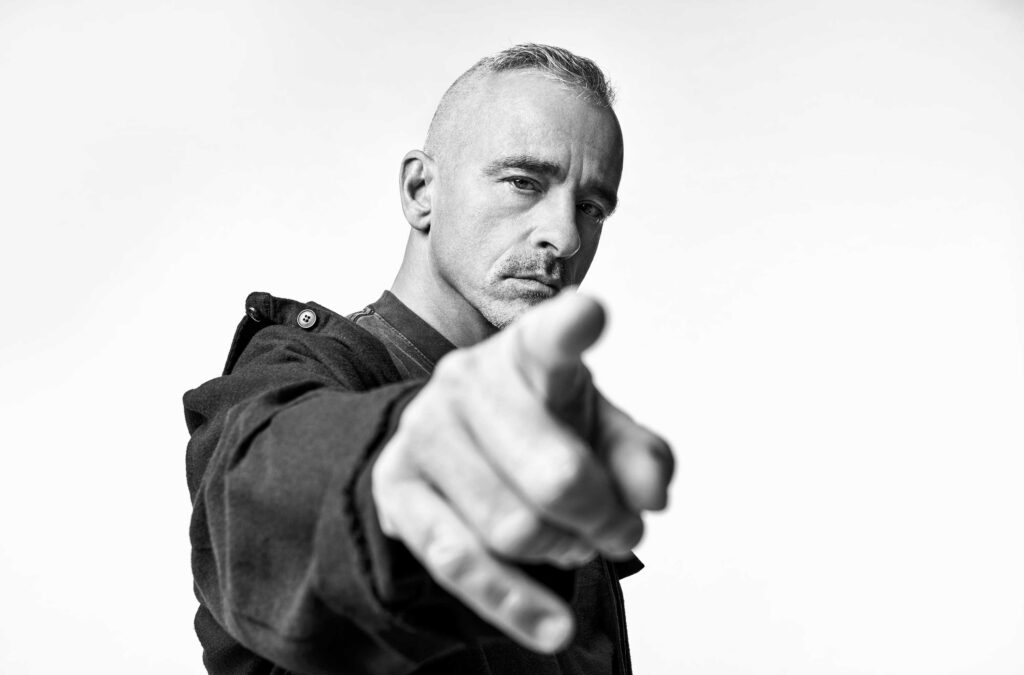 What memories do you have of your collaboration with American artist Tina Turner for Cose della Vita/Things of Life?
Collaborating with Tina Turner was one of the most beautiful experiences of my life. The crazy thing is that she was the one who sought me out. I could hardly believe it, it seemed impossible that a legendary artist like her would seek me out to sing together, I am very honored for that. My duets are always sincere and heartfelt: every time, I look for that special connection with the artist I work with, and I believe my collaboration with Tina remains one of the most successful precisely because we found each other so much on a human level.
There are twelve songs in Battito Infinito. What's been your main inspiration for the album?
Mainly love and its impact on the world, I think. I wanted to tell how love comes in infinite forms and I did it by experimenting with different sounds, from Latino music to more retro vibes, which have been trending again lately, even among younger listeners.
There are also two collaborations, one with Jovanotti and one with a lifelong friend, Alejandro Sanz. Can you tell us how they both came about?
Making Soy with Alejandro Sanz was fun and challenging, and it's great to see the public embracing the song with the same enthusiasm! Alejandro and I had the opportunity to collaborate before, and when I contacted him to work together on this track, I immediately sensed his great enthusiasm.
With Figli della Terra, thanks to the support of a great friend and artist like Lorenzo Jovanotti, I wanted to convey a concept that for me is fundamental and, I believe, very current: this is the only planet we have and, today, it needs care and protection as never before. Even in our daily lives, we can take important and meaningful steps to protect it.
Which song best represents the artistic and personal phase you are going through now and why?
I think Ama is the single that best represents how I feel: it is an invitation to love as you want to, without limits, boundaries or barriers. It's about looking at the world with new eyes, even in complex times like today's, when hatred and resentment are all too present. Surround yourself with love, because loving is beautiful!
Being of your generation, I found myself very much in Gli Ultimi Romantici. What, in your opinion, made "questi tempi aridi," these times so barren?
I think the difficult period that has just passed and, unfortunately, is not completely over, greatly affected our relationships, our bonds. From these terrible times, we learned that what matters are human relationships and how we spend our time. The freedom we enjoyed and felt before will probably never fully return, but we changed, we evolved and we are now adapting to a new way of life, a new way of relating to each other.
The set design will be very high-tech: why this choice?
For this comeback of mine, I wanted to go big, to surprise my audience with a high-tech stage, although the focus of the whole show remains the music, with a spotlight also on the special team that follows me in every live show, from the musicians to the backup singers, all the way to the Battito Infinito World Tour's production team.
During past tours of the US, have you had a chance to carve out time to be a tourist, and if so, what do you enjoy doing and what is the place you are most attached to?
Unfortunately, the downside of being in such a wonderful profession is the tight schedule I have to keep to get to different locations around the world. This means I can't be as much of a tourist as I would like. However, I am fascinated by how diverse and cosmopolitan New York is: it is truly a one-of-a-kind city, full of life, full of stimuli, a city that never seems to stop and that gives me a lot of energy each time. I love the skyline, the lights and colors of Central Park, of the city itself: it's magical.
So many Italian artists chose Los Angeles as their base, is that something you've ever considered?
To be honest no: I think in Italy I have everything I need and, above all, I would not be able to give up my family. I try to spend as much time as possible with my children, whenever I can: the distance for me would be really too much!