Easter is around the corner and there are plenty of Italian traditions that go with it.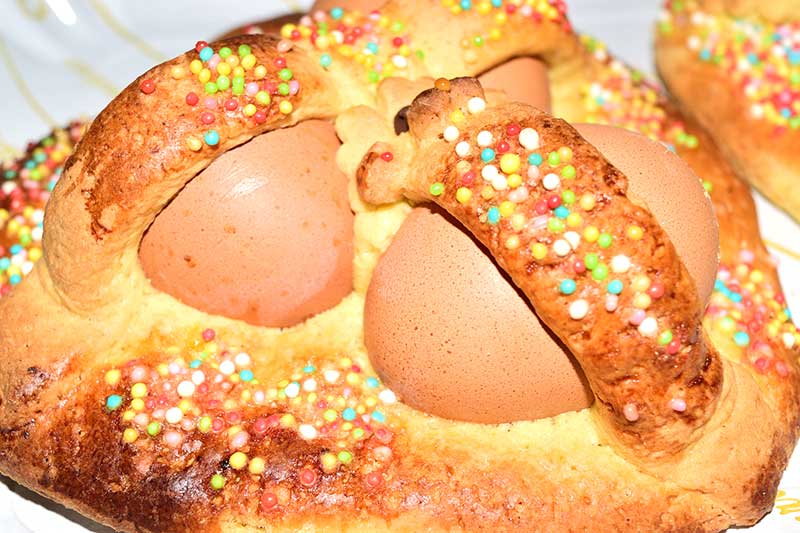 I would say that for Italians, Easter is the second most popular holiday of the year next to Christmas. In my mom's Calabrian hometown, the festivities include a special mass and a procession through the streets with a huge statue of the Virgin Mary proudly carried on the shoulders of a group of townsmen. The streets are absolutely packed with people watching and following the procession. In my father's hometown, which is only 10 minutes away, they have similar traditions but being a seaside town their procession leads them to the Mediterranean where they walk the statue of their beloved Mother Mary into the water – I don't know how they haven't dropped her in yet! After the procession, families head home to enjoy a feast together.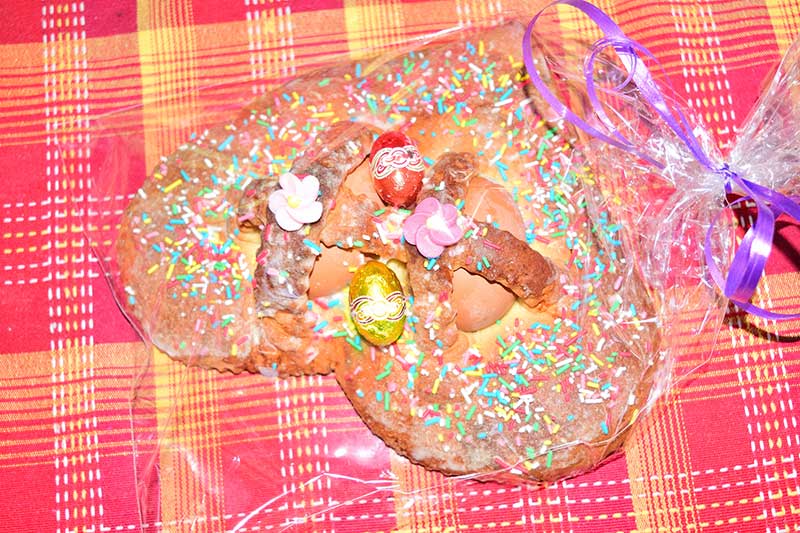 Even better than Easter Sunday though is one of the greatest days of the year, Pasquetta. For many young people this is the day that they will hang out with friends. As the saying in Italian goes: "Natale con i tuoi, Pasquetta con chi vuoi" – Christmas with your family, Easter Monday with whoever you want. Of course, it rhymes and sounds better in Italian!
It is a very relaxed and fun day and whenever I was in Italy it was spent with family at my Nonno's farm. Kids running around under mandarin and olive trees, women cooking and talking, men playing cards and of course building kites. Yes, building kites! A long standing tradition that back in the day had its own town competition my Nonno apparently won frequently. He was a master and the couple of Easters I spent there afforded me a few kite building lessons.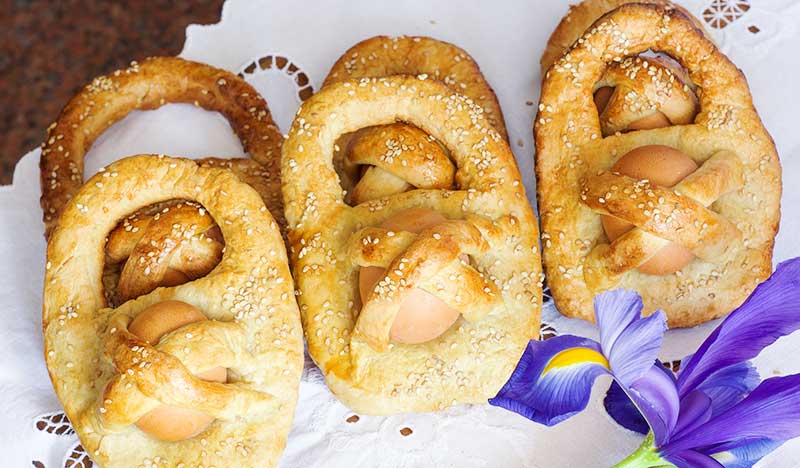 As most holidays go, Easter too has special traditional sweets associated with it. I didn't have the luxury of having my Nonno and Nonna here with us in Canada, but fortunately my mother kept all their stories alive and would talk about the old days as we made these traditional Easter bread and cookies. When she was young, her mother would make them in all sorts of designs, first making patterns out of paper for dolls and baskets and then cutting them out of the dough. There were 9 kids in her family and whenever she told us these stories I could vividly picture the event in my mind – a bit chaotic I'm sure! Now it's our kids' turn and Nonna makes sure that every year they experience making these Easter bread treats with her.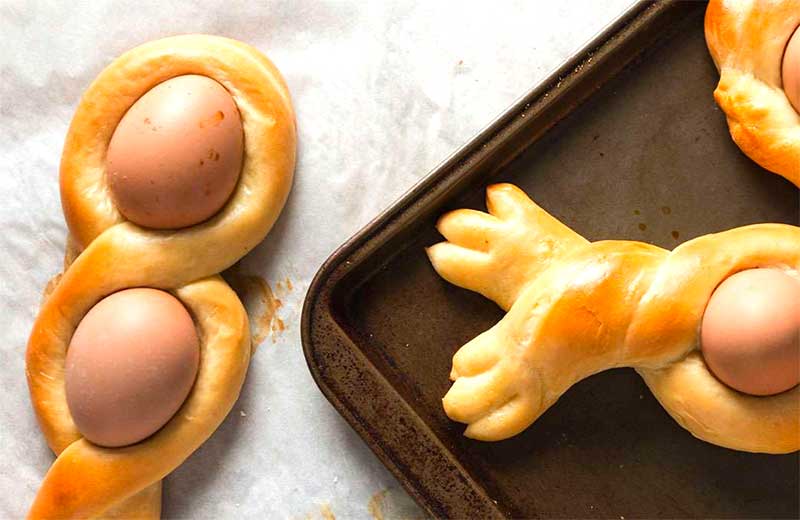 There are two recipes here. My family's traditional Easter treat is a cookie-type dough and the second recipe is a sweet bread which my mom also made on occasion. These are a couple of easy shapes for you to get started with, but feel free to try others. The eggs are placed raw in the dough and baked in the oven to the likes of a hard boiled egg. You can dye or decorate them using food-safe dyes, egg wash them so they become shiny, or leave them plain like we have in some of these pictures.
Enjoy and let us know how yours turn out!
Easter Cookie  
Ingredients
● 10 eggs
● 3 cups of sugar
● 1 1/2 cups of milk
● Juice and zest of 1 lemon
● 12 cups of flour plus more as needed
● 1 packet of vanilla powder
● 5 teaspoons baking powder
● 2 1/4 cups of softened yellow shortening
● 1 egg to bake into the centre of the bread
● 1 tablespoon water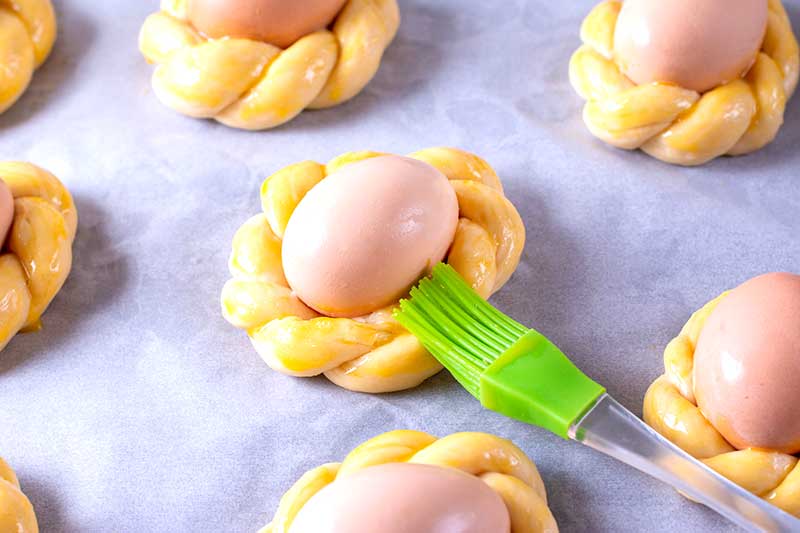 Instructions
1. Preheat oven to 350 degrees F
2. Prepare a baking sheet lined with parchment paper
3. Beat the eggs and sugar together
4. Add the milk, lemon juice and rind to egg and sugar mixture
5. In a separate bowl, combine dry ingredients and stir
6. Cut shortening into the dry ingredients and mix with hands
7. Add wet ingredients to dry mixture
8. Mix together to form a sticky dough
9. Knead dough on a flat surface. Add flour until dough no longer sticks to your hands
10. Knead until the dough is smooth
11. Wrap in plastic wrap.
12. Cut small pieces at a time to work with
13. Roll long strips to twist and form into shapes or cut out shapes with a cutter
14. Place cookies onto prepared baking sheet
15. Place raw eggs into the centre of your shape
16. Whisk egg and water together for an egg wash and lightly brush the cookies
17. Bake until golden in color
Optional
Try adding 1 tablespoon of anisette or substitute the juice and zest of an orange instead of lemon
Easter Sweet Bread
Ingredients
● 1 1/4 cups milk
● 1/3 cup butter
● 2 1/2 teaspoons instant yeast
● 1/8 teaspoon salt
● 1/2 cup sugar
● 2 beaten eggs
● 3 1/2 – 4 cups all purpose flour
● 6 eggs for embedding in dough
● 1 egg +1 teaspoon water for egg-wash
Instructions
1. In a small pot, warm milk and butter until butter is melted. You do not want the milk hot.
2. Combine yeast, salt, 2 beaten eggs, and sugar.
3. Add the warm milk and butter mixture.
4. Add half the flour and knead or beat with a dough hook until smooth.
5. Add remaining flour slowly until the dough does not stick to your hands anymore.
6. Cover and let rise until doubled in size.
7. Punch air out and divide into 12 pieces for individual breads or 6 for larger breads.
8. Roll the pieces into roughly 13-14 inch ropes.
9. Twist to form a braid, bring ends together and pinch to make a ring.
10. Place on baking sheets lined with parchment paper and let rise again until doubled.
11. Brush dough with egg wash.
12. Place a raw egg in the middle of each ring or embed them in the braid twists.
13.Bake at 350 degrees F until lightly browned on top.
OPTIONAL
You can dye the eggs or decorate them as Easter eggs (be sure to use food-safe dyes)
Add sprinkle sugar or colored sprinkles on the bread